Scouting America: How will Juan Agudelo fare at Stoke?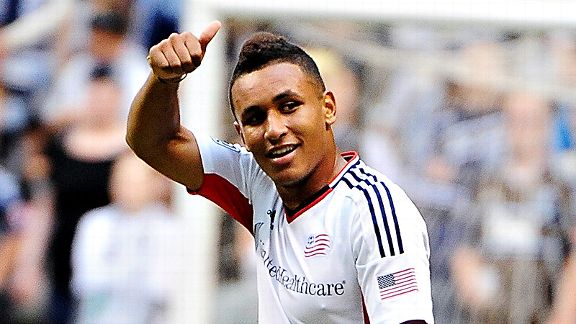 Anne-Marie Sorvin/USA TODAY SportsJuan Agudelo is widely regarded as the United States best homegrown prospect and will join Stoke this January.
Since Juan Agudelo's professional debut at 17, he's been long heralded as a big hope of America's soccer future. Now 20 and on his way to English Premier League side Stoke next January, Agudelo has shown fans glimpses of how talented he can be but has also reminded them how much work lies ahead.

For all of Agudelo's bright moments -- a game winner on his United States national team debut or a stunning overhead kick against D.C. United while with the New York Red Bulls -- he's had his share of warranted criticism, as well.

Agudelo is on his third team in his third full professional season in Major League Soccer. Considering how restrictive the league's salary cap is, young, talented and affordable (Agudelo makes $175,000 per season) talents aren't usually traded away by MLS clubs. But Agudelo's lack of consistency, along with questions about his attitude, have hurt him.

Agudelo has never scored more than six goals in a season during his time in MLS, with his current run of six goals in 10 games being his best stretch in four years of being a pro. The young striker's maturity has also been questioned by various general managers and European scouts. Some executives have pointed to his misguided retweet of a Sky Sports report sending him to Celtic, without a concrete deal on the table, as a sign that he has some growing up to do.

Still, with a strong 6-foot-1 frame and a nose for goal, Agudelo has the tools to be a top attacker in Europe. To gauge his potential for success in Europe, ESPN FC spoke with a scout currently employed with a Champions League club in a top-three league in Europe (England, Spain and Germany). The scout was willing to give his honest assessment of Agudelo as long as his identity wouldn't be revealed.

Here's the scout's evaluation:

Strengths:

"Juan's physical attributes will certainly help him as he continues his career. He's a big kid at just over 6 feet tall and he knows how to use his body well. He's comfortable playing with his back to goal and operating as a target man for his team. With his back to goal he is good at bringing others into play and combining with his teammates, but he's also capable of getting in behind with his speed and acceleration.

"He has a natural desire to be in and around the goal area whenever the ball is in dangerous positions, which can't be taught. He displays good technical ability and is quite creative in the final third. His goal against Chicago recently is a perfect example of that creativity and technical ability coming together."

Weaknesses: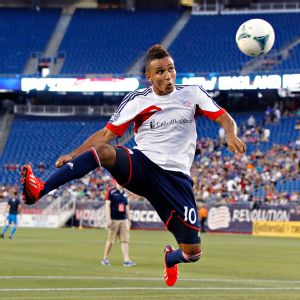 Stew Milne/USA TODAY SportsNew England is Juan Agudelo's third team in three years.
"Though he often does find himself in good spots, he's not the most composed player in the box.

"He's certainly not short of confidence but he lacks that little bit of calm in the box that turns good strikers into great strikers. He also needs to improve his awareness of time and space in the final third as he continues to develop. Too often he takes too many unnecessary touches when he could play one or two touch and just move the ball quicker.

"Though he is quite confident dropping off into the midfield to get the ball to his feet, his lack of awareness of what is around him at times gets him in trouble with his first touch, which forces his second touch to be a tackle."

Why Agudelo will succeed:

"He's naturally gifted and physically very imposing. Clubs are always looking for a guy who is able to hold a ball up but also for a player who looks to get in behind.

"He's also shown in the national team that playing on a big stage isn't an issue. Before others will believe in you as a player, you have to believe in yourself and I don't think that'll ever be an issue with him.

"A move to Europe will see him get better aerial service from wide areas, especially at Stoke, where wide players are used to picking out bigger targets centrally, which means he'll have more opportunities in front of goal if he continues to get into good spots."

Why he won't:

"He'll definitely need to improve that awareness along with his first touch if he is to make it in England's top flight. Defenders are used to dealing with some of the most intelligent attacking players in the world, and his movement off the ball will heavily dictate whether or not he succeeds. When he does get the ball, he'll have to improve his first touch and learn how to play much quicker.

"His attitude will also play a big role -- will he arrive with that huge willingness to learn, or will he arrive thinking he's made it?"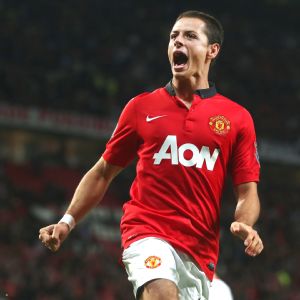 John Peters/Man Utd/Getty ImagesJuan Agudelo has similar skills to Javier "Chicharito" Hernandez but hasn't consistently produced like the Mexico striker did at Guadalajara.
Similar player: Javier "Chicharito" Hernandez

"The Mexican international has improved dramatically since his move from Guadalajara to Manchester United before World Cup 2010. Hernandez is among the best in the world when it comes to his movement in the box. He's capable of getting in behind with well-timed runs but he's also confident enough to demand the ball to his feet. Technically, the Mexican isn't world class but he rarely needs more than one touch when he scores his goals because of his movement off the ball.

"Like Agudelo, his creativity and ability to improvise in front of goal has to be applauded. Unlike Agudelo, however, Hernandez was scoring regularly in Liga MX before his move, with 21 in 28 league appearances before he signed for United."

Ratings (out of 5):

Dribbling: 3
Finishing: 3
First touch: 3
Passing and vision: 3
Speed: 4
Aerial ability: 4
Strength: 4
Injury: 3
Maturity: 2
Defense (marking, tackling): 3

Total score: 32 out of 50
Potential score: 34

Ratings Meter:
0-10: Not even NASL level
10-15: Average NASL player
15-20: MLS Role Player
20-25: MLS Starter
25-30: MLS All-Star
30-35: Starter on mid, low-table EPL side or role player on top team.
35-40: A solid starter on a top EPL club
40-45: A legit star player
45-50: Messi, Ronaldo, Bale

Current transfer value: $1,000,000
Future transfer value: $3-7 million