Torres 2.0 - Would Oliver be a success at Chelsea?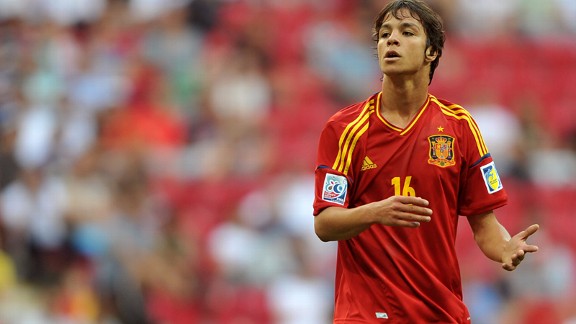 GettyImagesAtletico Madrid and Spain youngster Oliver Torres.
Name:Oliver Torres
Age: 18
Club: Atletico Madrid
Position: Central Midfield
Nationality: Spanish
---
Mutterings across a range of transfer news websites over the past 24 hours suggest that Chelsea are preparing a January bid for Spanish youngster Oliver Torres, with Spanish newspaper As the original source of the story. It is not the first time that the teenage Atletico midfielder has been linked with a Stamford Bridge move, having been heavily reported as a target in the summer of 2012. But, just how would he fare in England?


First off, it is important to note that Spanish football correspondent Guillem Balague believes that Barcelona have a first-option agreement on Oliver as part of the deal that took David Villa to the Vicente Calderon. However, this is an angle that has been reported by Balague alone, with reports in Marca since suggesting that it is rather fellow Spain youth internationals Saul Niguez and Javier Manquillo who were used as part of the agreement. Regardless of where the truth lies, first option agreements are far from binding.

Chelsea, the As report suggests, are preparing to use the possibility of Juan Mata joining Atletico as incentive for a move. Mata, who finds himself largely sidelined at Chelsea this season (although he did come off the bench for the second-half against Tottenham) is one of numerous attacking midfield options at Mourinho's disposal. Yet, for all their talent in forward areas, the Blues remain below-par for a top Premier League side in two central midfield positions -- the area where Oliver currently operates. Frequently compared with current Spain star Xavi, Oliver looks set to be the heartbeat of Spain's midfield in future years.

Anyone who watched the 2012 European Under-19 Championship will remember Oliver as the shining midfield light of the triumphant Spain side at that tournament, operating alongside Crystal Palace's Jose Campana and Liverpool-owned Suso. His playing style was simple, but unbelievably effective: picking up the ball, moving it on to a team-mate before looking to find space once more. With his excellent close control and range of passing, nearly everything Spain attempted went through his feet. At this summer's unsuccessful Under-20 World Cup, it was the same story once more.

He has also transitioned well to first-team level for Atletico over the past year, making a number of substitute appearances in which he has given notice of his potential ability. However, such limited experience at first-team level would suggest that he would be unlikely to wander straight into the starting lineup of a team with Chelsea's ambition.

English football would not be an easy transition for a player of his style. The game is played at a much quicker pace, it is more physical and sees most sides try to limit space in central midfield. While there has, on the whole, been a shift towards ball-retention and domination of possession statistics, it is still achieved at a more intense pace than would be the case in La Liga. It is not to say that Oliver does not have the ability to overcome such changes, just that he would require more patience than would be afforded to most incoming signings.

Given Chelsea's own shift towards technically-gifted players over the past couple of years, it would be easy to see Oliver fitting well with the likes of Eden Hazard, Oscar and even Mata, should he stay. His style of passing, moving and playing quick triangles, would fit well with Oscar in particular, but such a midfield would need some more robust physical support. Chelsea, for the moment, lack a top class defensive midfielder in the mould of a Sergio Busquets or Javi Martinez. A midfield built around the likes of Oliver and Oscar would surely also require such a figure.

Should an offer be made in January, it would be a surprise to see him move so early. Even were a deal to be completed, it would be better for the player if he were allowed to remain at Atletico for the remainder of the season and, possibly, another year beyond that. Oliver is only a slight figure (1.78m, 70kg) and, as discussed, still has only limited experience of first-team action. To move now would only see him loaned out or consigned to a substitute's role, so an agreement to remain at Atletico would doubtless be the best solution for all parties.

Long-term, such a player would be a terrific addition to Chelsea. Oliver is a truly rare talent who has been capable of influencing games with his passing ability from an early age and such players are worth gambling upon. Potentially, the Blues would be buying a player who would dictate their playing style and chances of success for many years to come -- that is very much the level upon which he is regarded. The Blues failed in their attempts to bring Luka Modric to the club from Tottenham, but perhaps will strike lucky in their pursuit of a deep-lying playmaker this time around.

Chelsea fans should not get overly excited, though. With Barcelona very much in the reckoning, it is far from certain that they would be the club to sign the youngster even if he were to choose to move on. Besides, given Atletico's current successes, there is good reason to suggest he will remain with Los Rojiblancos for some time yet. Plus, as an aside, no one could blame him for being cautious regarding a Chelsea move given that the club's Spanish trio of Mata, Fernando Torres and Cesar Azpilicueta are all in and out of favour under the current regime.

Oliver should be a future star of Spanish football and, while such predictions do not always come to bear fruit, there has been nothing thus far to suggest that he will in any way struggle with the demands of first-team football. Chelsea will not be the only English club eyeing his services and, it is perhaps knowledge of his popularity that would prompt such an early move. The Blues, though, must be careful to ensure that their continued stockpiling of young talents does not ultimately lead to too few of their hopefuls reaching their full potential. At present, it is a real concern.
For further discussion on any of the players featured in The Scout's Notebook, Christopher can be found on Twitter – @chris_elastico. More of his work profiling rising talents can also be found at TheElastico.com.