Weekend review: Premier League loanees on form across Europe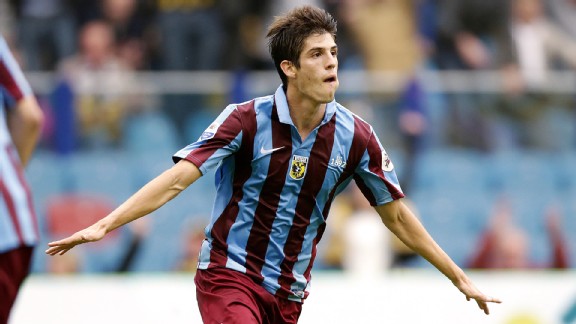 Getty ImagesLucas Piazon, currently on-loan from Chelsea, bagged a brace over the weekend for Vitesse.
It's been a quieter week for young stars in Europe's major leagues. However, instead of standout performances at the very top of the game, there were a number of standout performances from players who have been sent out in search of further game-time by their parent club and who must first prove themselves at a lower level. For fans of those clubs, it will have been an encouraging weekend.

Elsewhere, an emerging star of the Spanish game continued his impressive early season form, while two players allowed to move on from European giants in recent times have also begun showing that they, just maybe, can make their way to the top of the game via an alternative route.

Let's, then, take a look at the weekend just gone.

A trio of Premier League loan stars

Loan moves have become the established way of Europe's biggest clubs allowing their young prospects to develop at a time when stockpiled talents make first-team football at their parent club largely unobtainable and, this weekend, several such players came to the fore across Europe.

It was a particularly good weekend for Manchester United-owned youngsters, with Federico Macheda, Nick Powell and Angelo Henriquez all on the scoresheet for their respective clubs. The undisputed star, though, was attacking midfielder Jesse Lingard.

On Saturday, following his four-goal heroics on debut for Birmingham, this column looked at Lingard's recent development and chances of success at Old Trafford which, rather than be repeated, can be found here.

Elsewhere, in the Eredivisie, it was Chelsea-loanee Lucas Piazon who stole the show for Vitesse in a convincing 3-0 victory over PEC Zwolle. The Brazilian was lively from the start of the game, looking to cut inside from the left flank and play off the excellent hold-up play of giant striker Mike Havenaar.

The Brazilian's first goal was a calm side-footer into the corner after Ecuadorian Renato Ibarra had caused panic in the Zwolle area. His second was an emphatic low-driving shot with his left foot, as Piazon arrived into the area from the other side, having moved to a more central position following the introduction of fellow Blue Gael Kakuta.

The goals merely served to decorate a fine all round performance from the 19-year-old, in which he contributed to the Vitesse cause in both attack and defence. Piazon touched the ball more than any player on the pitch on Sunday evening, playing a central role in the comprehensive defeat of a team currently lying second in the table.

Besides his goals, he provided two or three excellent scoring opportunities for teammates and contributed some excellent set-pieces deliveries. He may not have much light on the horizon at Chelsea at present, but Piazon has the spotlight at Vitesse and certainly looks ready to step into a starring role this campaign.

Liverpool midfielder Suso, meanwhile, showed he is reaping the benefits of regular first-team football during his loan spell with Almeria on Saturday, with both his impressive self-confidence and ability on the ball in full view against Levante.

From a roving role on the right side of Almeria's front line, he was heavily involved in many of their attacks. His on-the-ball technique was showcased by his willingness to attack and beat his marker with the ball at his feet, while his ability to switch play quickly and accurately was also a common feature of his team's build-up play.

Close control and good acceleration led to him winning the penalty for Almeria's first goal, while Levante had already had notice of his long-range shooting before he fired in a spectacular second -- his first league goal in professional football.


Koke continues excellent start to season

Called to the Spanish senior national team for recent internationals after having won the Under-21 European Championship, it is fair to say that Atletico Madrid's Koke is riding on the crest of a wave at present.

With Atletico having won all five of their league games so far this season, matters continue to improve and the midfielder is undoubtedly a central reason behind the club's rise. In a league full of small, technical midfield players, Koke manages to blend impressive abilities with no small amount of physical strength.

This weekend, the Spaniard was outstanding and provided two assists for his side away at Valladolid. Add in another four chances created and it is clear why Vicente del Bosque has chosen to bring the 21-year-old into his senior squad.

Koke is remarkably composed for a player of his age and has proven to be excellent at helping control tempo for his side. A wonderful passer, he will surely be a major player for his country in the coming years and will be very difficult for Atletico to retain over the coming years.

Rebounding in fine style

The disappointment of being allowed to leave by a so-called big club has been enough to derail many a promising career. Therefore, it is encouraging to see those who have opted to try their luck elsewhere succeeding, rather than wallow in their own disappointment.

One such name has been Hull City's Robbie Brady, who has begun the season in outstanding form. Once a decent prospect at Manchester United, Brady found himself limited by the club's excellent attacking midfield options and was often consigned to a left-back role with the reserves.

Thus far, though, he has excelled at Hull and, since joining the Premier League, has been a breath of fresh air at a side expected to struggle. His left-footed delivery has always been a strength, but he has shown admirable creative intent and the ability to trouble even the most experienced of defenders.

Quite what level he will reach depends on his consistency over the coming months and years, but it is clear that more performances like he has shown thus far will attract significant attention. Ireland's new manager, in particular, should also take note.

Another player to have been a squad member of England's top-four but moved on in recent times is Jeffrey Bruma, and the Dutch centre-back was excellent on Sunday. Playing alongside 18-year-old Jorrit Hendrix, Bruma was a rock for his side in a sensational 4-0 victory over Ajax.

Bruma was PSV's best distributor when in possession, with only Hendrix touching the ball more, but was also the outstanding defensive contributor for either side. His potential was always known at Chelsea, but it may be that it is back in Holland that he finally shows his true worth as a senior player.

For further discussion on any of the players featured in The Scout's Notebook, Christopher can be found on Twitter – @chris_elastico. More of his work profiling rising talents can also be found at TheElastico.com.