Four-goal Lingard sends reminder to Moyes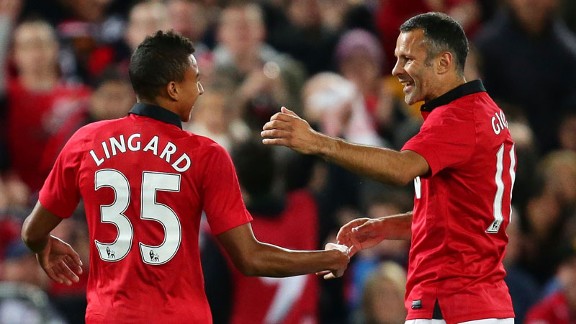 GettyImagesJesse Lingard scored four goals on his debut for Birmingham.
Name: Jesse Lingard
Age: 20
Club: Manchester United (on loan at Birmingham)
Position: Attacking Midfield
Nationality: English
---
It is amazing what confidence can do for a player's fortunes. When Manchester United prospect Jesse Lingard returned to Old Trafford in January from an unremarkable two-month loan spell at Leicester City, it was in the knowledge that he had failed to make much of an impact in five appearances at Championship level. For a player hoping to make the grade at one of the Premier League's biggest clubs and already 20 years of age, it must have been a somewhat worrying time for the young midfielder.

Fast forward nine months and the outlook could not be more different for the Warrington-born midfielder. Following his return from loan, United took back their diminutive prospect and integrated him into their Under-21 side once more. That side, for whom the linkup play of Lingard and the similarly-minded Larnell Cole was such a central feature, would go on to be the first team to win the new Under-21 Premier League just a few months later.

While youth successes ultimately count for little if not followed through at senior level, the changing of manager at Old Trafford this summer and the absence of several senior stars early in pre-season also meant that many of that squad were handed an early chance to impress their new coach, David Moyes. Ultimately, though, by the time it came to heading on a tour of East Asia, many were back training with the Under-21 squad once more. However, for Lingard, along with Adnan Januzaj and Michael Keane, a place in the touring party awaited.

- Lingard hits four on Blues debut

There is no exact science to how and when young players will make an impact. Fellow loanee Federico Macheda, many will remember, looked like a future superstar in his opening few appearances for the Red Devils. Over the past four years, though, his development has stalled to the point where some would argue he has regressed.

Lingard, conversely, went on tour with the senior squad to South Africa last summer and, while his performances were encouraging, he also did little to stand out from the crowd. A year on, though, and visibly more confident after his impressive form at the end of last season, Lingard was one of United's standout performers -- scoring three goals for the club from a wide attacking-midfield role.

"He is a great little player," was defender Rio Ferdinand's assessment of his impact in Asia. "On the previous tour, he was one of our best players but it didn't work out for him last season.

"He couldn't have done any more to put himself in the shop window in terms of the manager."

Such was his impression on what had been, in general, a rather lacklustre tour for the Red Devils, that many supporters were demanding his integration into the first-team squad. Unfortunately for the youngster, as United's big-name players returned ahead of the new season, it was rather a return to the Under-21 side that beckoned.

His performances had not been overlooked, though. A call up to England's Under-21 squad to face Scotland followed, where he made his first international appearance since Under-17 level and was consequently singled out by Roy Hodgson as a player of potential who needs to be playing regular football.

That regular football may now have arrived. Birmingham, who have relied heavily on loan players over the past 12-months, moved quickly to sign Lingard on a one-month deal following the opening of the loan window last week and, on his first outing for the club on Saturday afternoon, he scored four goals to begin his sojourn in the Midlands in fine style.

There will be much coverage of that achievement in the coming days, with four goals in the first 50 minutes of your career at any club a remarkable accomplishment. When you are a Manchester United-owned England youth international, though, that attention will always be magnified.

It still must be stressed that Lingard may never make it at Old Trafford, but he also deserves all the plaudits he will receive in the coming days. To really prove himself worthy of a chance at Old Trafford, though, it will require him to show the consistency of performance that the Red Devils expect of their players over the coming months. The Championship is a difficult division and he will rarely be allowed to play with the ease that Sheffield Wednesday afforded him on Saturday. Indeed, so great was his initial impact that teams will now likely single him out for special attention.

There will no doubt also be calls for his immediate integration into the Manchester United side once his one-month stay at Birmingham comes to an end -- similar to those which followed Januzaj's impressive cameo at Old Trafford last weekend. However, the Championship side are almost certain to try and extend that loan and, with Lingard far from guaranteed regular football at United, it is in the best interests of all parties that he is allowed to continue playing regularly this campaign. Lingard will turn 21 in December and is now past the point where reserve level football will be of any real benefit.

Even if he doesn't succeed with the Red Devils, there is something very likeable about Lingard and that should take him far in football. A hard-working player, his game is based on technical ability and intelligence rather than any particular physical attribute. To those that argue England does not produce young players capable of beating a man, or sharp passing interchanges, the example of Lingard is an excellent riposte.

The coming weeks and months will tell Moyes much more about Lingard's readiness for Premier League football than his scintillating Birmingham debut. What we have learned, though, is that he is now better equipped to take on the challenges ahead. The hard work is yet to come, but Lingard could not have asked for a better start to life on loan than his performance this weekend. He has given himself a platform from which to impress and, with his confidence levels high, there is no reason why he cannot kick on and really make a name for himself this season.

For further discussion on any of the players featured in The Scout's Notebook, Christopher can be found on Twitter – @chris_elastico. More of his work profiling rising talents can also be found at TheElastico.com.