Weekend Review: Januzaj debuts for Utd, Neymar lights up the Camp Nou
Another weekend has passed and once more there were a number of standout performances from emerging talents around the world. Each week, particularly at this stage of the season, there are budding stars doing their utmost to come to the fore and either announce their arrival on the big stage, or continue to prove their worth at that level.

As such, each Monday, The Scout's Notebook will take a look at some of the standout players from the weekend just gone, as well as any youth football talking points from the seven days just passed.

To kick us off, we have some unerringly familiar topics: a new starlet at Old Trafford, two Brazilians making waves in Europe, a free-scoring striker in the Eredivisie and a Sao Paulo midfielder coming of age in Brazil.

Old Trafford purrs at Januzaj debut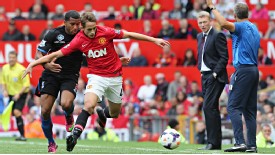 GettyImagesBelgian midfielder Adnan Januzaj made a real difference when he came on.
It is not often that a debutant makes a stadium anticipate his every touch, but Manchester United supporters have been lucky enough to witness a few such occasions in recent memory, with the debuts of Wayne Rooney and Cristiano Ronaldo particularly noteworthy.

There was a similar sentiment around the debut of young Belgian playmaker Adnan Januzaj this weekend, with the 18-year-old quickly becoming the centre of attention at Old Trafford following his 67th minute introduction against Crystal Palace. David Moyes will be wary of building up the hype around the youngster too quickly, but accepted in his post-match interview that the time has come for the former Anderlecht player to be handed more first-team opportunities.

Januzaj won't always find life in the Premier League quite as easy as it appeared against a tiring 10-man Palace side, but has all the attributes required to go far as a professional footballer. With excellent ability on his left-foot, he has already shown that he will be a danger when delivering into the balls for colleagues, but he is also a graceful runner with the ball and is not afraid to take on his opponent when the opportunity arises.

The eulogies have already begun, with comparisons to players as contrasting as George Best and David Beckham already emerging. He may not be particularly similar to either, but it is clear that he is a tremendous talent. With just one year on his contract, Moyes will be keen to tie him down to a new deal as soon as possible and thus avoid the club seeing a third potential star leave the club in just two years following the exits of Paul Pogba and Mats Daehli.

Brazil stars finding their feet in Europe


GettyImagesNeymar is finding his feet at Barcelona.
It was only going to be a matter of time before Neymar took centre-stage at the Camp Nou and, in Barcelona's 3-2 victory over Sevilla on Saturday, the Brazilian was undoubtedly the outstanding player on the pitch.

The star of the Confederations Cup has set about proving that he will be a good foil for Lionel Messi this season and, if anything, was overly keen to supply the Argentine on this occasion. There is an under-appreciated intelligence to Neymar's play, though, that is shining through as he looks to have adapted seamlessly to his new side's distinctive playing style.

His technical ability, of course, is already well known and unfortunate Sevilla right-back Coke will not be the only full-back in La Liga to be left a little red-faced by Neymar this season. He has now well and truly announced his arrival in European football.

Elsewhere, it was also the turn of Lucas Moura to put in a Man of the Match performance for Paris Saint-Germain in a 2-0 victory over a disappointing Bordeaux side.

Lucas is an intriguing player who too often fails to really make the most of the physical and technical attributes at his disposal. He lacks the natural intelligence of Neymar and, on occasion, is too easily pushed to the periphery of games.

When confident, though, he can be sensational. Lucas admitted just last week that he lacks belief when in a Brazil shirt, but he never looked to have any doubts on Friday night and gave debutant left-back Lucas Orban a torrid time throughout. Orban and Lucas are familiar foes, having faced off in the final of last year's Copa Sudamericana - another encounter that the Brazilian won comfortably.

Lucas now has a first Ligue 1 goal to his name on which he can build in the coming weeks. PSG need more end product from their young star and, talent-wise, there is no reason why he cannot provide it if he can take belief from his performance on Friday night.

Finnbogason continues scoring spree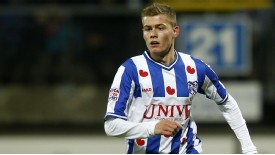 PA PhotosAlfred Finnbogason has impressed at Heerenveen.
The Eredivisie has, for many years, been a league where high-scoring centre-forwards have been abundant. When relocating to pastures new, however, results have been mixed, with some going on to greatness while others are simply unable to repeat their previous scoring feats.

This season one of those players would appear to be Alfred Finnbogason, a 24-year-old from Iceland who has opened the season with eight goals from only five games to date. Having scored regular goals in Iceland and Sweden, Finnbogason attracted interest this summer after netting 24 times in his debut Eredivisie campaign last season. That interest now only looks set to increase.

The tall centre-forward added two more goals to his tally on Saturday, the first from the penalty spot, before a second with a finish through the goalkeeper's legs from a narrow angle. It could, in fact, have been much more, with the Icelandic striker having squandered several good opportunities before opening his account.

He is clever with his movement and is excellent at holding off a defender and getting a shot away. Per Benefoot, he is expected to head on from Heerenveen in January and the Premier League would seem a likely destination following interest this summer.

Rodrigo Caio emerges from Sao Paulo flames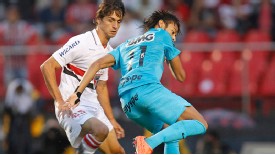 APRodrigo Caio (l) has starred for Sao Paulo.
It's not been a good season for Sao Paulo, with a mixture of departures, injury and poor form seeing the giants of Brazilian football slip into the relegation zone. A 2-0 win over Vasco this weekend, though, has moved them out of the drop zone for the time being and an important figure in that success was defensive midfielder Rodrigo Caio.

The 20-year-old has had a difficult season in many respects, playing every minute of his side's 21 league games thus far in a variety of formations and, indeed, a number of positions within those setups. In general, though, the versatile youngster has been a shining light in what has been a fairly murky picture for the club.

Caio played a number of games for Sao Paulo in both the 2011 and 2012 seasons, but found himself back in the youth side at the beginning of this current campaign as Wellington and Denilson cemented their roles at the base of the club's midfield in the closing months of last season. With the duo failing to find the same rhythm in 2013, Caio has capitalised.

A tall, slight figure, the Sao Paulo native is an elegant figure at the base of the midfield and an impressive reader of the game. He came to prominence in early-2012 for a noteworthy performance in nullifying the threat of Neymar against Santos, with his "scorpion tackle" throwing him into the limelight.

It was an interesting piece of innovation, using his hind leg to cut off the threat of Neymar cutting infield, as well as being a skill that showed that Caio had thought hard about the game ahead. He still can improve in his distribution and concentration moving forward, but he has been making good progress so far this campaign.


For further discussion on any of the players featured in The Scout's Notebook, Christopher can be found on Twitter - @chris_elastico. More of his work profiling rising talents can also be found at TheElastico.com.