Marquinhos: The rise of a champion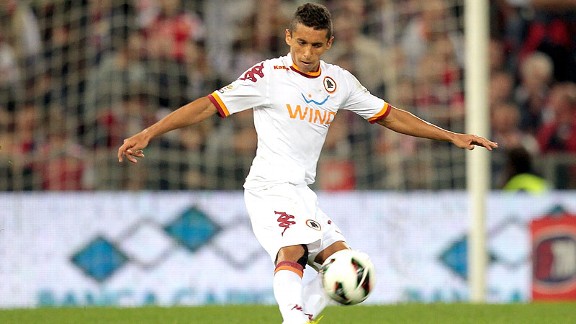 Gabriele Maltinti/Getty ImagesMarquinhos has displayed incredible talent on the field this season for Roma and remarkable maturity away from the pitch.
Name: Marcos Aoas Correa (Marquinhos)
Age: 18
Club: Roma (On-loan from Corinthians)
Position: Centre-back
Nationality: Brazilian

---

When Roma signed former Brazil Under-17 captain Marquinhos on loan this summer, few expected much of an impact from the teenage defender. Even those who have watched him progress through the youth ranks in Brazil, both with Corinthians and the national team, could not have been more surprised at the speed of his transition from emerging youth talent to first-team regular within weeks of arriving in the Italian capital.

- Martinis: Zeman's Christmas gamble pays off

His strengths have always been clear: Marquinhos is the master of the interception. His reading of the game has always been quite extraordinary for a player of his age and it is combined with speed across the ground that allows for quick recovery of position. At 6'0" tall and yet to fully bulk out, the Sao Paulo native is also far from the biggest of Serie A defenders, but his natural athleticism enables him to compete with even those much bigger.

It says a lot about his talent that this slight, somewhat inexperienced defender has quickly become Roma's most important centre-back -- keeping either the veteran Argentine Nicolas Burdisso or Brazil international Leandro Castan out of the side. Throughout his career to date, Marquinhos has risen with apparent ease to each footballing challenge that has presented itself, and evidence suggests the future could hold even greater success.

Marquinhos' rise to fame began at age 16 in 2010 when he was a stand-out performer for Corinthians' Under-17 side at the Future Champions tournament in Belo Horizonte. His showings at the event were enough for national youth team coach Emerson Avila to decide that Marquinhos was, indeed, one of the best centre-backs of his age group and, within months, he was captaining his country at the 2011 South American Under-17 championship.

Brazil won that event, securing their place at the World Cup in Mexico later that year, where the youngster would once more captain the side. By this point, his talents and leadership skills were clear for all to see. However, it was his maturity both on and off the pitch that was so striking.

There is, though, a major contributory factor to the youngster's composed persona. Marquinhos' elder-brother Luan had once also been a promising footballer, before struggling to make the step up from youth level. He is now dedicated to helping his sibling, monitoring Marquinhos' career and offering guidance to ensure that the Roma player succeeds where he himself struggled.

If 2011 was the year when he rose to prominence, then 2012 was to be Marquinhos' breakthrough year. Further impressive showings in a victorious Corinthians' side at the Copa Sao Paulo youth tournament in January shot the youngster into first-team contention, aged just 17, and less than six months on from that triumph, he was a Copa Libertadores champion.

Coach Tite may have kept Marquinhos on the bench over the two-legs of the Libertadores final, but showed great faith in the young star in domestic competition. The defender, who joined the club aged eight, quickly becoming a first-team regular in his final months at the Parque Sao Jorge.

By now, Serie A giants AS Roma had seen enough and quickly swooped in for Marquinhos' services. The centre-back signed a one-year loan deal in the Italian capital, with an option to buy further down the line. There has been praise of Roma's scouting setup for finding Marquinhos "from nowhere", but that is simply not the case. What Roma do deserve great praise for, though, is showing great faith in a player who could easily be overlooked at senior level due to his age.

Now, the plaudits are flowing. Marquinhos was sent-off for the first-time in his senior career on Sunday, for a late handball in his side's 4-2 victory over AC Milan, but it is only that suspension that would have ended his impressive run of 12 consecutive Serie A starts for the Giallorossi. So important has the young centre-back become to Zdenek Zeman's side that they have already withdrawn him from January's South American Under-20 championship due to first-team commitments.

The important thing for Marquinhos now is to maintain his focus and ignore the distractions that can emerge with both fame and fortune. It is now when his brother's settling influence should come to the fore, but there have been no signs of the youngster allowing his mind to wander. Given his size, intelligence and leadership qualities, there is somewhat of a young Fabio Cannavaro about Marquinhos. And if he can go on to emulate even half of the Italian's achievements, he will enjoy a fine career.

Despite recent suggestions that he could make the Brazil senior squad ahead of the 2014 World Cup, that tournament will surely come too soon for the young defender. Next summer, though, he will likely play a part as Brazil seek to retain their Under-20 World Cup title, in what will be a further opportunity for the player to demonstrate his potential.

However, a good end to the Italian season and a further impressive showing in Brazil colours next summer, and the World Cup squad may not be as distant a proposition as it currently seems.

For further discussion on any of the players featured in the Scout's Notebook, you can find Chris on Twitter -- @chris_elastico.