Chelsea prospect Wallace facing pivotal season at Inter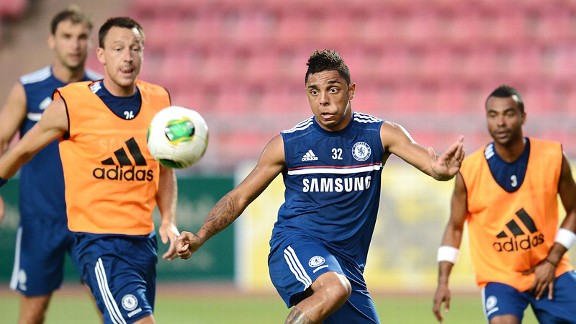 Thananuwat Srirasant/Getty ImagesChelsea's Brazilian defender Wallace faces a pivotal 2013-14 season on loan in Serie A at Inter Milan.
Name: Wallace Oliveira dos Santos (Wallace)
Age: 19
Club: Chelsea (on loan at Inter)
Position: Right-back
Nationality: Brazilian

For any young player, the challenge of moving to a new country or, indeed, a so-called big club can be a daunting one. It is a period that can make or break a player's career and, as has become increasingly common, can often involve at least one loan spell away from the club. It can be difficult for a player of any age, but for those just starting out on their footballing adventure, such uncertainties are a particular challenge. Succeed, though, and a world of opportunity will present itself.

That is the situation currently facing Chelsea-owned youngster Wallace, who will be hoping to push on over the coming months following a difficult first half of 2013. Now on loan at Internazionale, it will be far from easy for the former Fluminense youngster, with competition from countryman Jonathan and the weight of expectation at the San Siro, two significant hurdles that he must overcome. He is, though, very much used to dealing with pressure.

Like Chelsea colleague Lucas Piazon, Wallace was part of the Brazil national team setup from the Under-15 level and, having helped his side win the South American Under-17 championship in 2011, was regarded as one of the country's top emerging talents. Fluminense, it should be noted, have a fine track record with full-backs and Wallace's reputation was no doubt aided by the success the likes of Marcelo, Rafael and Fabio have gone on to achieve in recent years.

Just weeks after participating at the 2011 Under-17 World Cup, he was introduced to the Fluminense first-team and, over the next eighteen months, would play on a semi-regular basis for the 2012 league champions. His performances, while not exceptional, were very promising for his age and it was therefore no surprise when Chelsea came calling in December of last year. Since then, though, Wallace has encountered the first real difficulties of his brief senior career to date.

The year started with the South American Youth Championships in Argentina -- a competition Brazil had previously won on three successive occasions. This time around, though, the Selecao would fail to live up to pre-tournament expectations, failing to make it through to the final round. Wallace, unfortunately for him, was one of the scapegoats for the team's failure. Two poor outings in which he was pinned back by opponents saw his defensive frailties exposed and, having earned a one-match suspension for picking up two yellow cards, he was unceremoniously displaced in the side by club understudy Igor Juliao for the remaining fixtures.

It was a disastrous tournament for several players involved, with Wallace far from alone in seeing his reputation take a hammering following the event. Unfortunately, though, he was unable to quickly rectify matters, with Fluminense having already brought in an extra right-back to cover for his summer departure. His final six months with the Carioca club, then, were largely inactive.

It is under these difficult circumstances, then, that Wallace arrives at Inter, although encouraging showings on Chelsea's pre-season tour of Asia will no doubt have boosted his much depleted confidence. It should not be forgotten that, despite his recent travails, he remains a considerable talent and a highly impressive athlete. If he can work on his defensive deficiencies, then a bright future with club and country undoubtedly beckon.

It is in his positional awareness that Wallace has suffered most and, while his pace often allows him to recover, he will not be able to rely on doing so against better opponents. It is interesting, therefore, that Chelsea have chosen to send him to a side who predominantly operate with a three-man defensive line and wing-backs, rather than an English-style back four. He will have more freedom to play to his attacking strengths, but it will be intriguing to see whether he is afforded opportunity to strengthen defensively as part of Inter's preferred system.

"I came to do my best and work," Wallace told reporters this week, before indicating that the Italian side are already working intensively on his defensive abilities. "My strong point is attacking, but I need to improve in the defensive phase. We are working hard on this and I'm convinced I can do well."

A loan move to Inter is a gamble on behalf of both player and club, with no guarantee of extended playing time. Jonathan may not be a top class defender, but he is a more than decent option if he can stay fit. It will be far from easy, therefore, for Wallace to earn himself more than just a bit-part role -- especially with Inter not participating in European competitions this campaign. Chelsea would have been aware of all these factors before consenting to the move, but there is a major risk that their young defender will spend most of the season warming the substitute's bench.

"Inter and Chelsea are two totally different clubs," the defender has said of his move. "Inter have more history than Chelsea from my point of view, but to me it's time to train in the best way possible, play as much as possible and then we'll see for my future at the end of the season." If he is not playing, though, he could well find himself in the same situation once more next summer.

There is plenty to like about Wallace. Indeed, when in full flow he is a powerful runner on the right-flank who can offer a consistent threat from wide areas. He also, if needed, can do a more than reasonable job at left-back. He has, though, taken a risk in moving before establishing himself at senior level in Brazil and has chosen a far from easy route in attempting to succeed at the San Siro.

He has been bold in his decision making and clearly backs his own ability to succeed, but now it is only time that will be the judge of whether he has made the correct choices. For his own sake, as well as the future of the Brazil right-back position, the hope must be that his faith in his own abilities is well-placed.

For further discussion on any of the players featured in The Scout's Notebook, Christopher can be found on Twitter – @chris_elastico. More of his work profiling rising talents can also be found at TheElastico.com.