Vitinho: Seedorf's protege coming of age in Brazil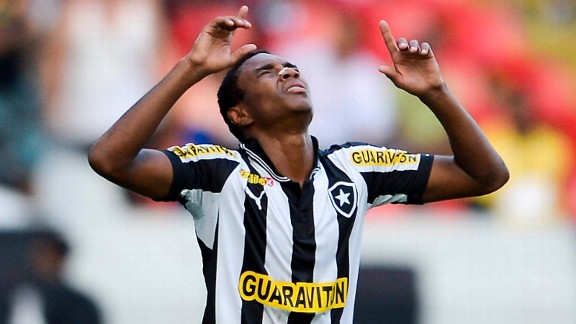 GettyImagesClarence Seedorf has taken Vitinho under his wing at Botafogo.
Name: Victor Vinicius Coelho Santos (Vitinho)
Age: 19
Club: Botafogo
Position: Attacking Midfield
Nationality: Brazilian
---
The 2013 Brasileirao season will certainly not be remembered as a vintage campaign in terms of overall quality, with the likes of Neymar, Bernard and Lucas Moura all having moved on since the end of last season. The financial reality of Brazilian football is much improved in recent years but, while players are now more inclined to stay longer in the country, the Brasileirao undoubtedly remains a selling league.

In hardship, though, Brazil continually pulls through to produce new stars and this season has certainly been no exception. There have been positive reviews for Santos youngsters Neilton and Gabriel Barbosa, Cruzeiro's Vinicius Araujo has proven that he can perform at a decent level for the senior team, while Flamengo's Nixon has shown promise and a good attitude. While there are several others that also deserve mention, there can be no doubting that it is Botafogo's 19-year-old forward Vitinho who has led the way for young talent this campaign.

His rise to prominence has been rapid, having only featured twice at senior level before the start of the calendar year and has rarely featured at youth international level. While supporters of Botafogo have long since maintained that he was a top prospect, he was not considered to be anywhere near the country's Under-20 squad for the South American championship this January -- overlooked in favour of several players from a younger age level. Indeed, many of those impressing in the league at present have been consistently overlooked with regards to youth national team selection.

While not being involved in the disaster that was the Under-20 championship may prove to be a blessing in disguise for Vitinho, his performances this campaign have now certainly catapulted his name to the forefront of supporters' minds across Brazil. Botafogo have won the Rio de Janeiro state championship this year and are now flying high in the national championship. While Vitinho was only on the verge of the squad back in January, he has improved considerably over the course of the year, developing into an important figure within the Alvinegro ranks.

"He is widely regarded as the best 'newcomer' in the league this season," Football Manager head researcher in Brazil, Paulo Freitas, explains. "He is a very talented attacking midfielder, with great technique and good speed off the mark.

"He needs, though, to improve his teamwork, as he can be too selfish at times. He tries to make things happen too much by himself, rather than passing the ball to a player in a better position."

While he has areas to improve in the coming months and years, then, Vitinho could not ask for a better role model than Botafogo team-mate Clarence Seedorf. The Dutchman has made himself a central figure both on-and-off the pitch at the Carioca club and, over recent weeks, would appear to have taken the youngster under his wing.



With plentiful support and his confidence running high, Vitinho's recent form has been exceptional -- supposedly attracting the interest of Turkish giants Galatasaray. In seven league games in August, he has contributed three goals and three assists to the Bota cause, helping maintain the club's league challenge. As a result, only Seedorf and centre-forward Rafael Marques have directly contributed to more goals for the side.

"Vitinho's form in recent games has been impressive," Freitas continued. " He has been able to shine even when his mentor Seedorf has not been present, scoring decisive goals in both the Copa do Brasil and the league."

For the moment, the teenager must simply maintain his form and prove that he is more than just a simple flash in the pan. The Brazilian championship sees many a young talent impress for brief periods each season, but only a few are able to sustain their form and prove themselves ready to seize their chance. Vitinho has already shown that he can reach highs that most are unable to reach, but to sustain those levels is what separates the likes of Bernard -- the undisputed breakthrough star of 2012 -- from the many talents who fall by the wayside.

A move to Europe now would be far too early and, in truth, he could do worse than to follow the example of Bernard. Having impressed in the opening months of last campaign, the attacking midfielder rejected advances last year, stayed on for a further year at Atletico Mineiro and gained valuable Copa Libertadores experience ahead of a move to the Old Continent.

Vitinho will now have a similar task to prove he can handle the pressure that expectation brings and, without doubt, remaining at Botafogo and learning from the likes of Seedorf and Nicolas Lodeiro is the best choice he could make at present. A move abroad can be an enticing option but, having made an initial impression, he would be better served honing skills at senior level that will serve him well for the remainder of his career. He is, though, certainly a name to keep an eye on over coming seasons.

For further discussion on any of the players featured in The Scout's Notebook, Christopher can be found on Twitter – @chris_elastico. More of his work profiling rising talents can also be found at TheElastico.com.