Yoichiro Kakitani: Cerezo Osaka's latest potential star
---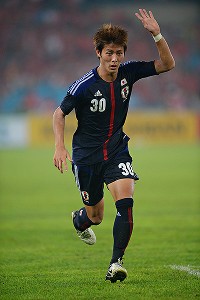 Getty ImagesYoichiro Kakitani could follow in the footsteps of Japan compatriot Shinji Kagawa.
Name: Yoichiro Kakitani
Age: 23
Club: Cerezo Osaka
Position: Forward
Nationality: Japan

Japanese football is undergoing somewhat of a golden period at present, with the country's national team having once more been the first side to qualify for next summer's World Cup before winning the hearts and minds of neutral fans with an excellent showing at the Confederations Cup, in particular against Italy. They are a footballing nation on the rise, with technical standards rapidly increasing across the spectrum in domestic football.

The past week has seen both Manchester United and Arsenal take on J-League opposition, with both sides finding their opponents difficult tests at this stage of preseason. The Japan league may not be attracting the level of foreign player it could once boast, with the Middle East and China now Asian football's financial powerhouses, but it is very much a league in ascendance.

It is also important to remember the Premier League clubs faced Japan sides missing eight of their best players in those recent fixtures, with the East Asian Cup taking place in Seoul the same period. Despite boasting what was probably the most inexperienced of the four teams, Japan also emerged victorious at that competition, beating both South Korea and Australia en route to victory.

It was a remarkable show of strength in depth from the Samurai Blue, who were without all of their now-sizable European contingent. The only side they failed to beat at the competition were a near full-strength China. Even then, they were leading 3-1 heading into the final minutes of a 3-3 draw.

Cerezo Osaka -- who managed an impressive 2-2 draw with Manchester United on Shinji Kagawa's return against his former club -- arguably provided the two leading lights of the competition for Japan in top scorer Yoichiro Kakitani and the tournament MVP, midfielder Hotaru Yamaguchi.

Cerezo have been prolific in their supply of talented young players in recent years. Kagawa is clearly the most famous of their academy graduates, while both Hiroshi Kiyotake and Takashi Inui played for the club before becoming instant successes in the Bundesliga last season. Kakitani, Yamaguchi and fellow midfielder Takahiro Ogihara, all of whom came through the club's academy and featured at the East Asian Cup, would appear to be a continuation of the trend.

While deep-lying playmaker Yamaguchi was named tournament MVP, it is highly likely that Kakitani would have picked up the award had he not finished as the competition's top scorer. Used as a central striker, although not a natural in the position, he scored three goals in two appearances and surely wrote his name into coach Alberto Zaccheroni's plans for coming internationals.

Considering he was uncapped ahead of the competition, it was a fine return and fitting he should have scored the winning goal late in the 2-1 win over South Korea in the tournament final.

The young forward has had to work for his shot at success and has emerged better for the process. Having been an integral member of Japan's youth setup from an early age, Kakitani shot to wider prominence with two goals at the Under-17 World Cup in 2007, including a sensational goal from the centre circle against France.



By that point, he had already made his first steps at first-team level with Cerezo, having become the youngest player to sign a professional J-League contract, but his progress to current highs would not be smooth. In 2009, having fallen out with manager Levir Culpi over a series of late arrivals to training, he was sent on loan to J2 side Tokushima Vortis. Kagawa, Inui and Kiyotake, meanwhile, were beginning to shine in the club's first team.

Speaking recently to Weekender magazine, Kakitani said of the experience: "Honestly speaking, I don't think I was ready to be a footballer. The way I was acting it was completely unprofessional. Luckily I got a lot of support from a variety of people who helped me through it and now I am in a much better place." While he admits he still needs to work on his strength, it is encouraging to see a player having learned from early mistakes.

Now 23, Kakitani has already hit double figures for the 2013 season, having done so last campaign. A wide forward or second striker, he is skilful in possession, has excellent vision and is, clearly, a good finisher. Most importantly, though, he is starting to add much needed consistency to his game.

"He is good. He has nice technique, but he needs more numbers and effectiveness -- goals and assists -- because he can do it," Culpi told Japan-based journalist Sean Carroll in May. "Shinji Kagawa is a good player because he did. This is the difference, he did it. He's a three-time champion now, two times with Borussia Dortmund and now Manchester (United). He did and he scored. He scored 30 goals, maybe, in J2, and he started with seven goals in J1 and then goes to Germany. The same in Germany. These are numbers; you need numbers. It's OK to play well, but you need numbers to be the best."

Culpi is hard on his latest young star, but it appears to be working. Kakitani's stock is on the rise and, with Borussia Dortmund having been linked earlier this year, it appears Europe is beginning to take note. The J-League has been ransacked by German sides in recent years, but the talent supply does not appear to be running dry yet, with Kakitani perhaps the best of all the domestic-based players.

The work of the JFA to improve grass-roots programs and youth coaching has been a great success, with a generation of skilled, predominantly two-footed players having emerged. At youth level, the work appears to be continuing, with Japan heading to the Under-17 World Cup once more later this year.

It remains to be seen just when Kakitani will make the switch to European football, but he almost inevitably will do so within the next 12 months. The likes of Yamaguchi, Yuya Osako and Manabu Saito, also part of the 1990 generation, will then surely follow.

For now, Kakitani will remain in possession of Kagawa's former No. 8 shirt at Cerezo and help the side in their pursuit of a place in next year's Asian Champions League. But 2014 should afford a far greater stage for his talents than that, but he must continue to impress Zaccheroni in coming games. He is clearly talented enough, but is he ready?

For further discussion on any of the players featured in The Scout's Notebook, Christopher can be found on Twitter @chris_elastico. More of his work profiling rising talents can also be found at TheElastico.com.