U20 World Cup: Pogba the driving force as France claim title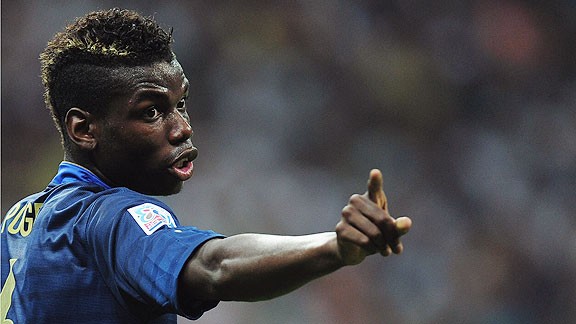 Jamie McDonald/FIFA/Getty ImagesFrance's Paul Pogba won the Golden Ball award as the best player at the Under-20 World Cup.
Name: Paul Pogba
Age: 19
Club: Juventus
Position: Central midfield
Nationality: France

It's been quite some 12 months for Paul Pogba. This time last year he was in the middle of a transfer saga that eventually saw him walk away from Manchester United to the clutches of Serie A giants Juventus. It is a decision that, with hindsight, looks to have done wonders for his career.

That is not to say that he could not have risen to prominence in quite the same way at Old Trafford, but we will simply never know. A year on and he is a first-team regular with the Italian champions, a full international with France and, now, an Under-20 World Cup winner. Not only that, but he was also named the best player of the tournament by FIFA, picking up the Golden Ball award that has previously been captured by the likes of Lionel Messi and Sergio Aguero.

- France win Under-20 World Cup Final

The French midfielder was masterful for much of the tournament and was, in the final, clearly the most complete player on display. While it was clear that many involved were still learning their trade, Pogba looked completely at ease throughout. He was, quite simply, too good for this level of competition.

From key tackles and interceptions ahead of the defensive line to forceful gallops forward, the Juventus man was crucial in maintaining French control over midfield areas. The pace of Nicolas Lopez may have caused Les Bleuets problems in defence throughout, but the favourites generally maintained an air of authority in the centre of the park. La Celeste were able to limit the impact of Lucas Digne from full-back, while Yaya Sanogo found himself marked out of the game. Pogba, though, was untouchable.

A black mark came with a second half booking for dissent, while his penalty that kicked off the deciding shootout also portrayed the same arrogance. However, it is an arrogance that managers will want him to keep for as long as possible. With his technique and physical ability, he will continue to succeed for as long as he believes he is better than those around him. The majority of the time, certainly at this level, he is.

Besides the picking up of naive yellow cards, which also saw him dismissed on his international debut against Spain earlier this year, he can also look to influence games more in attacking areas. He may be a level above those he faced these past few weeks, but he still has areas to develop to become an equally imposing force at the senior level. He has a rocket of a right foot shot and excellent close control when dribbling the ball forward, but he could still look to show those abilities on a more regular basis. For now, too many of his moments of sublime play are conducted inside his own half. He has the ability to improve in that respect.

For now, though, he will be rightfully acclaimed for his role in France's success. While the likes of Bruma and Juan Fernando Quintero lit up the tournament's early stages with their individual brilliance, Pogba was consistently excellent for all seven rounds of the competition. No matter who the opponent, he ensured that France had a solid footing in midfield from which to build, aided in no small part by colleague Geoffrey Kondogbia.

It can be forgotten amid the hype that Pogba has just one year of first-team experience behind him and, while there will be pressure for him to go to the 2014 World Cup, he must prove himself ready. All the signs thus far suggest he could play a role for his country at the tournament, but he will find himself a marked man with club and country from now on. He has made his breakthrough at football's top levels, but must now kick on and prove that he can consistently run games at that standard. All the signs are, though, that France will not need to worry about the centre of their midfield for some time to come.

The Scout's Notebook awards:

Player of the Tournament: 1. Paul Pogba 2. Jose Gimenez 3. Bruma.

Best XI: Alphonse Areola; Guillermo Varela, Kurt Zouma, Jose Gimenez, Ali Adnan; Paul Pogba, Oliver Torres; Bruma, Juan Fernando Quintero, Florian Thauvin; Ebenezer Assifuah.

For further discussion on any of the players featured in The Scout's Notebook, Christopher can be found on Twitter – @chris_elastico. More of his work profiling rising talents can also be found at TheElastico.com.