U20 World Cup: Europe-bound Uruguayans help down favourites Spain
Following Uruguay's success over Nigeria in the Round of 16, we focused on the individual contribution of forward Nicolas Lopez to the side's success.

However, against Spain on Saturday night there was no room for individual brilliance in attack as a tense affair was ultimately separated by just one goal in extra time. Uruguay were content to allow their opponents more than their fair share of possession, but earned a well-deserved victory based on brilliant defensive organisation and swift, direct attack.

That is not to say, though, that there were no standout performers -- three names in particular topped the billing on this occasion, all of whom are set to arrive on European shores this summer. Inter bound left-midfielder Diego Laxalt offered pace, industry and no shortage of innovation on his flank. Man United-owned Guillermo Varela was a constant cause of frustration to the Spanish attack from his right-back position, while Atletico Madrid's Jose Gimenez was a mountainous figure in the heart of defence.

Each player, though, will face very different challenges in the season ahead.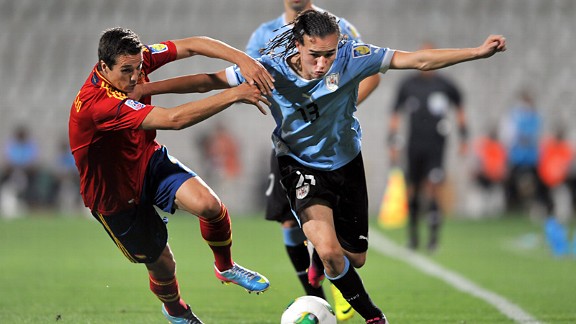 Ozan Kose/AFP/Getty ImagesLeft midfielder Diego Laxalt was a raw but confident menace against Spain.
Diego Laxalt, 20 years old, Left Midfield, Internazionale

Laxalt may still be very raw but it is clear that the Uruguayan has the potential to be a very good player. His surging runs down the wing were a constant worry to the Spanish side and while he had a tendency to rush his final pass, an improved sense of judgement should come with experience.

Technically, he is strong and he has the ability to beat players in confined spaces, as well as enough speed to simply beat his man in a foot race. Importantly, though, he is dedicated to his defensive duties and was able to offer fullback Gianni Rodriguez excellent protection throughout, much to the frustration of Jese and Javi Manquillo on the Spanish right side.

At Inter, he will likely be earmarked for the left wingback position currently contested by Japanese Yuto Nagatomo and Alvaro Pereira. It is likely that opportunities will be few and far between at first -- assuming that both positional rivals remain -- but it is conceivable that with a few solid performances the club may decide to ship the aging Pereira out.

Laxalt's task will be one of learning to be more patient in possession and also the positional responsibilities of wing-back play. At 2.8 million euros, though, he looks like an excellent long-term capture.

Guillermo Varela, 19 years old, Right-back, Manchester United

Much was made of Varela's lack of first-team experience when his transfer to the Red Devils was made official last month, but new manager David Moyes would no doubt have been impressed with his young charge's performance in helping nullify a much-vaunted Spanish attacking unit.

Up against him for much of the encounter was Barcelona B star Gerard Deulofeu, a player tipped to make an impact at the Camp Nou within the next couple of years. For the vast majority of the encounter, though, Varela was a equal match for all of Deulofeu's pace and skill. On all bar one occasion he timed his tackles well and was generally well-positioned to repel any threat.

However he does need to work on his attacking game, which is something he should develop at Old Trafford. While he should have been awarded a penalty on one of his forays forward, he has been reluctant to consistently push upfield in the tournament thus far. Another area United will look to work upon is his tackling technique, which can see him rush in to take the ball early. Against better players, it could leave him exposed or liable to pick up cards.

In that respect, the example of Man United's first-choice right-back Rafael will be invaluable, with the Brazilian having worked on similar aspects of his game while evolving into one of the Premier League's leading full-backs. Varela will spend the year covering for Rafael and likely playing regularly for the club's Under-21 side. He looks, though, to be a potentially clever acquisition by the English side.

Jose Gimenez, 18 years old, Centre-back, Atletico Madrid

The rock at the heart of the Uruguayan defence, Spain-bound Gimenez was sensational on Saturday night in denying La Rojita from creating more than a couple of major chances over the 120 minutes. Tall and stocky, Gimenez was everywhere for his side, intercepting passes, cutting out crosses and making several vital blocks.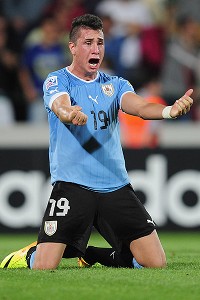 Jamie McDonald/Getty ImagesJose Gimenez has been in stellar form for Uruguay and should benefit from a spot in the Atletico Madrid system.

With a full season of first-team football already under his belt at Danubio, Gimenez is one of the more experienced members of the side at senior level despite his age. His reading of the game shone through against La Roja as he formed a formidable partnership with team captain Gaston Silva to keep Spain's strikerless side largely in check.

Like his two colleagues, Gimenez earned himself a transfer with impressive showings at the South American Under-20 Championship in January and has continued that form into this competition. He is, though, perhaps the furthest from first-team football in the upcoming season.

In all likelihood, the centre-back will spend at least the next 12 months in Atletico's B-side, playing in Spain's Segunda B division. Three of the Spanish side on Saturday night -- Saul, Manquillo and Oliver Torres -- have played at that level over the past year and all have since made strides into the club's first-team setup. It is a good place to start.

--

While it is difficult to make too many predictions about any of the three players listed, they are all heading to clubs where it would appear opportunities will be offered to young players. They have all proven to be talented prospects and, given the right coaching, can refine their game and become real assets to Uruguay in the future.

First, though, they will have a chance to help their side to Under-20 World Cup success, but must make it past surprise package Iraq in the semifinal. Elsewhere, tournament favourites France will take on Ghana for the second place in next Saturday's final.

For further discussion on any of the players featured in The Scout's Notebook, Christopher can be found on Twitter – @chris_elastico. More of his work profiling rising talents can also be found at TheElastico.com.