Roma youngster Lopez stars for Uruguay U20s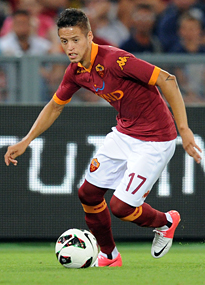 GettyImagesUruguay's Nico Lopez could be a future star for Roma
Name: Nicolas Federico Lopez Alonso (Nico Lopez)
Age: 19
Club: AS Roma
Position: Striker
Nationality: Uruguay

It has now been two years since the name of Nicolas Lopez burst onto the scene in Uruguay, scoring three goals in his first two appearances for club side Nacional -- including a double against Defensor Sporting. It was the moment that highlighted then 17-year-old Lopez as a star, and his career has continued to build momentum ever since.

Now with Italian giants AS Roma, following a messy divorce from Nacional in October 2011, Lopez is busy scoring goals for his country at the Under-20 World Cup. The Round of 16 may not have been a kind mistress to South American sides, with both Paraguay and Colombia unexpectedly bowing out, but Lopez and the similarly minded Nicolas Castillo for Chile ensured that the continent will have two representatives at the quarter-final stage.

Despite scoring a relatively simple tap-in and a penalty-kick, it is difficult to keep Lopez out of the headlines. Indeed, converting his spot-kick with a panenka ensures that he will claim more than his fair share of the highlights reels that emerge online. However, it is difficult to overstate Lopez's influence to this Uruguay side -- a team that appears to achieve more than the sum of its parts. If football were decided on sheer talent alone, both Argentina and Brazil would have qualified for this tournament. However, both were abjectly poor in January's South American championships, and had to watch as others took their places on the planes to Turkey this summer.

- England crash out of U20 World Cup

Lopez is an unusual candidate for a lone centre-forward role, standing at just 5'9" tall, and has perhaps understandably been shunted out to the left-wing at times in his early career at senior level. He is, though, a striker, and a potentially very good one at that. For what he lacks in stature, he makes up for in determination, skill and innovation, which is where the similarities to the aforementioned Castillo arise. The Uruguayan may have played less than an hour in total since his arrival in Rome 18-months ago, but he has made his mark, scoring a wonderful volleyed effort on debut to secure a last-gasp 2-2 draw with Catania last August. It was a strike that the man he had replaced, Francesco Totti, would have been proud of.

A fine finisher with his stronger left foot, Lopez's game is based around agility and close control. He has the ability to manufacture space for a shot in tight areas, and while not blessed with express pace, is quick enough to cause defenders problems. Playing as a centre-forward, there are two main facets to his game. He will either drop deeper, into wide positions, where he can help link play and create chances for others, or play off the last shoulder of defenders. His approach is dependent on the team's tactical setup, but he is perfectly comfortable either as the main forward, or as a second-striker.

In the final match of the group stage, as Uruguay marched past fellow quarter-finalists Uzbekistan 4-0, Lopez gave a fine demonstration of his all round abilities with a goal and two assists. His goal, shortly after half-time, was a demonstration of his composure in front of goal: collecting a through-ball, rounding the goalkeeper and smashing home a finish past the covering defenders.

However, it was his two assists that offered a better indication of his tactical flexibility. For the first, Lopez would run off his marker into a position in the right-hand channel and square for team-mate Giorgan De Arrascaeta to slot home. The second, having dropped deeper following the introduction of striker Ruben Bentancourt, saw Lopez pick up the ball in a left-midfield position, and draw out a defender before lofting a cross to the PSV Eindhoven forward.

Roma clearly rate his abilities highly, and handed the Uruguayan a place on the substitutes bench on 31 occasions in Serie A last season. While he may have only rarely appeared, he will surely be used far more in the coming season as he grows in experience. There is still quite some way to go in his progression, and he must continue to work on his game intelligence in particular. Serie A boasts some of the world's best technical defenders, and Lopez will not find it easy unless he continues to work on his positioning and off-the-ball movement -- he will have no luck if he is drawn into a physical battle.

He will need playing time, though, to work on those details in his game. Former Nacional team-mate Sebastian Coates is a good example of the stagnation that can occur even to very promising talents if not playing for extended periods of time, and Lopez must ensure that he does not encounter the same issues. Roma, though, are currently in a position where they are handing opportunities to younger players, and that can only be encouraging regarding his future.

Next up, in the quarter-finals, Uruguay will take on the might of tournament favourites Spain, who edged past Mexico 2-1. It is a match that will be seen as an opportunity for La Celeste to take a major scalp at the competition, even if the odds will be stacked against them. Lopez will be the man they will look to for inspiration once more, with the encounter a chance to further boost his burgeoning reputation. It should be a cracking match, and well worth tuning into if you have a couple of hours spare this coming Saturday.

For further discussion on any of the players featured in The Scout's Notebook, Christopher can be found on Twitter – @chris_elastico. More of his work profiling rising talents can also be found at TheElastico.com.