U20 World Cup: Quintero inspires Colombia as Porto move nears
Name: Juan Fernando Quintero
Age: 20
Club: Pescara
Position: Attacking midfield
Nationality: Colombia

Los Cafeteros of Colombia entered the 2013 Under-20 World Cup among the favourites for the title, having claimed the South American Youth Championship crown in January. Three games into the tournament, and they have only reinforced their challenger status, with an opening draw quickly rectified with two victories and first place in the Group C standings. With an uninspiring South Korea side next up in the last 16, and a fixture with the winner of Iraq versus Paraguay awaiting in the quarterfinals, a route to the final four has seemingly opened up for Carlos Alberto Restrepo Isaza and his side.

A fine side they are, as well. Goalkeeper Cristian Bonilla is already a regular starter with national giants Atletico Nacional, centre-back Jherson Vergara Amu is heading for AC Milan this summer, while central midfielders Sebastian Perez and Jose Leudo are among the best partnerships at the tournament. Ahead of them winger Andres Renteria and striker Jhon Cordoba have also already earned moves to the Liga MX, and have both played important roles thus far this tournament. However, for all the quality dotted around the side, it is Pescara central playmaker Juan Fernando Quintero who is the undoubted leading light of the side.

Quintero, who joined the Serie A club from Atletico Nacional last summer, has long been identified as one of the most talented footballers in South America. However, both in January's tournament and the ongoing competition in Turkey, he has shown that he has the capability to be truly special. It is potential that has been seen in flashes at Pescara, but was ultimately limited by the club's doomed effort to remain in the Italian top flight. However, in adversity may come opportunity, with Pescara's plight opening the path for a quick upgrade from the Stadio Adriatico in the shape of Portuguese giants Porto.

According to reports, a €10 million deal has been struck that will see Quintero arrive at the Dragao this summer where he will join countryman Jackson Martinez. Colombians have a great track record at Porto in recent years, with Fredy Guarin, Radamel Falcao and James Rodriguez all having gone on to big money moves out of the club, and Quintero will hope to continue the trend. Quite where he will fit in Porto's regular 4-3-3 formation remains to be seen, with it likely he may have to move to a wider role, however it is a great opportunity for him to gain experience challenging for trophies and in the Champions League.

First, though, attention will be on completing the task in hand in Turkey. Quintero has started the tournament impressively, scoring two fine goals in victories over Turkey and El Salvador, but Colombia's targets for the tournament are bigger than simply reaching the knockout stages. It is now for the diminutive midfielder to prove that he can influence games against better opponents and inspire his side to a place in at least the semifinal. He has the potential to write his name firmly into the tournament's history, but will need to up his levels of performance.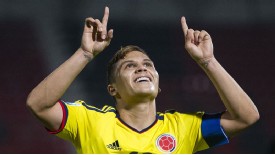 APJuan Fernando Quintero could be bound for Porto, according to reports
Ultimately, as well as Quintero as performed thus far, it is in the knockout stages of competitions in which the very best players make their mark. He has scored goals and looked consistently threatening, but he can still improve his levels of control on games in the coming weeks. If he can, then he has team-mates capable of converting chances and taking Colombia to success. At that point, the reported transfer fee with which Porto are parting with will look somewhat of a bargain.

The elegant No. 10 is a role that is central to South American footballing philosophy, with the player expected to be the brains of the team in attacking areas, and Quintero is very much a continuation of this tradition. While bothered little by defensive matters, he is always looking to move into space, to pick out a pass with his cliched "cultured left-foot" or to get a shot on goal. He is a player that an attacking unit can be built around, which is the case for Colombia at the moment.

At Porto, though, he may have to learn to adapt his natural game—for better or worse. He will be expected to press higher up the pitch and, if used wide, to be positionally and defensively disciplined. However he is used, it will all be part of a learning process and will help develop him as a player. The elite sides in European football at present require every player to be part of the defensive unit, and then to collectively spring forward on the counter as a unit. Quintero could therefore learn much from a couple of seasons outside of his comfort zone, before possibly return to central areas later on.

The World Cup next summer may come too soon for him to feature as a starter for Jose Pekerman's Colombia side, but he will almost certainly travel to Brazil among the 23-man party as back up for new Monaco star Rodriguez. A good season with Porto, though, and he will be in prime position to take advantage of any loss of form by one of those in possession of a shirt. A big few weeks lie ahead for the young star, but we are currently witnessing the early stages of what threatens to be a very promising career indeed.

For further discussion on any of the players featured in The Scout's Notebook, Christopher can be found on Twitter – @chris_elastico. More of his work profiling rising talents can also be found at TheElastico.com.