U20 World Cup: Deulofeu dismantles USA as Barca examine loan options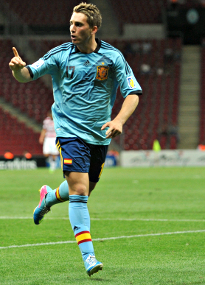 GettyImagesGerard Deulofeu: Spain U20 too good for the Barca reserves
Name: Gerard Deulofeu
Age: 19
Club: Barcelona
Position: Winger
Nationality: Spanish

Given recent transfer speculation regarding Under-21 European Championship 'Best Player' Thiago Alcantara, it is natural that the progression of young stars to the Barcelona first-team has come under scrutiny over the last few days. Los Cules are famed for the use of their terrific academy system, but it has reached a point where they have a group of talented younger players now desperate for minutes at senior level.

Andreu Fontas was sold this week to Celta Vigo with the option of a future return, Marc Muniesa will be allowed to leave on a free transfer at the end of his contract, while the likes of Rafa Alcantara (Rafinha) and Sergi Roberto are tipped to leave the club on loan deals in the coming weeks. These are players who, ideally, would have remained at the club. However, a combination of B-team football and substitute appearances is no longer sufficient to ensure continued development. While the players named are all talented youngsters, there is one player in particular who the Catalan side will hope to plan a meticulous route to the first-team for-winger Gerard Deulofeu.

Quite what route they will take is an entirely different question. In 33 second division games for the club's B-side last campaign, the young forward scored 18 goals for his side, adding another six assists in the process. They are figures to make anyone sit up and take notice, and the management at the Camp Nou are fully aware that he requires further challenges over the next year if he is to build on his consistent progression thus far. With Barcelona well stocked in wide areas following the recent addition of Brazilian Neymar, and seemingly set to retain the services of Alexis Sanchez, it is almost certain that Deulofeu's next steps will be taken away from the Catalan club.

There will be no shortage of suitors either, with clubs across the continent no doubt enthused at the prospect of having such a talent at their disposal for the coming season. A star at Under-17, Under-19 and now Under-20 level with his country, Deulofeu is undoubtedly one of the most hotly anticipated talents anywhere in Europe. His opening salvo at the current Under-20 World Cup, alongside Real Madrid's Jese Rodriguez, will have only added to the clamour to secure his services.

Deulofeu was sensational in helping his side to a 4-1 victory over USA on the opening day of the tournament in Turkey, claiming two goals and an assist to kick-start his campaign with a bang. His pace and movement on the flanks consistently unsettled the American defence, while his exceptional ability to pick out and execute the correct pass was clearly evident throughout. Having played alongside close friend Jese since Under-16 level, the pair's clear understanding of each other's games was a major feature of the Spanish side's attacking play.

"They are both so fast that it's almost impossible to defend against them," team-mate Suso said of the attacking pair post-match. "We were able to set them off towards goal with a few long balls in the first game because the US left spaces at the back and it worked out in our favour." Ghana, who Spain face next up, will have to learn from the US team's troubles, but will face a tough ask in silencing the Spanish attack.

With Borussia Dortmund reportedly having opted against taking up Barcelona's offer to loan Deulofeu this campaign, the question as to where he will play next season remains. Valencia, Sevilla and Real Sociedad currently lead the procession of La Liga outfits linked with his services, while it is believed that there is also Premier League interest in any potential loan deal.

The Camp Nou hierarchy will take their time in selecting a next step for their young star, with Deulofeu's future seen as hugely important to the club. They will seek to select a club where he will be afforded plentiful playing time, where the playing style will suit his abilities, and where he can learn more about the demands of top-level competition. It will be intriguing to see where he will eventually head, but the odds are stacked in favour of the youngster being a great success wherever he should end up.

For further discussion on any of the players featured in The Scout's Notebook, Christopher can be found on Twitter - @chris_elastico. More of his work profiling rising talents can also be found at TheElastico.com.