UEFA U21: Special Isco guides Spain to final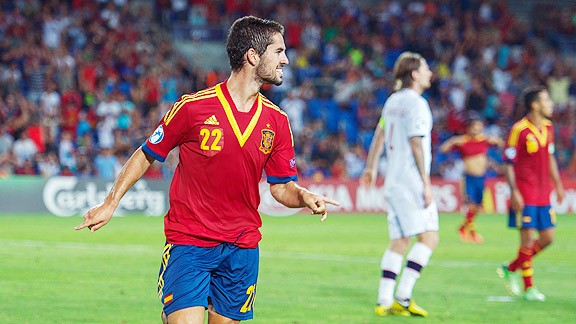 VI Images/Getty ImagesA commanding performance from Malaga midfielder Isco led Spain to a 3-0 win over Norway and a place in the UEFA Under-21 final.
Name: Isco
Age: 21
Club: Malaga
Position: Attacking Midfield
Nationality: Spanish

For the third time in four rounds of this European Under-21 Championship, the standout star of the round came from what is a mightily impressive Spanish side. As per expectations, they dealt efficiently with what has been an entertaining Norway side to secure a 3-0 win. The previously mentioned Asier Illarramendi and Barcelona's Thiago were predictably excellent in midfield, where Spain really established their dominance. The jewel in the crown, though, was Malaga attacking midfielder Isco.

- Spain cruise past Norway

While Illarramendi has been drawing many of the plaudits thus far in the tournament, the link up of Thiago and Isco in advanced areas has been a real feature of La Rojita's play. However, on this occasion, Isco far outshone his colleagues, offering a constant threat to the Norwegian defence. While Thiago was as neat and tidy as ever, it was the Malaga man who offered creativity and directness at the edge of the box.

Isco has been the centre of media attention at the tournament thus far, mainly because rumours over his immediate future continue to circulate. With Malaga ruled out of European competition next season, and looking to scale back on their well-paid squad, the attacking midfielder is widely expected to move onwards this summer. With his contracted release clause set at 35 million euros, they would be helpless in the face of any offer of that magnitude.

Understandably, new Manchester City manager Manuel Pellegrini is said to be keen on bringing his former charge with him to the Premier League. Isco described the Chilean manager as his "footballing father" earlier this week when questioned about his future, and is said to be keen on a move. The only major obstacle to the Citizens' attempts to bring the gifted young playmaker to the English Premier League would appear to be interest from Real Madrid. For the moment, though, interest from the Bernabeu is little more than speculation, despite the best efforts of their players in Spain's Under-21 squad to turn his head in the direction of Los Merengues.

If either side required any encouragement to dig deep and make their move for his services, they were offered it in abundance on Saturday evening. Isco was a constant thorn in the Norwegian side, looking to slip in teammates, recycling possession and also using his excellent close control to take on defenders. The culmination of his performance came late in the game, when a drag back to round a defender at the edge of the area opened up space for a toe poked finish high into the roof of the net past goalkeeper Orjan Nyland. It was, without doubt, one of the best goals of the tournament thus far.

"There were many defenders close and the only option was to try the spectacular, and I tried it out well. There was no other way to do it. I'm very happy," he said of his goal post-match. Spectacular it was, indeed. In general play, he was similarly impressive, and evaded the Norwegian defensive midfielders all night. For a player looking to be his side's creative hub, a success rate of 98 percent from his 64 passes represents an incredible return. He was faultless, and as the statistics on WhoScored show, he created seven major chances for his side. While his teammates retained the ball well throughout, Isco's incisiveness was the biggest difference between the two sides.

With the World Cup now 12 months away, it would be a major surprise if Isco cannot force his way into the senior side should his form continue. The directness that he offers in attack is something that the Spanish side have often lacked, and, irrespective of the competition, it would be impossible to leave him out should he repeat his 2012-13 season after the summer. Potential Manchester City teammate David Silva, for instance, is one player who may be looking over his shoulder at Isco's rise. The final of this tournament on Tuesday will be another opportunity to further cement his status as one of the world's top young players.

In that final, Spain will come up against Italy who downed a much fancied Netherlands side later in the evening. The Azzurrini were far from pretty in claiming their 1-0 victory, but will point to the result as justification for their tactics. One pleasing point from the game, though, was the return to action of Lorenzo Insigne -- the star of Matchday 1. That is all to come on Tuesday night, and hopefully we will be treated to a spectacle that lives up to the standards of the tournament so far. If Isco and Insigne can come to the fore, it should be a treat for the neutral.

For further discussion on any of the players featured in The Scout's Notebook, Christopher can be found on Twitter — @chris_elastico. More of his work profiling rising talents can also be found at TheElastico.com.