UEFA U21: Sarabia to the fore as Spain beat Dutch reserves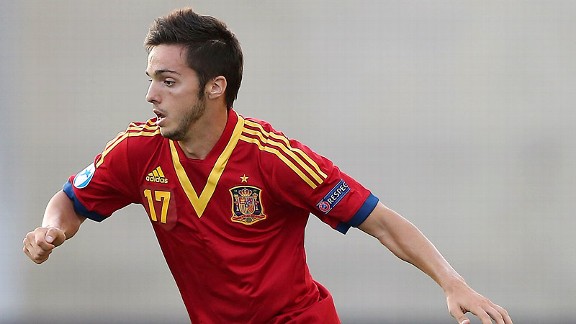 Ian Walton/Getty ImagesGetafe's Pablo Sarabia collected two assists for Spain's Under-21 team in their 3-0 win over The Netherlands.
Name: Pablo Sarabia
Age: 21
Club: Getafe
Position: Attacking Midfield
Nationality: Spanish

For two much changed sides, Spain and Netherlands delivered a footballing feast on Wednesday night, with the reigning champions showing their class to seal a 3-0 win. Netherlands will point to a side that contained a full eleven changes to the starting lineup as reason for their heavy defeat, but there can also be no taking away from the quality and depth in reserve that the Spanish side possess. They were simply the better side throughout the clash, with their selected big name stars to the fore.

- Spain storm past Netherlands

In goal, Manchester United's David de Gea was outstanding, making three big saves to deny the Oranje over the 90 minutes. In the centre of midfield, meanwhile, Malaga's in-demand playmaker Isco was at the centre of almost everything positive that La Roja managed to put together, while Real Madrid forward Alvaro Morata was once more on the scoresheet up-front. Perhaps the star of the show, though, was less-heralded Getafe attacking midfielder Pablo Sarabia -- provider of two assists on the night.

Sarabia is an interesting case study regarding youth development. There has been big debate in recent days over the handling of youth players in England, with Spain often cited as an example. The Getafe player, though, is not the best advert for that system.

Like Morata, Sarabia emerged through the youth system at Real Madrid, and was quickly identified as one of the brightest talents in Spanish football. At the 2009 Under-17 European Championship and World Cup, as well as the 2011 Under-19 European Championship, the 5'8" left-footed attacking midfielder was a central figure to his country's challenges for success. Since that 2011 competition, though, there is a worrying sense that his career has stalled at what is a crucial stage of his development.

Following the 2011 tournament, and in search of more first-team football, Sarabia followed several former graduates out of the club in the direction of Getafe. Among others, the likes of Roberto Soldado, Estaban Granero and Dani Parejo have previously spent time at the Coliseum Alfonso Perez before heading on to better things. However, for Sarabia, whom Real Madrid could still bring back to the Bernabeu at any point for a fee of 6 million euros, the transition has been far less smooth. With just 13 league appearances in two seasons since moving on from Real Madrid Castilla, the benefits of moving would seem negligible.

Explaining the lack of opportunities at Getafe, Spanish football expert David Cartlidge believes that a change of management and philosophy at the club has greatly hindered the youngster's development:

"Getafe is of often seen as an excellent base for Real Madrid players, but in recent times that has changed. With Luis Garcia installed as coach, we have someone more focused on the percentage and tactical side of the game. This has not worked in the favour of Pablo Sarabia. Garcia's game is more rigid, and with little room for unpredictability, and it has hindered the growth of Sarabia.

Sarabia's someone who likes to drift from the right side, and harnesses wonderful technical and playmaking attributes. He can also swing in a delicious cross. None of these aspects have been properly recognised by Garcia. At 21 years old Sarabia still has plenty of time to develop, but while he's young he needs to play as much as he can. Without restrictions."

Sarabia may not be first-choice for the Spain Under-21 side this summer, with several senior players having moved down into the squad for the tournament, but he has shown against Netherlands that he has the quality to define games against opponents at this level. Another season of fleeting appearances at club level, then, is clearly not what a player of such clear individual talent requires at 21 years of age. If he is not going to be used next season, he must endeavour to arrange a route out of the club.

For now, though, the focus will be on the remainder of the tournament, and Sarabia could be a major player for La Roja -- whether it be as a member of the starting lineup or not. However, with Barcelona's Cristian Tello out of form thus far, it may be that a first-team role emerges sooner rather than later. While not as quick as Tello, the Getafe player has consistently shown the ability to supply a pinpoint final ball throughout his career thus far. Tello, meanwhile, has been criticised for his lack of a final ball.

The development of Sarabia will be an interesting story to follow over the next couple of years. In terms of pure talent, he has the potential to reach the very top echelons of the game. However, he will not do so if his current plight continues. Over the next week Sarabia has a great chance to add to his CV, and prove his talent to those at Getafe and beyond. It is now up to the player himself, though, who must now take the initiative in deciding his own future.

Elsewhere, in the final round of group stage fixtures, an Ofir Kriaf goal helped hosts Israel to a 1-0 victory over a lacklustre England side. Meanwhile, elsewhere in Group A, Norway and Italy struck once apiece in the 90th minute to continue both sides' unbeaten record in this competition.

In the other Group B fixture on Wednesday night, Germany came from behind to beat Russia 2-1, with experienced international Alan Dzagoev a standout performer in the encounter.

For further discussion on any of the players featured in The Scout's Notebook, Christopher can be found on Twitter -- @chris_elastico. More of his work profiling rising talents can also be found at TheElastico.com.