UEFA U21: Illarramendi shines for Spain; Dutch delight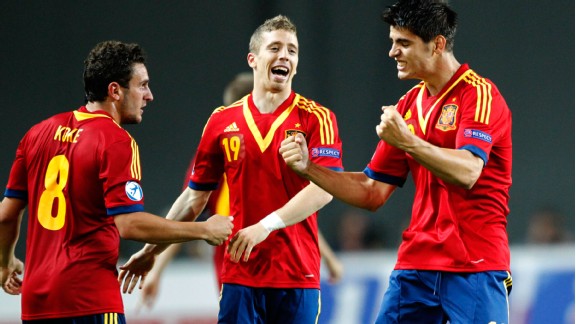 GettyImagesA 1-0 win over Germany didn't reflect Spain's dominant across the pitch
Name: Asier Illarramendi
Age: 23
Club: Real Sociedad
Position: Central Midfield
Nationality: Spanish

Spain secured themselves a semi-final berth on Sunday evening with a 1-0 win over Germany thanks to another late goal from Real Madrid striker Alvaro Morata. La Roja, though, had been comfortably on top for the majority of the match, wasting numerous opportunities to take the lead ahead of their 86th minute goal.

Once more it was central midfielder Asier Illarramendi who stood out for Spain as they asserted their customary control over central areas. The Real Sociedad man was the deepest lying of the Spanish midfield trio, helping to break up German attacks, and also to control the play of his own side. While Isco and Thiago were rightfully given the majority of the pre-match attention, it was Illarra who continued his club form once more.

Late on in the game, as Spain went in search of an elusive goal, the Basque midfielder also abandoned his more conservative role to become a threat in attacking areas, making a couple of surging runs into the area to get shots away on goal. While his colleagues had played plenty of aesthetically pleasing football around the edge of the box, it was this input of directness that had been lacking from the Spanish play in the first hour of proceedings.

Real Madrid were tentatively linked with a move for the man frequently compared to Xabi Alonso just last month, and based on his performances over the past 12 months it is easy to see why. Illarra was a major player for Real Sociedad in achieving Champions League qualification this campaign, and, should he continue his current form and development over the next twelve months, will be in line to step up into a regular role with the senior national side post-2014 World Cup. It will also be of little surprise if his list of suitors is revealed to be a little longer than just one club before the summer is up.

Credit must also go to Morata, who for the second game running changed proceedings after coming on as a second half substitute. The No. 9 has been a greater threat than Benfica's Rodrigo when introduced into both games thus far, and took his goal with aplomb on this occasion from a tight angle. Morata, now 20, has been a regular scorer in the Spanish second tier with Madrid's B (Castilla) side for three years now and will hope that the departure of Jose Mourinho this summer will afford him more first-team opportunities at the club next season. He now looks more than ready to make the step up on a more regular basis.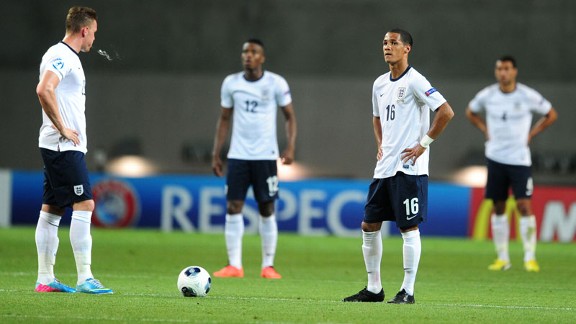 PA PhotosThere will be some serious reflection after another disappointing performance from the Young Lions
England crash out after Norway lesson

While these round-ups are generally player based, England's 3-1 defeat to Norway is better looked at from a team vs. team angle. This, after all, was an England side cut to ribbons at times by a Norwegian team whose four senior internationals were sitting on the bench. However, there is a very real argument to say that England actually performed better on this occasion than in their opening game against Italy.

To look first at the positives for Stuart Pearce's side, it can be said that they kept the ball well throughout and showed more attacking intent than they had against the Italians. However, despite an attacking trident with plenty of ability on the ball, they rarely threatened Norway's excellent back four. Nathan Redmond linked well with Danny Rose down the left-flank, but both Thomas Ince and makeshift centre-forward Wilfried Zaha will be massively disappointed with the service they received.

In midfield, a trio of Jordan Henderson, Jason Lowe and Nathaniel Chalobah lacked the creative nous to open up play for the forwards, while it was a catalogue of errors from the Three Lions in defence. They may have dominated possession but the ball tended to be circulated at no more than a pedestrian pace in central areas. It was predictable fare that was generally seen off with ease by the Norwegian defensive line. Once more, England will leave an Under-21 tournament having underwhelmed, and the soul searching has already begun in earnest.

Norway, though, were again impressive and it should not be overlooked among England's anguish. Captain Stefan Strandberg was moved to left-back and impressed for a second match in succession, while former Manchester United midfielder Magnus Eikrem proved that English academies can indeed produce creative talent with a very tidy display that was topped off with a lovely goal on the counter attack.

With their full strength lineup available from now on, Norway could be real challengers for a place in next week's final.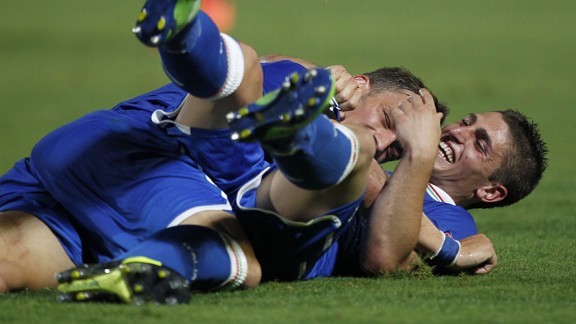 APMarco Verratti has been a clear standout for Italy over the last week
Verratti stars against 10-man Israel

Poor Israel have found themselves greatly out of their depth thus far at the tournament and were spared no pain by a merciless Italy side. While the hosts may have only been 1-0 down at the time of Eyal Golasa's dismissal, the signs were already there that it would be a long evening for them. Once with a man advantage, Italy simply toyed with their opponents.

According to WhoScored statistics, Italy wracked up an astonishing 79 percent of possession in the game, with PSG youngster Marco Verratti central to the side's play. While Lorenzo Insigne, star of Matchday one, may have been more impressive before his first-half injury, and forward Manolo Gabbiadini may have scored with two fine strikes, it was Verratti who came to the fore as Italy tormented their hosts.

To use statistics to quantify Verratti's influence, the deep-lying midfielder made 141 passes on Saturday night, finding the intended target with 97 percent of those. Despite playing from a deep position, he created three chances for his side to extend the lead, whilst also making three interceptions to break up Israeli forays forward. He was simply everywhere for his side and, if considered that he made way for substitute Nicola Sansone after just 70 minutes, the figures are even more remarkable.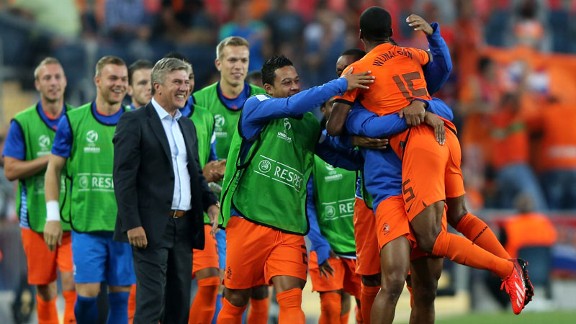 GettyImagesNetherlands look capable of taking out the tournament if their midfielders continue to perform
Dutch run riot against Russia

Netherlands continued their march to the knockout stages with a 5-1 victory over Russia in another game heavily affected by refereeing decisions. Just minutes into the second half, with the score at 1-0, Russian right-back Nikita Chicherin saw red for a poor challenge from behind on Netherlands' Adam Maher. From then on it was plain sailing for the Oranje, with Russia left to bemoan what was perhaps a harsh decision from the French official.

For Netherlands, the forward trio of Ola John, Luuk de Jong and Giorginio Wijnaldum excelled. Given an excellent platform by the midfield from which to excel, they combined to cause major problems for the Russian defence throughout. Wijnaldum opened the scoring with a fine run and shot from outside the area, de Jong then added to that effort with a towering header from a Marco van Ginkel cross, before flicking the ball on to free John to run clear in the left channel and loft the ball over the helpless goalkeeper.

The trio offer an interesting array of skills. Wijnaldum is a converted attacking midfielder, looking to use his trickery to create chances and score goals from the right flank. De Jong, utilised as a classic No. 9, looks to hold up the ball and bring others into play around him. Meanwhile, on the left, Benfica's Ola John is more of a traditional winger, using his speed to attempt to get to the byline on the left. It is a mix of talents that, if they can get central playmaker Adam Maher firing behind them, could see the Jong Oranje to the title. The one worry will be that, with neither Van Ginkel or Kevin Strootman natural holding midfielders, they might be a bit open in defence against the tournament's best sides..

Russia had their moments, though, particularly through the feet of senior international Alan Dzagoev. The CSKA Moscow midfielder arrived ahead of this second fixture and showed early on that he would be a threat if given space in attack, as he drove a shot narrowly wide of the near post. The red card would negate his influence on the game, but a header against the post in the second half would set up Denis Cheryshev for Russia's solitary goal of the tournament thus far.

For further discussion on any of the players featured in The Scout's Notebook, Christopher can be found on Twitter – @chris_elastico. More of his work profiling rising talents can also be found at TheElastico.com.