Fiorentina hoping to win race for Nico Castillo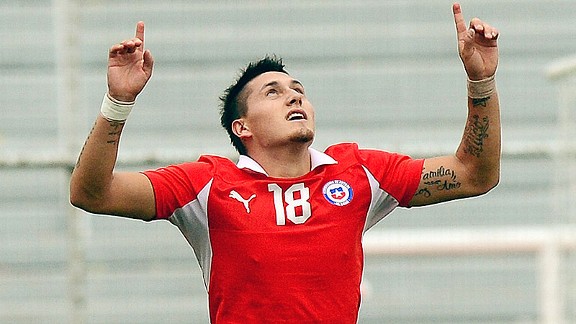 DANIEL GARCIA/AFP/Getty ImagesChilean Under-20 player Nicolas Castillo has been linked with Serie A side Fiorentina.
Name: Nicolas Ignacio Castillo Mora (Nicolas Castillo)
Age: 20
Club: Universidad Catolica
Position: Forward
Nationality: Chile

Since his standout performances at the South American Youth Championship in January, the future of Chile striker Nicolas Castillo has been a major talking point among the continent's media outlets. Linked with moves to Italy and Belgium at the time of the tournament, he instead remained in his homeland for the time being. It would appear, though, as if the race is already hotting up to secure his signature this summer.

Castillo is an intriguing prospect, indeed. He is not a natural predator in the mould of teammate Angelo Henriquez, now at Manchester United, nor is he a particularly obvious choice of target man. What he is, though, is a fighter, with enough technique and physical strength to make him a nightmare proposition for defenders from a number of starting positions. He may be just 5'9" tall, but he will challenge for every cross and use every ounce of his strength to unsettle his bigger opponents. If played from wide, he also has enough pace and trickery to make an impact from that role.

His combative nature, though, is not the only reason that defenders have begun to fear the young striker -- after all, experienced defenders across South America have come up against countless workhorse strikers. What Castillo also offers, though, is incredible flashes of his technical ability. He may not dribble with a football as well as a Neymar or Lionel Messi, or even finish as clinically as Henriquez, but he has the ability to conjure up moments of magic at the drop of a hat. Whether it is an astonishing improvised finish, a clever flick on to a teammate or even a quick trick to win space, he is capable of it all. If he can work on his consistency, and raise his goal return to higher levels, there is no reason why he could not reach the top levels of the game.

There are faults; that is for sure. He can occasionally overstep the mark in terms of physicality, and can be rattled by opponents who are willing to offer him a taste of his own medicine. Aged 20, though, there is still plenty of opportunity for him to mature in this respect, while also adding consistency to his performances. The basic physical and technical abilities are there for him to go on to success, but he must now prove that he has the learning capacity to maximise his potential. It is the learning of when to utilise his strength, when to improvise, as well as basic positioning and timing of runs that will decide just how far he can progress.

According to reports this week, it is Serie A side Fiorentina who are currently leading the race for his capture. Should Castillo join the Viola, he would become the third Chilean at the club alongside both David Pizarro and Mati Fernandez, and, interestingly, all three players are reported to be represented by the same agent -- Alejandro Santisteban of the AIM Futbol agency. Having countrymen at the same side should, in theory help his adaptation while Serie A in general is becoming a prosperous developing ground for young South American talents as financial realities force clubs to look into different markets.

With a price tag that will no doubt appeal to potential European investors (unlikely to be in excess of 3-4 million euros), Castillo should represent value for money for any side looking at his capture. However, potential suitors would be well-advised to move swiftly for his purchase if they are already sufficiently impressed, with the Under-20 World Cup later this summer another platform for him to impress. Shine on that stage, and there is no doubt his valuation would increase significantly.

Chile will welcome back Henriquez into the side for the tournament in Turkey this summer, so it will be interesting to see just how Castillo is utilised within the side. La Roja, though, will be hoping to go deep in the tournament, having shown enough in qualification to suggest that they could be real contenders if they can work upon their disciplinary issues. While the likes of Seba Martinez, Henriquez and Igor Lichnovsky will be looked upon as the solid and consistent core of the side, it may well be that it is Castillo's ability to improvise that comes up trumps.

As a side note -- Chelsea fans, too, may consider the side worth watching with summer arrival Cristian Cuevas also set to be in action.

Castillo's future looks set to be resolved in the coming weeks, and then it will be down to the player himself to ensure that his potential is reached. At present, it would appear as though Fiorentina would present a great opportunity for the youngster to take his first steps in Europe, with the aim of reaching the game's very highest echelons. As always stressed in this column, though, player development is never as easy to predict as it looks on paper.

For further discussion on any of the players featured in The Scout's Notebook, Christopher can be found on Twitter – @chris_elastico. More of his work profiling rising talents can also be found at TheElastico.com.