Five breakout players of the season 2012-13
Football is a sport in an almost constant state of transition. Just a year ago, few would have predicted the way that Bayern Munich dismantled Barcelona in the Champions League semi-final, or that Manchester City would end the season with an empty trophy cabinet. Sport, as always, has the ability to surprise.

When predicting the breakout of youth footballers, the results can be similarly unpredictable. Talent, hard work and even luck are all major factors in which young players will eventually succeed at the highest level. For a combination of such reasons, some of the best players at youth level will inevitably fail to progress when promoted to senior level. Breaking through, then, at that level is a major achievement.

Therefore, as we come to the end of this 2012-13 season, it is fitting to look back at which rising stars have taken their opportunities to shine at the highest levels. Who are the players who have, in the course of one campaign, written their names into the minds of clubs Europe-wide? Below, let's take a look at five of the best.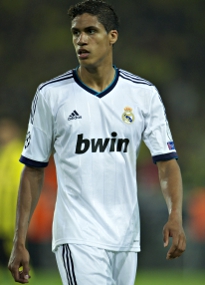 GettyImages
Name: Raphael Varane
Age: 20
Club: Real Madrid
Position: Centre-back
Nationality: French

At the start of the season, it was unimaginable that French defender Varane would find himself first choice at Real Madrid just a few months later. He has, though, seized the opportunity granted by manager Jose Mourinho to place himself firmly above Raul Albiol, Ricardo Carvalho and Pepe in the pecking order.

Varane has been on the radar since making his senior debut for Lens in 2010, earning a move to Real Madrid a year later. It has been in the second half of this second season at the Bernabeu that he has firmly established himself -- making a total of 28 first-team appearances.

While tall and physically strong, Varane has impressed with the speed at which he has adapted to the mental demands of playing for a top club in big competitions. There have been mistakes, as is to be expected, but he has quickly moved on from any such blips to put in a string of highly impressive performances. His concentration levels, in particular, have been a major reason behind his rise to prominence.

His success at club level, which saw him take part in crucial Champions League clashes with Manchester United, Galatasaray and Borussia Dortmund, also caught the attention of France's selectors at international level. Varane has made three World Cup qualifying appearances for Les Bleus this campaign, and could be a young star to watch at next summer's tournament in Brazil.

Mourinho has been criticised in the past for not handing opportunities to young players, and while Varane may not have been a Madrid-produced player, the Portuguese manager should be praised for his faith on this occasion. Varane is already well on the way to justifying those selection calls.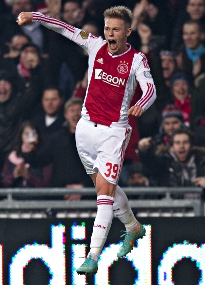 GettyImages
Name: Viktor Fischer
Age: 18
Club: Ajax
Position: Forward
Nationality: Danish

This time last year, Danish forward Viktor Fischer was finishing his first campaign as an Ajax player as the joint top scorer in the NextGen Series youth competition. While that was a fine achievement in itself, his rise to become an integral member of Ajax's Eredivisie-winning squad this season is even more impressive.

With Fischer's abilities already well known, and the hype beginning to rise, Ajax head coach Frank de Boer was understandably slow to introduce the player to the first team at the beginning of the campaign. Once included, though, it was no longer possible to contain the expectation levels. Two goals on his full Eredivisie debut against PEC Zwolle in November set the tone, and he would quickly go on to become a regular starter for the Amsterdam outfit.

A confident individual, Fischer overcame a small slump in form midway through the campaign to finish his first senior season with 10 league goals in just 23 appearances from his left-sided starting position -- as well as contributing four assists. With a game built upon fast interchanges and lethal finishing when cutting in on his preferred right foot, Fischer has immaculate technique to back up his style with substance.

Links to some of Europe's biggest clubs have inevitably surrounded the player since well before his first team debut. He will likely remain at Ajax for the time being, but it will be no surprise to see several big-money bids for his services should he continue his improvement next campaign.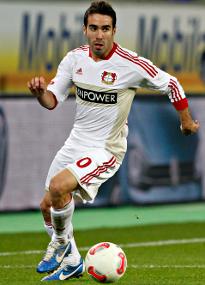 GettyImages
Name: Dani Carvajal
Age: 21
Club: Bayer Leverkusen
Position: Defender
Nationality: Spanish

After impressing for Real Madrid's Castilla side last season, Dani Carvajal moved to the Bundesliga with Bayer Leverkusen in an attempt to continue his development at a higher level. It would appear, though, that Real Madrid are already regretting his release, with reports continuing to link the Spaniard with a return to the Bernabeu.

Carvajal's contract at Leverkusen means that Real Madrid are able to recapture him this summer for a fee in the region of €6.5 million. While that would represent a €1.5 million loss for the club, it is a price many would consider worth paying for the rising full-back star. With Real's current right-back Alvaro Arbeloa drastically out of form, Carvajal's performances in Germany have begun to resonate all the more profoundly at his former club.

The 21-year-old Spaniard is a modern full-back, skilled in defence and ever willing to join the attack. He has been a contributor of several assists in the Bundesliga this season, pushing forward down the right flank, while always remaining aware of his responsibilities. He may still, on occasion, be caught out of position, but has improved in this respect as the season has progressed.

Returning to the Bernabeu will be a challenge for the young full-back, but one that he is capable of succeeding at. Carvajal is combative and determined in defence, and is reasonably good aerially for a player of just 5-foot-8. Given his outstanding displays this campaign, and impressive attitude, it would be little surprise to see Real Madrid splash out to recapture his services this summer. He is simply too good to be allowed to slip away.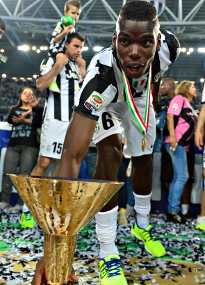 GettyImages
Name: Paul Pogba
Age: 20
Club: Juventus
Position: Central midfield
Nationality: French

The departure of Paul Pogba from Manchester United last summer left many at Old Trafford with a sour taste in their mouths, as the Frenchman rejected the offer of a new contract to join Turin giants Juventus. Thus far, it would appear that his decision has paid dividends. Pogba has rapidly gone on to become a first-team regular, as well taking his first steps at senior international level.

The powerful central midfielder's talents have always been known, with his range of passing and quality of ball-striking strong features of his game since youth level. It has been remarkable, though, to see him transfer his abilities to senior level with such ease. Pogba has never lacked confidence, but the calm with which he has approached Champions League, Serie A and international football is highly impressive. Sir Alex Ferguson's disappointment at his exit from the English game is understandable.

While Pogba may have been shown a red card on his international debut against Spain, it was a game that showed much of the young star's best attributes. Against a midfield containing the likes of Xavi, Andres Iniesta and Sergio Busquets, he held his own throughout, and was perhaps unlucky to see red for what was a display of youthful naivety. Tactically disciplined, strong in the tackle and calm in possession, Didier Deschamps' faith in his ability was proved justified.

Pogba has already been somewhat tentatively linked with a move away from Turin, with Real Madrid the supposed destination. For the moment, though, he is succeeding in Italy, has a Scudetto in the trophy cabinet and would be best served continuing his development with the guarantee of first-team football.


GettyImages
Name: Christian Benteke
Age: 22
Club: Aston Villa
Position: Striker
Nationality: Belgian

When Aston Villa made Christian Benteke their big-money signing (believed to be around £7 million) last summer, there were many people worried that the club had made a mistake in gambling upon a 21-year-old from the Belgian Pro League. Those worries would only increase as Villa made a slow start to the new season.

Benteke, though, has repaid the faith shown by Villa's board. Had he not been sent off in his final league appearance of the season against Chelsea, the Belgian would have had the chance to write his name into history on the Premier League's final week. With 19 goals in 34 appearances, he came agonisingly close to joining an elite group of players to have scored 20 league goals in their debut campaign in the English top-flight.

While Villa fans may initially have worried about his acquisition, it was Benteke who ultimately played a major role in the club's Premier League survival. With pace and strength in abundance, the striker proved a handful to defences up and down the country, while his link-up play with fellow forwards Gabriel Agbonlahor and Andi Weimann was crucial to the team's run of form late in the season. A hat trick against Sunderland and a dominant display against Liverpool at Anfield remain highlights of a fine overall campaign.

There is already said to be serious interest in the striker from some of Europe's biggest sides, with his successful adaptation to the Premier League having captured the imagination. For the moment, though, Villa will hope to retain his services, and Benteke must prove that he is capable of such performances year after year.