Memphis Depay: Netherlands' latest maverick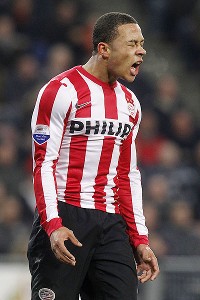 VI Images via Getty ImagesMemphis Depay, 19, hasn't met expectations this year at PSV Eindhoven.
Name: Memphis Depay
Age: 19
Club: PSV Eindhoven
Position: Versatile forward
Nationality: Dutch

Who is he?

Memphis Depay shot onto the scene in the 2011-12 season, scoring a handful of goals from the sbench to cement his status as one of the Eredivisie's brightest young talents. The wide forward then starred with his nation's Under-19 side at the 2012 European Championship. This campaign, though, has not been easy for the PSV youngster.

Memphis, the name he now goes by, was brought up by his mother in Moordrecht, having not seen his father since childhood. It is through his father, though, that Memphis potentially qualifies to play for Ghana. The teenager has spoken of learning his trade in the streets and squares of both his hometown and of Rotterdam. It was in these streets, and with local side VV Moorabbin, that he first honed his dribbling technique.

A natural athlete, he would join the youth academy of Sparta Rotterdam at 9, before moving to the ranks of PSV Eindhoven just three years later. Capable of playing as a striker, or from wide positions, the cocky youngster quickly made his way through the youth ranks at the club, to the close attention of international selectors.

Playing as a left wing, Depay would play a major role in helping Netherlands to qualify and win the Under-17 European Championship in 2011. The lightning-fast forward's biggest contribution would come in the final, when he scored a magnificent solo effort to help down Germany. Chelsea's Nathan Ake and Feyenoord's Tonny Vilhena are also graduates of the 2011 Oranje Under-17, although both were young enough to also claim the title in 2012.

Having written his name into the notebooks of youth football watchers Europe-wide, Memphis took his first steps with the PSV first-team in 2011-12. Four goals in a handful of substitute appearances ensured he made his mark, and in July 2012 he was rewarded with a new five-year contract by the club.

While all looked bright for the youngster, there were signs that it might not all be plain sailing ahead. Memphis, unusually, was on the receiving end of criticism from then-coach Fred Rutten for being too concerned with another hobby -- rap music. "Depay has to choose between rap and football," Rutten said. "It's not smart to bet on two horses. You can't abandon your training duties because you have to perform at a rap concert." Depay, indeed, is no regular emerging talent.

2012-13 season

After his breakthrough campaign, much was expected of the Dutch winger this season. For all the expectations, though, Depay has managed just a handful of starts for his side -- a source of much frustration for the youngster.

Depay has complained about a lack of playing time under manager Dick Advocaat, unable to find form with limited opportunities. While his peers at Ajax and Feyenoord have been afforded regular senior activity, PSV have been more reluctant to utilise their young players, with fellow 19-year-old Jurgen Locadia also short of starts.

Question marks have been raised over his character, with Memphis exuding a natural arrogance both on and off the pitch and his performances not matching that demeanour. Without doubt, though, he has the talent to be a major player at the Eredivisie level.

Strengths

With excellent close control and blistering acceleration, Depay is a defender's nightmare when on form. He is generally calm and composed in front of goal, while also comfortable joining in with the buildup of play, having regularly played No. 10 at youth level. The young winger has also shown excellent delivery and free kick-taking ability off his favoured right foot.

Weaknesses

Predominantly attitude. Both Advocaat and Rutten have questioned his commitment and consistency the past 18-months, with both managers fully aware of the natural talent he possesses. Given his usage on the left flank, it would also be good to see the youngster work on his left-foot delivery in order to offer variation to his approach.

What Others Say

"Memphis is one of the Netherlands greatest talents, and a very passionate and ambitious kid also. If he continues to develop like this, he will give the club a lot of pleasure." - PSV technical director Marcel Brands

"Sometimes it works, sometimes it doesn't. Memphis is still too inconsistent." - PSV manager Dick Advocaat

"He plays as if he has won 10 European Cups. He is cocky. What's it all about?" - Feyenoord manager Ronald Koeman

Expert's View

Michiel Jongsma, Dutch football writer:

"His season has been a bit disappointing, having burst onto the scene last year. He has not had as much playing time as some would have had expected, mainly because of the acquisition of Luciano Narsingh (from Heerenveen). His good right foot, technique, pace and eye for the goal should make him a fine, fine player for this PSV side, while he is remarkably strong for such a small player. For the moment, though, he is still struggling to break through, as PSV have quite some talented attackers in the side. However, that said, Jermaine Lens is likely to leave and Belgian winger Dries Mertens has impressed also, so opportunities could open up for him next season.

"Regarding his consistency issue, it's not only him. Memphis has complained about the lack of clarity regarding his position within the squad, while sometimes he gets minutes, sometimes he doesn't.

"At PSV, there has been a lot of criticism of how the staff handle the youngsters. Locadia and Depay are about the only ones breaking through at the moment, despite the Eindhovenaren having a very decent youth team. Because of this, fellow youngster Riechedly Bazoer instead chose to move to Ajax.

"Things should look better for the youngsters next season, though, when it appears Advocaat will be gone and Phillip Cocu will take over."

The Next Step

It appears it will be at the European Under-21 Championship this summer, with Depay having been named in the provisional Dutch squad for the tournament on Monday. His place is not certain, but his versatility should mean that he is selected.

At club level, though, the 2013-14 campaign will be important for him. Having already been on the fringes of the starting lineup for 18 months, he now must get extended playing time in order to prove himself at the top level. If he can focus on the task at hand, ability will not be a problem.

Depay chose to remain in Holland to develop, ignoring the choice of many of his age group to head to England, with Ake, Manchester City's Karim Rekik and Manchester United's Gyliano Van Velzen being just three examples. He must now make the most of that choice by proving himself to be a leading Eredivisie talent. There will be changes at PSV, but it is up to Depay to seize his opportunities.

For further discussion on any of the players featured in The Scout's Notebook, Christopher can be found on Twitter – @chris_elastico. More of his work profiling rising talents can also be found at TheElastico.com.