Yordy Reyna leading Peru's next generation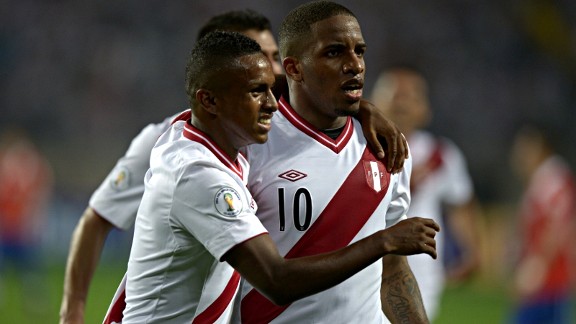 GettyImagesPeruvian forward Yordy Reyna (L) with forward Jefferson Farfan
Name: Yordy Reyna
Age: 19
Club: Alianza Lima
Position: Forward
Nationality: Peru

The South American Youth Championship is always a good opportunity to spot rising stars of the world game. After all, in 2011, the likes of Neymar, Lucas Moura and Oscar all featured in Brazil's squad alone, while in 2009, Eduardo Salvio, Sandro and Salomon Rondon were just some of those who announced their arrival as potential forces in world football. There can be little doubt, then, that some of the many stars of the 2013 tournament will also go on to achieve much greater things, and there are several players already well on their way to doing so.

One such player is Peru forward Yordy Reyna, star of domestic giants Alianza Lima, and one of the most highly rated young attacking players on the continent. It has been a busy few months for Reyna, who has followed up his success at Under-20 level with three senior caps, and it appears that his progress will continue to gather pace for some time yet. While there is no definite talk of a move to Europe this summer, his exit is already being widely anticipated, as Peru looks to Reyna to help lead a very talented generation of emerging players.

In recent years, Peru have been one of the weakest footballing nations in South America, but times look as though they are about to change. Besides Reyna, the country can boast a series of young players who have the potential to make their way to the elite rungs of world football. The likes of Paolo Guerrero, Juan Manuel Vargas and Jefferson Farfan, too, still have a few more years left on the clock, and they will surely play an important role in guiding youngsters such as Luis Advincula, Yoshimar Yotun, Cristian Benevente, Christian Cueva, Irven Avila and Hernan Hinostroza through into the senior side. There is enough talent emerging to suggest that World Cup qualification in 2018 is now a real possibility.

Reyna, though, is perhaps the brightest of the bunch. He is already playing regular first-team football for his club and boasts a more than respectable goalscoring record. He is, though, facing some important career decisions in the coming months. Having finally settled upon an agent, ending a dispute between two potential representatives, Reyna must now work with Raul Gonzales - also the agent of Farfan - to secure a suitable next step. Suggestions have been made that Reyna will join his elder compatriot in Germany with Schalke later this summer, while Shakhtar Donetsk are also believed to have taken a liking to the player.

The player himself has thus far remained quiet on talk of a move, but has confirmed that Alianza hope to earn $3 million for his services. It is a very affordable price tag, considering both his age and talent. However, with just over 12 months left on his contract, it is now a case of the club needing to maximise their potential income on a player who is highly unlikely to renew his current deal.

It is easy to see why the freshly-capped Peru star is attracting interest. A versatile forward, Reyna is blessed with extreme pace, as well as good close control. At 5'7", he is never going to be a target-man as such, but he runs the channels well and has enough core body strength and technical ability to hold up the ball when required. He is perhaps, though, most suited to operating as a second striker, and it would also be easy to imagine him starting life in Europe from a wide position. Indeed, given his stature, pace, attacking nature and origins at Alianza Lima, there are similarities with the rise of Farfan at around the same age.

If there was any doubts as to Reyna's ability to cope with the increased physicality of football in Northern Europe, they will have been lessened following the attacker's composed display in a fiery derby fixture with rivals Universitario recently. Reyna was handed some rough treatment in a game that would eventually see four red cards handed out - the majority for violent conduct. The teenage forward, though, kept his bearings in the heat of battle, and popped up with the game's decisive goal with just six minutes remaining. It was the one moment of real quality from either side and a fitting way to settle the encounter. With self-belief in abundance, Reyna has shown that he is not afraid to go toe-to-toe with overly physical opponents - both of which are qualities which can only serve him well in the coming years.

Whether or not he is able to reach the top levels of the game remains to be seen. He has, though, the basic tools required to at least make a good attempt at doing so. Wherever he should end up moving, though, he must ensure that he gets playing time. South America has seen many talented players head to Europe over the past few decades only to see their career stall in the face of a lack of minutes on the pitch. Reyna is talented enough to make an immediate impact later this year, he simply needs to select a club where he will be handed that opportunity to impress.

For further discussion on any of the players featured in The Scout's Notebook, Christopher can be found on Twitter – @chris_elastico. More of his work profiling rising talents can also be found at TheElastico.com.