Kondogbia the man of the moment for Europe's giants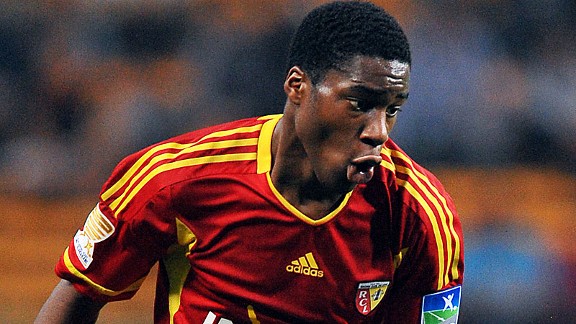 PA PhotosGeoffrey Kondogbia came through Lens' excellent academy
Name: Geoffrey Kondogbia
Age: 20
Club: Sevilla
Position: Defensive Midfielder
Nationality: French

It has been quite some 12 months for Sevilla midfielder Geoffrey Kondogbia, having progressed from representing RC Lens in France's Ligue 2 to now being linked with a transfer to the likes of Manchester City, Real Madrid and AC Milan.

Kondogbia was previously linked to Premier League newcomers Reading and rejected a move to Juventus last summer, instead opting for a move to Seville for what now appears to have been a bargain €4 million. Regular observers of the French game would have known that much last summer, but the France Under-21 international has set about placing his name among Europe's elite young midfield talents. That is now undoubtedly the level in which he ranks.

The Spanish media has taken to the powerful midfielder and, on Tuesday, both AS and Marca were reporting that Sevilla had received bids for their young star. AC Milan supposedly lead the way with a bid of €12 million, while both Inter Milan and Real Madrid are rumoured to have made official offers. Of England's elite, it is Roberto Mancini's Manchester City who are said to be eyeing a move for the player.

Kondogbia is a wanted man and, with Sevilla not in full possession of his economic rights, he could be on the move sooner rather than later. As with many players at the Sanchez Pizjuan, the young Frenchman was bought with the help of the Doyen Group - a Malta-based player rights fund. It is they who could be the driving force of any potential transfer this summer.

Tall and powerfully built, the midfielder of Central African descent offers an intriguing combination of physical strength and technical ability. It is this all too rare balance that is making him such an irresistible proposition to the European elite at present. After a slow start at Sevilla, Kondogbia has developed remarkably over the space of a few months to become an integral player for the Andalusian side.

While still far from reaching his full potential, he is now showing signs of a positional and tactical maturity that has accentuates his natural attributes. Once considered a potential troublemaker, he appears to have settled himself following his switch to the south of Spain last year.

ESPN FC French football writer Jonathan Johnson certainly believes that there is a bright future ahead for the Sevilla star, placing him on a par with fellow rumoured Real Madrid target Paul Pogba:

"The fuss caused by Geoffrey Kondogbia in his breakthrough season at Lens in Ligue 2 appears to have been fully justified, with his debut season at Sevilla nothing short of sensational.

"Even though he is still only 20 and not yet a full international with France, recognition with Les Bleus is surely not far away. Kondogbia's success comes as no surprise; it is only a pity that French football could not hold onto him for a bit longer.

"He is superb technically, you'd expect nothing less coming from Lens' famous youth academy (like Raphael Varane, Adel Taarabt and Thorgan Hazard in recent years), but his athleticism and imposing physique are impressive for a player who boasts excellent distribution skills.

He has fantastic incepting ability also, based on impressive reading of the game and is an undoubted future star for club and country, with as much potential as Paul Pogba."


Whether Kondogbia or Pogba go on to fulfil their enormous potential remains to be seen, but if they even get close, France will have no issues in central midfield for many years to come. Indeed, a lack of talent will hinder neither player and, instead, it will be the decisions they make and the desire they show that will determine just how good a player they can become.

For Kondogbia in particular, those decisions start right away. It appears highly unlikely that he will remain at Sevilla past this summer and he must choose wisely the next step on his journey.

The truth of his release clause is now out in the open, with Marca confirming this week that talk of a €20 million release clause is somewhat of a fallacy. For every offer over €8 million that the Doyen Group wish to accept, Sevilla would be forced to pay half of the fee to keep their player. Club president Jose Maria del Nido has confirmed that the club will look to move some players on this summer and, given that financial reality, Kondogbia's exit could not look more certain.

The Frenchman and his agent, as well as the seemingly all-powerful Doyen Group, will now determine his next move. He will then likely have to deal with the pressure of playing for a European giant and we will truly see just how ready he is for the top level. While Pogba, with both club and country, has shown that he is fully prepared for the challenges of elite football, now Kondogbia also must prove that he is prepared for life at the top. Few who have seen his rise would bet against him succeeding in the months ahead.

For further discussion on any of the players featured in The Scout's Notebook, Christopher can be found on Twitter - @chris_elastico. More of his work profiling rising talents can also be found at TheElastico.com.