Awards highlight Premier League youth failings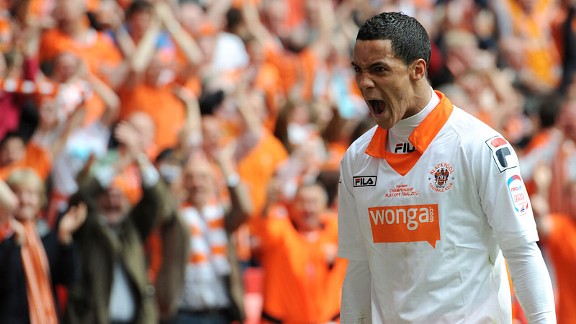 PA PhotosYoung player of the Year winner Thomas Ince was released by Liverpool
The Football League Awards took place in London on Sunday night and youth was the order of the day, with the two biggest individual prizes claimed by players still eligible to play at Under-21 level for another season. Matej Vydra, Watford's 20-goal Czech centre-forward claimed the top prize on the night, earning the Championship Player of the Year crown, while Blackpool's 21-year-old winger Thomas Ince was named Young Player of the Year for his contributions this season. While some will continue to debate the decisions, both are undoubtedly deserving winners of their prizes.

The burgeoning reputations of both winners are just further indication of the Championship's ever increasing quality. Yes, it remains a tough and physical league occupied by some of English football's best and most experienced wandering professionals, but it is also a league whose skill level is on the rise. It is also fiercely competitive from top to bottom, as the sad plight of recently relegated Premier League sides clearly demonstrates.

The success of teams like Norwich at utilising some of the league's best assets in the top flight says much for the quality of England's second tier, while it was only in January that Manchester United chose to part with £15 million to secure the services of 20-year-old Wilfried Zaha based on his performances at this level alone. That price is doubtless inflated by his nationality and Crystal Palace's financial stability, but the point stands that the Red Devils were willing to part with such a sum based on performances only at Championship level.

Ince, too, has been linked with a move to the Premier League, with Liverpool supposedly spending most of January attempting to prise his services back off current employers Blackpool. It is just over 18-months since the son of former England international Paul walked away from Anfield for what was a negligible fee - a move that now looks to have been a disastrous decision from the Reds' hierarchy.

- Mangan: NextGen gives youngsters a chance
- Evans: Trusting academy players is the future

The decision to part from Melwood and seek to build a reputation in the second tier was a brave one, but one that has in retrospect paid off massively for the England Under-21 international. It is an outcome, though, that raises major questions about the suitability of the academy systems at Premier League sides.

The Football League Awards have only been in existence since 2006 and winners of the Young Player of the Year Award include Zaha, Fabien Delph, Connor Wickham, Nathaniel Clyne and even Gareth Bale. In fact, of all the awards winners, only 2006 winner (and England international) David Nugent is not now operating in the top flight. Premier League adaptation has not always been easy but, Wickham - who recently disappointed on loan with Sheffield Wednesday - aside, all other former winners of the award would now consider themselves top-flight regulars. It is a fine achievement on the part of the Football League.

Leaving the awards scene for a minute, we can see that the trend goes much deeper. Among those at England's elite clubs to have initially made their name in, or benefitted greatly from loans to the Championship, are Steven Caulker, Kyle Walker, Tom Cleverley, Victor Moses, Theo Walcott, Aaron Ramsey and Scott Sinclair.

The Championship can now rightfully be seen as the biggest development ground for young talent in England and, to further emphasise the point, a massive 18 of the current 25 man England Under-21 side are currently playing in the division. Beyond that, of those aged under 25 in the current senior squad, with the exception of Chris Smalling and Alex Oxlade-Chamberlain, all have either spent time in the Championship or, in the case of Daniel Welbeck and Danny Sturridge, been loaned to lower-ranked Premier League outfits. Both Smalling and Oxlade-Chamberlain, it must be pointed out, moved to the Premier League after first-team experience at even lower levels.

It does, therefore, raise valid questions of the development of players at Premier League academies. It is understandable that loans to Championship clubs be used to gain competitive senior experience, but it also true that a remarkably high percentage of those players named were brought in by their top-flight owners. Premier League clubs are starving their players of first-team opportunities and, as shown in the case of Ince, it is not always the case that they are simply not up to the task. While rare cases like Michael Mancienne and Paul Pogba have headed abroad for increased playing time, the majority head to the second tier as a natural proving ground - whether on loan or a permanent deal.

It is far from being a foolproof plan. There are many factors that determine the eventual success of a young player's development, with injury and inability to adapt to the increased demands of senior level two of the most notable. However, it is ever more apparent that the Premier League is failing to develop talent within its own system. The demands of success are too great and, with that pressure, it is far easier to trust a player with first-team experience in Spain, Holland or France, for example, than to risk promoting a youngster too soon. It is a situation that must be re-evaluated, though, and with the implementation of Financial Fair Play rules, youth development is a factor that will only increase in importance.

Ince should be congratulated on his bravery in leaving Liverpool and, of course, his subsequent success. His example, though, should be raising major question marks among the English elite about whether they are truly maximising the potential of the talent already on offer within their own youth setups. At the moment, the assumption must be that they are failing badly in this regard.