Brazil's Dede back on Premier radar
---
Name: Dede Age: 24
Club: Vasco da Gama
Position: Centre-Back Nationality: Brazilian
---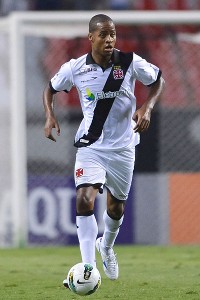 Buda Mendes/Getty ImagesBrazil's Dede is once again linked to a move to the Premier League, and this time it appears it will really happen.
It's been a few months since Dede's name last cropped up in relation to the Premier League, so it was about time that links resurfaced. When Vasco director of football Cristiano Koehler announced this week that the Carioca club were anticipating his exit this summer, it was only going to be a matter of time.

It was unsurprising, then, that on Thursday morning reports began to emerge of a battle between Manchester United and Liverpool for his 15-million-pound signature, with the latter said to be leading the race.

- Vasco ready to cash in on Dede

"We can't mislead the fans, we will find it very difficult to hold on to Dede because the club needs the resources, and at some point it will happen -- by the middle of the year," Koehler told the Brazilian media earlier in the week, citing the player's ambition as the reason for his likely exit.

The reality, though, is that Vasco are in major financial trouble and have parted with approaching 20 first-team players since their 2011 Copa do Brasil title. Dede remains the club's biggest saleable asset.

With Sao Paulo-based giants Corinthians having mounted a strong attempt to secure his signature in January, the club know that his days at the Sao Januario are numbered. Given the choice, a sale to Europe is a much more attractive prospect than selling to a direct divisional rival.

Unfortunately, prospective owners have been denied the chance to see Dede in action over the coming days. The six-cap international had been selected to represent his country in fixtures with Italy and Russia this week, but has returned home after picking up a virus. No doubt, given the latest news from Brazil, there would have been a few interested observers hoping for a closer look at the man known as O Mito, or "The Myth", by his supporters.

Dede has much to offer any club. While he is tall (6 foot 3 1/2) and strong, his most impressive physical attribute is the surprising speed in which he covers ground. While not always the quickest to turn, his sheer pace over a short distance affords him remarkable powers of recovery.

It is an asset that has helped him deal comfortably with some of Brazil's most lively attacking players. A good tackler and reader of the game, as well as being a major aerial threat, Dede is a much-feared opponent in the South American game and is the man once described by Neymar as "Brazil's best defender". It is a shame, then, that following an outstanding campaign in 2011, his 2012 season was so heavily disrupted by injury.

Those injury concerns will doubtless worry prospective employers, as will his loss of form over that time period. While the 2013 season has started encouragingly, the centre-back is still far from the levels that he reached just 18 months ago.

While it is somewhat inevitable that it will take some time to recover form post-injury, it could well be enough for clubs to balk at the size of the suggested 15-million-pound fee. While a stress fracture and break of his fibula (in April and October of last year) are less likely to recur than a muscle injury, that too will no doubt be a worry.

Combining poor form, a suspect recent injury record and a lack of experience outside of Brazil, there is no doubt that his signing would represent a risk for any interested club.

That said, Liverpool need defenders. With Sebastian Coates seemingly on his way out of Anfield this summer and Jamie Carragher set for retirement, Brendan Rodgers knows that he must sign at least two senior centre-backs this summer. In Dede, the advantages are that Rodgers would be procuring one of the most talented central defenders that South America has to offer and a player ready for immediate immersion into the first-team setup. The question is whether a deal could be struck that would be both attractive to the selling club and offer value to those on Merseyside.

Any transfer is a risk -- that goes without saying -- but that risk is always factored in against the potential on-pitch return and sell-on value. In this case, Dede makes for a somewhat attractive target if the recent transfer fees of international colleagues Thiago Silva and David Luiz are taken into consideration.

The reality is, though, that the immediate purchasing price will not drop in any substantial form. With Vasco owning just 45 percent of the player's economic rights, there will be plenty of clubs open to third-party involvement who will be willing to purchase just the club-owned portion of the player. For English sides, among others, this is not an option.

Eighteen months ago, the potential capture of Dede would have appeared to have been an unequivocally positive move, but the dynamics of any potential move have changed in the meantime. Given his now publicly stated availability, though, it will be fascinating to see whether anyone is brave enough to dive in the deep end.

If they are, then they could very well reap the rewards of their bravery, with £15 million for an elite central defender a more than reasonable price in the current market. We are, though, ultimately dealing with "ifs" and "buts", which is always somewhat easier to do when it's not your own club's money and fortunes on the line. This is now the unenviable decision that is no doubt currently being weighed at several top European sides.

For further discussion on any of the players featured in The Scout's Notebook, Christopher can be found on Twitter - @chris_elastico. More of his work profiling rising talents can also be found at TheElastico.com.