A new Keane at Manchester United?
---

Name: Michael Keane Age: 20
Club: Leicester City (on loan from Manchester United)
Position: Centre-back Nationality: English

---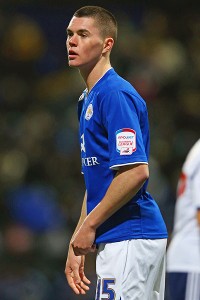 Michael Steele/Getty ImagesMichael Keane is working on his game - and frame - at Leicester City, with an eye to a return to Old Trafford.
When Michael Keane was chosen to start two League Cup games for Manchester United earlier this season, few outside observers batted an eyelid. The Red Devils were in a tight spot with injuries and found themselves short of defensive cover, with Keane and the slightly older Scott Wootton chosen to deputise. A win over Newcastle and a narrow defeat to Chelsea later and Keane had ensured that his name was on the long-term radar for United fans with two solid outings.

A right-back in his club's 2010-11 FA Youth Cup-winning side, Keane tended to go unnoticed as the likes of Ravel Morrison, Paul Pogba and even twin brother Will claimed the headlines. While Pogba has gone on to fine things at Juventus, it is perhaps Keane who has developed most of the remaining players. His League Cup appearances were enough for Championship side Leicester City to decide he was worth taking on loan and, although injured on debut, he quickly became a first-team regular upon his return.

Keane is a great example of a player developing late in his teenage years. Even United's website concedes that Keane was "small in stature for his age" for much of his youth team career. However, having now filled out to offer a much more solid look to his 5-foot-10 frame, he is holding his own as a centre-back in a division renowned for its physicality.

The youngster played a major role in Leicester City's fine early 2012-13 form and, although results have since taken a turn for the worse, his impact has been noted. Keane's centre-back partner and captain Wes Morgan was certainly in little doubt his new colleague will go on to achieve great things in the the future.

"I look forward to seeing him in the future. I have no doubt he will play for Manchester United's first team," Morgan told the Manchester Evening News. "I play with him and see him in training every day. He will definitely be a star of the future. If that is at United or another big club, who knows? He has had a lot to learn in a short space of time and has a lot of attributes to play at the highest level."

It seems then the England Under-19 international's long-term future will lie at centre-back. It must be said at this point that Keane has also represented the Republic of Ireland up to the Under-19 level, but has opted to continue his progression within the England setup. Should he continue to pick up regular Championship football for the rest of the campaign, there is no doubt the England squad for this summer's Under-21 European Championship is a distinct possibility.

To get a greater understanding of Keane and his impressive development over the past season and a half, I turned to two people who have tracked his development for several years. The first, Tony Park, is a Manchester United youth historian and author of the recently released "Sons of United" book detailing stories and records from the club's academy.

Park, who has watched the centre-back from an early age, gives a clear insight into the factors at play in Keane's dramatic improvement.

"When he was 17 or so, Will signed pro terms and joined the club full-time while Mike decided to stay on and do his last year at school to get qualifications," Park said. "He was therefore not getting the same technical and physical training that other lads would have received as full-time professionals. There was even talk that he would give up the game and go on to University. However, he was convinced to give it a couple of years and see what happens.

"Once he joined the club full-time, he started to develop physically and improved significantly. He began to play at centre-back more regularly and developed even further. Mentally, both he and his brother are very strong—seriously strong -- and are probably among the most dedicated professionals at the club. They look after themselves, eat properly, don't go out much and follow the instructions of the coaching staff.

"The other thing of note was his running style. While quite awkward as a youngster, he has now grown into his body and he is very quick. That, together with his reading of the game and natural athleticism, means that he is now regarded as a big talent. The key is patience. (Tom) Cleverley, (Darren) Fletcher, (Danny) Welbeck and (Jonny) Evans are all good examples of that."

Regular youth team watcher and Manchester United blogger Doron Salomon has also been enthused by the rapid progress the defender has made recently: "Michael's move to a centre back in the 2011-12 season coincided with a growth spurt that seemed to give him more confidence.

"All of a sudden he was dominant in the air and the time he spent at right back has given a natural ability to bring the ball out of defence. United have always been keen on players playing in other positions when they're young in order to learn new skills and appreciate different roles. It has certainly paid off with Mike.

"His composure and maturity is incredible. It comes down to his personality and Mike's had a fabulous grounding. He has a good team around him and is a very intelligent and grounded guy. There are nice similarities between him and others who've come through recently in that respect. He knows what he has to do to make the most of his talent. The 'weak link' of the 2011 FA Youth Cup-winning side has arguably made the best progress out of any of the squad left at the club."

Listening to both accounts of Keane's progression, the respect in which he is held at Carrington is clear to see. Natural physical development has complemented his already refined defensive technique, but it is clear that his determination to succeed and professional sacrifices have also helped to accelerate his progression. In an era where young footballers are often criticised for their perceived arrogance and separation from everyday reality, it is an encouraging story.

Keane will not find life easy upon his eventual return to Old Trafford, and will more than likely spend the 2013-14 season on loan once more. Ahead of him in the ranks, besides the first-choice defensive pairing of Nemanja Vidic and Rio Ferdinand, are also the relatively young trio of Phil Jones, Chris Smalling and Evans. Given his impressive determination to prove himself, though, it is not a challenge he will shirk and there will no doubt be opportunities to impress along the line.

Both Vidic and Ferdinand are in their final few years at the club and Keane is perfectly placed to make the step up if he can continue his rapid progress towards the top of the game.

For further discussion on any of the players featured in The Scout's Notebook, Christopher can be found on Twitter - @chris_elastico. More of his work profiling rising talents can also be found at TheElastico.com.