Bernard: Felipao's major selection dilemma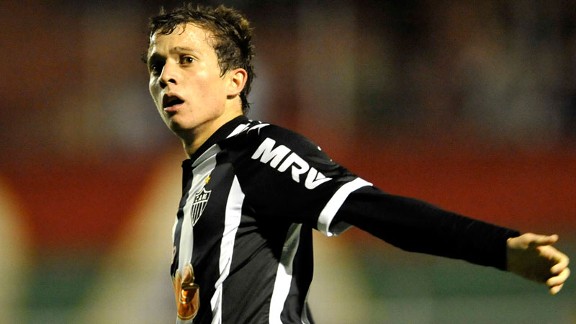 GettyImagesBernard: Making a name for himself in Brazil
Name: Bernard
Age: 20
Club: Atletico Mineiro
Position: Attacking midfielder
Nationality: Brazilian

Luiz Felipe Scolari's strategy since returning as Brazil coach in December has been clear. His aim is to form a core of experienced players who are performing well at club level and mould them into a side in time for the upcoming challenges of the Confederations Cup and then, ultimately, the World Cup beyond that. It certainly won't be an easy task but, given the pressures that the Selecao will face to win the trophy on home turf, it is easy to understand the logic behind his thoughts.

Veterans Fred, Luis Fabiano, Hulk and Ronaldinho were all included in the squad to face England last month, while the Madrid-based duo of Kaka and Diego Costa have been called for upcoming challenges against Italy and Russia. The aim, as begun by former coach Mano Menezes, is to surround the young attacking talents of Oscar, Neymar and Lucas Moura with experienced heads. The return of Kaká to the Brazil squad last October appeared to add a settling influence to a side that had been out of sorts and Scolari will doubtless hope the same occurs once more this month.

Does the insistence on certain age and experience quotas, though, result in the best players being selected? Supporters of Atletico Mineiro attacking midfielder Bernard, in particular, would argue not.

Bernard is the latest potential global star to have emerged from the Brazilian championship. While Neymar, Oscar and Lucas now claim headlines worldwide with the their performances, though, the 5'5" forward's fame is currently more or less limited to his homeland. However, following some excellent recent performances, it may not remain that way for long. Indeed, it says much of his progress that his absence from the recent national side selection came as somewhat of a surprise to many. Mutterings in the media prior to the announcement indicated that the in-form youngster would be handed his opportunity to impress in Scolari's side.

That was not to be but Bernard is clearly heading in the right direction. A recent Copa Libertadores hat-trick in his first competitive match outside Brazil was indication of his rise to the top, with Argentina's Arsenal di Sarandi simply unable to prevent him reaping havoc. The "chiquito fenomeno", or "little phenomenon", was the verdict of the Argentine media who were left flabbergasted that such a talent was not involved in the national team setup. An impressive tally of 11 goals and 11 assists in the 2012 Brazilian championship would suggest that their disbelief has sound basis.

There is more than just simple stats to suggest that the Atletico academy product should be afforded a shot at the big time. While primarily an attacking player, Bernard is also a bundle of energy without the ball, relentlessly tracking opponents and seeking to regain possession. His passion and desire can occasionally result in cards being shown for over-eagerness in tackles but these are qualities in which several of his high profile compatriots are lacking. Indeed, at club level, it is the willingness and industry of the youngster that somewhat allows team-mate Ronaldinho to play the game at his own pace. The former Barcelona man has, in turn, played some of his best football of recent years since joining the club.

The duo make an unusual partnership in many ways, but it was their symbiotic relationship that helped inspire Atletico to a second placed finish last season. Ronaldinho, freed up by the unceasing energy of his colleague, was afforded space and time to influence the game in central areas. Despite the decline in his overall abilities, he remains more than capable of dismantling a defence in these conditions. Bernard, in turn, has collected numerous goals courtesy of his colleague's outstanding talent for threading a ball through the eye of a needle to prove he is more than just a workhorse.

Like nearly all in his position in Brazil, Bernard is capable of improvisation and invention that leave many astounded. He may not delve into his catalogue of tricks with the regularity of some but he is more than capable of pulling off the remarkable. Given his low centre of gravity and searing pace, though, Bernard often favours the more simple approach of embarrassing his adversary in an old-fashioned footrace. Fluid in his positioning, Bernard is one of the more modern playmakers that Brazil has to offer. Besides creativity and intelligence, he offers dynamism, goalscoring and, of course, industry to his side in attacking areas. He is, one might suggest, one of the best suited of the country's talents regarding the adaptation to the fluid, fast-paced football that is prominent in the upper echelons of European football.

When Bernard's chance will come is unresolved but there is no doubt that he will eventually force his way into the Selecao reckoning. He may not be the equal of Neymar, who is on a level of his own talent-wise, but there is a growing feeling that he could match the levels of Lucas Moura or Oscar if given the chance to shine. A home-based international against Chile next month may just be his moment in the spotlight.

Brazil has a history of integrating a young player into a World Cup squad in the final months of preparations and Bernard will be hoping that he is afforded a shot at being Brazil's wildcard selection in 2014. Felipao is known to have made enquiries regarding his readiness for the step up and, should his performances remain at current levels, then there can be no justifiable reason for his continued omission. Scolari knows that Brazil will need experienced heads in 2014 but he will also know that he cannot afford not to select his best players, regardless of age. Bernard is certainly presenting the experienced Brazil manager with a very welcome selection dilemma to consider over the next 15 months. Wise money, though, would be stacked on his inclusion come June 2014.

For further discussion on any of the players featured in The Scout's Notebook, Christopher can be found on Twitter - @chris_elastico. More of his work profiling rising talents can also be found at TheElastico.com.