Vilhena: Feyenoord's midfield gem on the rise
---
Name: Tonny Vilhena
Age: 18
Club: Feyenoord
Position: Centre-midfield
Nationality: Dutch

---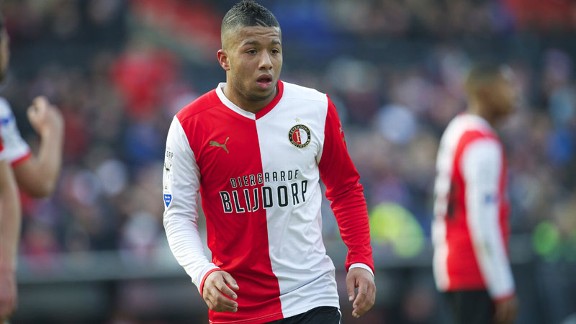 GettyImagesTonny Vilhena is making a name for himself in the Eredivisie
To many of you, the name Tonny Trinidade de Vilhena will not be a new one. The 18-year-old midfielder has been around the Feyenoord first-team for the best part of a year now and, before that, played a crucial role in Dutch success at both the 2011 and 2012 European Under-17 Championship. Considering Vilhena only reached adulthood at the beginning of the year, he is already a relative veteran to those who like to keep an eye on the youth football scene.

He is now, though, beginning to make a substantial mark at senior level. Predominantly playing a box-to-box midfield role, having come through the ranks in a more advanced role, Vilhena finds himself in a crucial position in what is a very youthful side. He has, though, adapted to the role and the pressure it entails with minimal disruption. Indeed, it is of great credit to Feyenoord, their academy and manager Ronald Koeman, that a side built around such youthful talent is still in with a major shot of lifting the Eredivisie title this season.

Vilhena aside, 21-year-old Jordy Clasie is attracting interest from a host of top European clubs, while defenders Stefan de Vrij and Bruno Martins Indi, both also 21, are establishing themselves in the senior Netherlands side. Even more impressive is that, below those stars, fellow teenagers Jean-Baul Boetius and Anass Achachbar have also begun making names for themselves this season. Boetius, in particular, is already commanding a regular starting spot on the flank.

It is Maassluis-born Vilhena, though, who is thought of as the biggest talent of the group. Compact, strong and with a low centre of gravity, his close control and ability to hold off opponents is quite astounding for his age. In that sense, there is a spacial awareness to his game that many players several years older are still struggling to learn. Industrious and tenacious in his defensive duties, Vilhena has not shirked responsibility in his deeper role and has made himself a better, more rounded, player for that fact.

It is still in attacking areas where his best qualities emerge. Vilhena is blessed with wonderful passing ability off his left-foot and has proved adept this season at helping spread the play to better incorporate his side's wide players. For all his other attributes, it is this vision and the accuracy to complete the action that is fast becoming his defining feature. There are areas that need to be worked on, as with all young players, but the core skills needed to go far in football are all present in his game. Now it is simply a case of continued hard work, improved decision making and gradual improvement in all areas of his game.

Vilhena is currently represented in his off-the-pitch by Italian agent Mino Raiola, an indication of his level of talent. Raiola, who divides opinion, is renowned for his representation of big name players and his current list of clientele includes the likes of Zlatan Ibrahimovic, Mario Balotelli and Paul Pogba. However, despite his reputation for pushing moves through for his players, it appears as if Raiola is, for now at least, content to allow the player to remain at Feyenoord to continue his footballing development. A wise move.

Following a contract extension in December, Raiola confirmed the existence of speculated interest from around Europe. He told Algemeen Dagblad: "It was certainly not for money. If it had been, he would have signed with another European club, because there was interest from big clubs." The decision, which Raiola attributed to a planned development strategy the club have put in place, is a major coup for Feyenoord who will hope to keep together their unit of emerging young players for as long as possible. It is also worth remembering that Premier League-based defenders Nathan Ake and Karim Rekik could also have been part of this impressive generation at De Kuip.

Dutch sports journalist Erik van Haren, of De Telegraaf and De Gelderlander, told ESPN of Vilhena's ever growing reputation in his homeland: "He's only 18-years-old and is one of the biggest talents in the Netherlands. He works hard, has good vision and a stunning left foot.

"It's always difficult to judge but it would surprise me if Vilhena isn't able to reach the top of international football. He is already decisive for Feyenoord and has proven all season what a great talent he is. The only thing we've to be careful of, is not to overhype player to much. It's fine to give compliments, but there must boundaries.

"There will eventually be a spell where he loses form, it's to be expected at that age. Besides, while he's playing well in the Eredivisie - a great and exciting competition - but it is not of a particularly high level. The Eredivisie is a great school for young footballers, but it is not the be all and end all. One thing is for sure, Tonny Vilhena does not lack talent."

Vilhena, then, does not lack for reputation. His talent has earned him his status as the "next big thing" of Dutch football but, as Van Haren suggests, he must now set about fulfilling that talent.

Early signs are good and the player is frequently praised for his impressive work rate and desire, which will be important qualities in reaching his full potential. Feyenoord should do enough this season to earn a European place for next season, which will offer the next major step in Vilhena's development. The way things are progressing thus far, though, it would be no surprise if he takes the step up in his stride and continues his unflustered progression. For neutral observers, he will certainly be one to watch at this summer's European Under-21 Championship.

For further discussion on any of the players featured in The Scout's Notebook, Christopher can be found on Twitter - @chris_elastico. More of his work profiling rising talents can also be found at TheElastico.com.