Zhang giving Chinese game needed boost
---
Name: Zhang Linpeng Age: 23
Club: Guangzhou Evergrande
Position: Defender Nationality: Chinese
---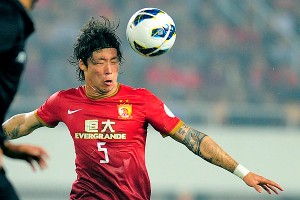 ChinaFotoPress/ChinaFotoPress/Getty ImagesZhang Linpeng could make an impact on the world football stage.
Chinese football often takes a bashing in the wider media and, frankly, it is frequently deserved. The country qualified for the 2002 World Cup with a generation of players, of which a handful went on to play in European football. In the following 11 years, though, it has failed to build upon what was a useful platform to develop a better footballing future.

With match-fixing scandals back to 2003 rocking the domestic game, as well as frequent complaints emerging about the behaviour of players both on and off the pitch, the Chinese public has in general lost faith in its game. The past couple of years, Shanghai Shenhua's Drogba and Anelka episode apart, there have been major signs that the league may be getting its act together and even incoming president Xi Jinping is said to take an interest in the state of the sport. There are even initial signs that money, at long last, might be directed into youth development and grassroots football—reasons for cautious optimism.

The problem for the moment is that the country's national side are, without doubt, underachieving. The generation of players below those who attended the World Cup have failed to deliver on initial promise and look destined to be eyed as failures on the international scene. The current crop of Under-23 players, sadly, look little better. There are, though, one or two who appear as though they could go on to better the achievements of their predecessors.

One such player is Guangzhou Evergrande defender Zhang Linpeng. I was looking through the comments on Wild East Football, an English-language Chinese football website to which I contribute, this week and one comment stood out to me. The comment came from an Evergrande supporter who, in giving his assessment of his team's recent 3-0 victory over Japanese side Urawa Reds, compared 23-year-old Zhang to Real Madrid star Sergio Ramos. It is not a new comparison -- indeed even his English page on Wikipedia mentions Ramos -- but it is a fair one, albeit with a sizeable gulf in quality.

Zhang is a product of one of China's best academy systems, the Genbao football academy. Opened by former player and manager Xu Genbao in 2001, the academy has set about giving players "high-quality education, scientific training programs and well-drilled management". The base currently holds nearly 100 students and supplied eight of the China U-23 squad that attempted qualification for the London Olympic Games.

It is fair then to say it has been a success and in Zhang, as well as Shanghai East Asia's 20-year-old attacking midfielder Wu Lei, the academy has produced two of the country's rare beacons of light in what have been some fairly bleak times. Wu, who made his senior debut as a 14-year-old, scored 11 goals in nine games for the country's U-20 side before his ascension to senior level.

It was with East Asia, also founded by Xu in 2005, that Zhang and many of his fellow academy graduates were given their chance at first-team football. For Zhang, that chance came in 2006 with the club in the third tier. In his first season, he would help achieve promotion and it was in the Chinese second tier that he would make his name, eventually making his national team debut in 2009.

Incidentally, East Asia will complete their ascent to the top of the domestic game next week when the club makes its Super League debut -- a commendable achievement. Zhang's association with the side, though, would end in January 2011 when he completed a 12 million yuan (£1.2 million) move to ambitious newly promoted side Guangzhou Evergrande.

The stereotype of East Asian footballers is that they are short, technically decent but ultimately lacking the physical prowess to succeed at the top level. Zhang, a strapping central defender who stands 6 foot 1 nd is solidly built, offers a perfect contradiction to what is a widespread but often misguided perception of Chinese physical attributes as a whole. While often used a substitute on his first year at the club, the Jinan-born defender would quickly establish himself as a key member of the first team in early 2012.

However, it was with the arrival of renowned Italian manager Marcello Lippi in May 2012 that Zhang began to truly display his full potential. On the Italian's first full day in China, his admiration for Zhang became headline news, even joking about the comparison with Ramos, and so it has proven that the 23-year-old has become a key member of his master plan at the club.

Lippi's assistant, Narciso Pezzotti, had reportedly watched the club for two months before taking the job and was particularly enthused by the young defender. "No. 5 [Zhang] has the potential to play in one of Europe's top leagues," he told reporters. "He is young, though, and still needs to take suitable advice." The enamoured Italian duo have since overseen a reinvention of the player that looks to have made best use of his talents.

Lippi's first season brought an impressive domestic double, even if his side faced a sizeable challenge to retain their league title. Importantly, he has aided Evergrande's evolution into what is now a tactically flexible and dynamic unit. In recent months, the Cantonese giants have experimented with both three and four-man defensive lines, with Zhang a key component of their increasingly dynamic setup.

Emulating the aforementioned Ramos, Lippi has also helped the young defender step up from being an occasional makeshift right-back to become an important contributor from the position. It is now abundantly clear that the side operate better with him installed in the role.

Given his size and strength, Zhang is one of the bigger full-backs you are likely to encounter, but he offers great stability to the side. While frequently seen pushing forward and offering an attacking threat, his basic defensive instincts remain. A strong tackler and a powerful force aerially, he has become adept at stopping opposition attacks in their steps and then, in turn, quickly springing his own side's attacks.

While previously not renowned for his technique, his adaptation to a more attacking role has also been noteworthy. His speed and strength have proved a nightmare for opponents to deal with when surging forward and there has been real improvement on his delivery into the box. Evergrande boast a stellar side featuring much of China's first-choice eleven, but over several recent important matches it has been Zhang who has been comfortably the standout domestic player.

If there were to be one Chinese player of the current crop who could succeed in Europe, it would without doubt be the Evergrande defender. Both physically and technically he is an impressive force, and it would be little surprise if Lippi or his agent son Davide have tipped off others as to his potential. There are still areas that he must look to improve, with frequent bookings a particular issue, but he is at an age where he should be able to iron out such deficiencies. Eventually, a European club will gamble upon his services and, for the sake of Chinese football, it would be great if he could succeed. The Chinese game is in desperate need of a star to cling onto and, in Zhang, they have a player who has shown signs that he may just fulfill that role.

For further discussion on any of the players featured in The Scout's Notebook, Christopher can be found on Twitter - @chris_elastico. More of his work profiling rising talents can also be found at TheElastico.com.