Rafinha: PSG's latest Brazilian fancy?
---
Name: Rafinha (Rafael Lima Pereira)
Age: 19 Club: CR Flamengo
Position: Forward Nationality: Brazilian

---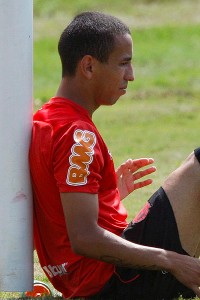 Marcos Tristão/Globo/Getty ImagesRafinha could be the next great young Brazil talent to make his way to Paris.
There was speculation recently that Paris Saint-Germain may part company with sporting director Leonardo at the end of the season, with his initial role of raising the club's profile now deemed complete. However, whatever the issues may be, the suave former wing-back certainly has his uses.

Ligue 1 is still coming to terms with the recent arrival of a potential superstar, with a wave of affection towards PSG's Lucas Moura emerging from all directions. The former Sao Paulo youngster has been sensational since his arrival, winning the club's Player of the Month award for January as reward for his immediate impact. The club's Qatari owners parted with an enormous transfer fee to beat Manchester United to his signature last summer and the Brazil international has quickly demonstrated why they did.

Leonardo was crucial to Lucas' signing, just as he had been in the capture of Thiago Silva earlier in the summer. It goes without saying that the massive financial rewards offered attract players to the club, but the presence of the respected 1994 World Cup winner has been a large contributing factor in the club recruiting true leading lights of the Brazilian game. Rumour has it that, enthused by the success of their most recent acquisition from the country, another rising star has been identified for addition to the PSG stable.

News broke on Brazilian sports media website Lancenet! on Monday that Flamengo were reportedly close to agreeing a new contract with 19-year-old forward Rafinha, who has breathed new life into the club's weary supporters. The news, though, was tempered by the suggestion that Paris Saint-Germain were now tracking his progress carefully. A 40-million euro buyout clause is thought to be included in the proposed new terms, but the Rubro-Negro hierarchy will know that the French club could entice their player at the drop of a hat if they so wished.

It is for this reason that the Brazilian club are so rushed to propose a new deal. Rafinha has shot from youth team prospect to important member of the first-team since the turn of the year and his contract is yet to reflect this change. Besides that, his current contract will expire in March 2014, meaning their "next big thing" could potentially agree terms with another club from October and leave Flamengo close to penniless. It is not surprising that the board have made his renewal a priority.

So, what of Rafinha? Long discussed by those who have half an eye on youth football in Brazil, the forward has found himself somewhat overshadowed at Flamengo by the stream of young talents promoted to first-team level ahead of him. Adryan is without doubt the club's most hyped prospect, but the likes of Negueba, Thomas, Galhardo and Muralha have all been promoted to first-team level ahead of the forward and to mixed results.

That is not to say the "Neymar of the Gavea" has not had hype of his own, simply that he hasn't been afforded the same first-team exposure that many other members of the 2011 Copa Sao Paulo winning side have. Now in the first-team setup, he has superseded all his contemporaries to become a key member of the post-Vagner Love and Ronaldinho Flamengo side.

"He was the one who had no chance" was the view of Zico earlier this month, who expressed regret that it has taken so long for Rafinha to be handed his first-team opportunity at the club. Imdeed, it had been Zico who, in 2010, played a major role in bringing the youngster to the club from local side CFZ.

That may not be his only contribution to the youngster's career. He is also responsible for the interest of PSG.

Through his friendship with Leonardo, it was also Zico who has helped bring the young Flamengo talent to wider attention. The same reports that revealed PSG's interest also stated that Leonardo had intended to take Rafinha to Milan three years ago, on the advice of his former colleague. The former Milan director is said to have tracked the youngster since that initial tip-off.

With Rafinha having made a first-team breakthrough, he has upped his interest in the forward. Leonardo's impressive list of contacts, as well as his fame in Brazil, surely make his services almost irreplaceable to the expanding PSG empire.

Rafinha, along with several other new faces in the Flamengo side, has helped transform what was an often dull and predictable side in 2012 into a vibrant, dynamic attacking unit. It is only the state championship and the squad still has major deficiencies, but victories over major rivals Botafogo and Vasco indicate that there may be some substance to the recent praise they have received.

An upturn in results has given fans a positive start to what looked to be a difficult year ahead, but it is Rafinha who they have attached themselves to as the symbol of this new side. Lightning fast and willing to run at his opposite number, he is a crowd-pleaser and, thus far, appears to back up his flashes of brilliance with an end product -- so often the scourge of fast, young attackers worldwide. This YouTube video shows his talents.



Almost 20, he cuts a remarkably slight figure and will no doubt look to add bulk to his slender frame in due course, but there are enough indications to suggest that he has the basic attributes to go far.

Whether he will continue as a centre-forward in the long term is doubtful. While he is a good finisher, he has already been moved into a secondary striking role atthe senior level while a wide role could also be a possibility. Rafinha links play well and has shown himself to be composed when crossing and shooting, but it is his close control at pace that sets him apart from the majority of his peers. Defenders are simply left trailing in his wake when he is given space to get up to full speed.

It may ultimately work in his favour that he has avoided the hype and rushed first-team introductions that appear to have set back the development of some of his colleagues. Rafinha has thus been allowed to develop at his own rate and now emerges on the first-team scene a more mature player than may otherwise have been the case.

For Flamengo, the alarm bells are now ringing. As Zico suggests, he appears to have been undervalued and his rapidly expiring contract is now a pressing concern. A move to Paris must be considered unlikely, given the proximity of a suggested renewal, but it is just another reinforcement of the high esteem in which Rafinha is being held.

For further discussion on any of the players featured in The Scout's Notebook, Christopher can be found on Twitter: @chris_elastico. More of his work profiling rising talents can also be found at TheElastico.com.