Zaha inspires Cardiff, as Basacikoglu and Moura shine
Zaha the game-changer for Cardiff

Cardiff manager Ole Gunnar Solskjaer may have gone a little over the top in his postmatch analysis that young winger Wilfried Zaha can be the next Cristiano Ronaldo, but the 21-year-old's first-half introduction in Cardiff's 2-1 victory over Norwich on Saturday proved to be a major turning point.

For the opening 30 minutes, Cardiff had been comfortably second-best, and Norwich were well-deserving of their early lead. Solskjaer, though, was bold and rearranged his midfield to introduce Zaha after just 38 minutes, and the England international did not disappoint. It may have been his debut for the Bluebirds, but plenty of fans will be more positive about the side's survival hopes based on this one performance alone.

With Zaha on the pitch, Cardiff's attacking unit came alive. With Craig Bellamy and Kenwyne Jones in central areas, Solskjaer's side now had alarming pace in forward areas and were able to change the flow of a game that had been firmly in Norwich's favour. Zaha, playing from the left, had the beating of Russell Martin from the start and, importantly, also drew Robert Snodgrass into more defensive areas as cover. Zaha's game may still need refinement, but his ability to turn quickly while running at speed makes him very difficult to contain.

Zaha will give the ball away, and while he was generally tidy on this occasion, it is something Cardiff fans will have to accept. He can, however, provide the few moments of quality Cardiff need to pick up points and survive in the Premier League this season, as he did on this occasion. He may not be a Cristiano Ronaldo clone, but he is a fine prospect in his own right and could be the ideal tonic for Cardiff's ailing season.

Basacikoglu continues to impress in Holland

The attention of many scouts sent to Heerenveen this season has rightfully been focused on midfielder Hakim Ziyech, one of the stars of the Eredivisie campaign to date. In the process, though, they will have had the opportunity to cast an eye upon the club's other emerging talents, such as striker Alfred Finnbogason, left-back Mitchell Dijks and centre-back Kenny Otigba. All are more than decent players and will inevitably move to stronger sides in the not-too-distant future, with Finnbogason almost certain to depart this coming summer window. The real potential star, though, could well come in the form of 18-year-old winger Bilal Basacikoglu.

Playing from the left flank, the diminutive Netherlands youth international announced himself to a wider audience with a sensational goal against AZ Alkmaar in mid-December. On that occasion, he embarrassed his opponent with a sharp change of direction at speed before finishing with his favoured right foot into the far corner. This past weekend, while he failed to add to his tally for the season, there were plentiful demonstrations of the talent he possesses.

Like Zaha, he is in need of refinement. But Basacikoglu puts defenders onto the back foot with his speed and intent. He has shown since breaking into the side earlier this campaign that he is not afraid to run at opponents, regardless of age or experience, and has earned his reward with a continued place in the side. Since a starring role against Go Ahead Eagles in late November, the 18-year-old has been ever-present for Marco van Basten's side.

On this occasion, Basacikoglu was used from the right and gave Den Haag's Aaron Meijers a torrid time, beating him with ease throughout the 90 minutes. Indeed, it was a foul drawn by the young winger that handed Finnbogason the chance to score from the penalty spot. Basacikoglu was, on occasion, sloppy when in possession, but was so due to the ambition he shows rather than any lack of talent. At times that ambition must be reined in, and with experience, the youngster undoubtedly will develop that facet to his game.

Basacikoglu is still taking his initial strides as a professional footballer, but the signs are encouraging. The step from promising talent to reliable top-level performer, though, is sizable and has been the downfall of many once highly rated young wingers in the past. The Heerenveen man is already being watched by some of Europe's biggest clubs, but they will want to see signs of growing maturity in his decision-making over the course of the rest of the season. In terms of pure talent, he can go as far as he wants in the professional game.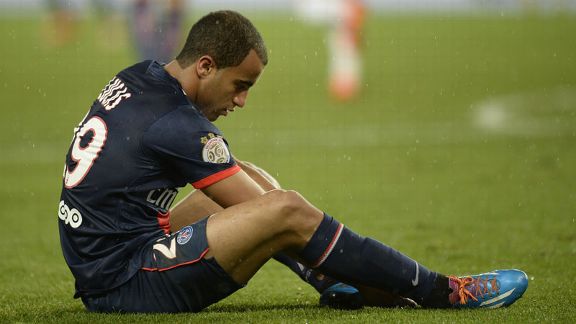 GettyImagesLucas Moura joined PSG from Sao Paulo in January 2013.
Lucas Moura the star of the show for PSG

It's going to be an interesting few months for Lucas ahead of the World Cup, with what had once been seen as a guaranteed place in the Brazil squad now far from certain. The Sao Paulo-born winger has been in France for over a year and has not yet established himself as a regular starter for PSG, despite occasional flashes of brilliance.

Those who watched Lucas in Brazil will know that he has ups and downs in terms of form, but when confident and in a strong team he can be a devastating attacking outlet. This past weekend, in providing both assists for PSG in a 2-0 victory over Bordeaux, he demonstrated that ability once more. He could and, perhaps, should have had more than two assists, as both Javier Pastore and Ezequiel Lavezzi squandered chances after Lucas' good work on the right.

What is pleasing is that he influenced what had been a tight game for Paris Saint-Germain, with his individual quality seeing them through a potentially tricky fixture. However, there is a valid argument that he does not raise his game often enough when most required and, in general, his form in big fixtures for club and country has been distinctly mediocre.

Lucas has dropped down the pecking order for Brazil and is not being helped in regaining his place by his lack of starts at club level -- in his 27 appearances this campaign, he has started just 13 times.

He will need to find something approaching top form in the coming months if he is to convince Luiz Felipe Scolari to take him to the World Cup ahead of the likes of Willian, Bernard, Hulk and Robinho. However, undoubtedly he has the required ability and, after a couple of important contributions in recent weeks, he may just be finding self-belief at the right time to push his claims one final time ahead of the summer.

For further discussion on any of the players featured in The Scout's Notebook, Christopher can be found on Twitter @chris_elastico. More of his work profiling rising talents can be found at TheElastico.com.