Sunderland gamble on Scocco striking goals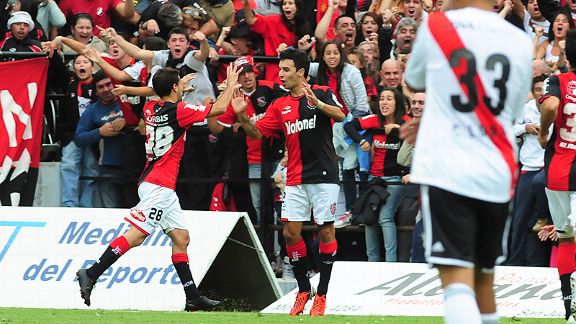 GettyImagesNacho Scocco had a successful spell at Newell's Old Boys.
Name: Ignacio Scocco
Age: 28
Club: Internacional/Sunderland
Position: Forward
Nationality: Argentine
---
Sunderland's victory over Stoke on Wednesday night saw the Black Cats move out of the Premier League drop zone for the first time since August, with manager Gus Poyet bringing a sense of direction and stability at a club that was in dire straits early in the campaign. Poyet has united the group he inherited and set about extracting the best out of those who were clearly underperforming, with his side also reaching an unlikely League Cup final in the process. Now, with the transfer window open, the opportunity is there to add the one or two quality players who can ensure Sunderland's top-flight survival.

Given the amount of changes made in the summer, when former manager Paolo di Canio went on a shopping spree around Europe, it was imperative that the club not repeat such scenes. Instead, Poyet has calmly added to his team, with Marcos Alonso coming in to take the left-back position and Argentines Santiago Vergini and Oscar Ustari adding depth to a squad that had, at times, looked a little threadbare. In the window's final days, though, it would appear that the Uruguayan is attempting one final flourish, with a fee agreed for striker Nacho Scocco and potentially one further recruit also bound for the Stadium of Light.

Given the limited time available to strengthen in January, it is understandable that Poyet has looked to fellow Spanish speakers to add to his squad. Vergini and Ustari will be given time to adapt to the Premier League as non-immediate first-team players, while Alonso has plentiful experience of the English game from his time with Bolton Wanderers. Scocco, though, is not as fortunate and represents the one big gamble that Poyet has chosen to make this month. With a striker desperately needed, he has looked outside regular supply lines to secure a new option, albeit in a player that Sunderland had pursued last summer.

When discussing his likely new addition post-match on Wednesday, Poyet told reporters:"He is someone who can bring something special around the box that we are missing. He is comfortable in a front three but we will use him further up the pitch because he is not really a defensive player.

"We need to score goals and Scocco could provide us with that little bit extra both in scoring goals and creating them."

Scoring goals has been a major issue for the Black Cats, averaging less than one per game in a season where strikers Steven Fletcher and Jozy Altidore have managed to find the net just four times between them. Scocco, then, is expected to be the answer and is likely to find his wish to play as a central striker granted with Poyet's 4-3-3 system, with Adam Johnson and Fabio Borini in excellent form of late from the wide forward positions.

There will be major challenges for Scocco in playing the role. Many would choose to describe the Argentine as a second-striker rather than an out-and-out centre-forward, with his diminutive stature (5-foot 8-inch), pace and dribbling ability lending itself to playing off the shoulder of a bigger target man. This, indeed, was the plan in Brazil where he linked with now Santos forward Leandro Damiao. With both Damiao and Internacional as a whole in far from glowing form, Scocco's output was also far from his usual standards.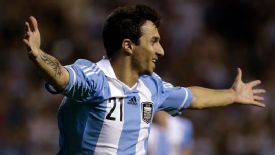 GettyImagesIgnacio Scocco wants a World Cup chance.
Poyet, rather, will hope for the return of the Scocco whose six goals helped fire Newell's Old Boys to the semifinal of the 2013 Copa Libertadores, whilst playing as the central striker in a variant of 4-3-3. While South American football is undoubtedly very different stylistically to the Premier League, Scocco was key to Tata Martino's side as an attacking force, showing ability to link play outside the box and come alive inside it. With Borini and Adam Johnson both technically strong players alongside him, cutting inside onto their stronger foot from their respective flanks, Poyet will hope to see that interplay repeated at the Stadium of Light.

However, there are doubts as to whether playing Scocco centrally in the Premier League is wise. The forward has a strong scoring record from his travels in both Greece and the Middle-East, but to be expected to come into a league as quick as the Premier League and make an immediate transition into the centre-forward role is a tough ask. While others who watched him in Argentina insist that he should be used in his preferred role, per Roker Report, ESPN FC's South American football expert Tim Vickery has his doubts:

"Scocco is a lovely striker. A very talented player. You probably wouldn't play him right up top in the Premier League, you'd play him off the main striker. He strikes the ball very well indeed, moves with great fluidity - I think he's a really interesting player.

Of the three (Scocco, Ustari and Vergini), he is the one most likely to be pitched into Sunderland's relegation struggle and instantly make an impact."

What should please Sunderland fans is that Scocco is universally well-regarded for his talents and most believe that he can make an impact in the Premier League this season. The only dispute concerns how he should be used within the Black Cats' system, but that will be an issue that Poyet is clear about in his own mind. Scocco has been brought in to fill a need, the only dispute is to whether it is he or Borini who will ultimately start in central areas.

Scocco is talented and has a record of scoring goals at a reasonable rate wherever he has plied his trade, barring his recent six-month sojourn in the south of Brazil. His technical levels and ability to beat a man at speed should be a great addition to the Premier League while, as Vickery notes, he has also shown a penchant for the odd long-range effort over the course of a season. Success, though, is never a guarantee and, on paper, Scocco is a high-risk purchase for a side whose safety is far from assured—regardless of his transfer cost.

Poyet, though, deserves to be trusted for the work he has done thus far in the North-East and he is signing a player who undoubtedly has the potential to become a favourite with the Sunderland crowd. He will need to hit the ground running, though, and a Tyne-Wear derby this coming weekend may well be the perfect opportunity for a cameo outing. Having just come from the Brazilian off-season, though, that is all it is likely to be for the time being and the fans, while keen to see him shine, must show patience as he gains match fitness.

Once more, Sunderland have made one of the more intriguing signings of a transfer window and will be worth casting an eye over as a neutral to see just how their new signing adapts to the challenges of the Premier League.

For further discussion on any of the players featured in The Scout's Notebook, Christopher can be found on Twitter @chris_elastico. More of his work profiling rising talents can be found at TheElastico.com.