Wilshere at the double as Arsenal cruise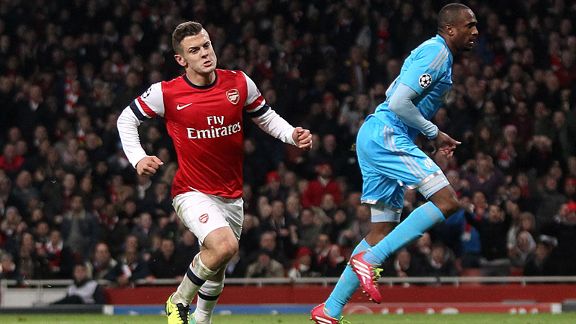 PA PhotosJack Wilshere wheels away after doubling Arsenal's lead against Marseille.
LONDON -- Three thoughts from Arsenal's 2-0 win over Marseille.

Arsenal handle business, Wilshere gets the job done

There could be no letup. Not in this group. And there wasn't one. Not by Arsenal.

They blitzed Marseille just like they did Napoli at the beginning of October, with Jack Wilshere's goal after 29 seconds the fastest scored in the Champions League since David Alaba's in Bayern Munich's quarter-final first leg against Juventus last season.

- McNicholas: Arsenal's growing strength in depth

Their game with Dortmund aside, you have to admire how Arsenal have been able to get themselves on the front foot at home in Europe this season.

The opener was a smart piece of interplay. Olivier Giroud dropped deep and picked up possession from Per Mertesacker, before playing it wide for Bacary Sagna, who released Wilshere beyond the hapless Jeremy Morel.

The Arsenal No.10 still had a lot to do, out of position on the right, but confidently cut inside Lucas Mendes before floating a delicious curling shot beyond Steve Mandanda and into the far corner.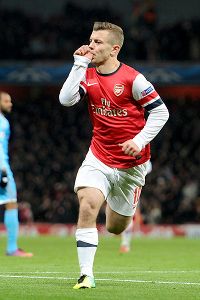 Stuart MacFarlane/Arsenal FC/Getty ImagesWishere doubled his season goals tally with a goal in each half against Marseille.
It's been coming for Wilshere. He deserved a goal against Southampton on Saturday, seeing a delicate chip over Artur Boruc from an acute angle come back off the post. In the second half tonight, he doubled his tally when he swept home a Mesut Ozil pass after 65 minutes.

Dortmund's win over Napoli denied Arsenal the chance to automatically qualify, but a place in the knock-out stages is theirs providing they avoid a three-goal defeat at San Paolo in a fortnight's time.

Ozil's malaise

After lifting everything on his arrival at the Emirates and making an almost instant impact with four assists in his first five appearances for Arsenal, a dip has been discerned in Mesut Ozil's form.

There have been flashes of brilliance, granted. But still, you can argue that not since his display against Norwich in mid-October has the German international hit the heights he scaled through September. Those bright eyes of his look a little tired and the lucidity that characterises his game isn't there at the moment.

Dinked through on goal by Aaron Ramsey in the first half, you would have bet money on Ozil taking the ball down and at least working Steve Mandanda. Instead, he mis-controlled and the chance was gone.

Then came a poor penalty miss just before the break, although the spot-kick should not have been given: Nicolas Nkoulou's bodycheck on Ramsey was outside the box.

But even so, this was an opportunity to put the game beyond doubt early and Ozil missed it. It must be said, he isn't Arsenal's designated taker. Mikel Arteta has that role and Ozil is second choice (Olivier Giroud stepped up and scored following the duo's substitutions in Saturday's 2-0 win against Southampton).

But that's not the point. Ozil seems in a malaise but it's nothing to be overly concerned about, not least because his teammates are performing so well around him, allowing his dip in form to pass almost unnoticed and letting him play through it, just as Wilshere has been.

Ozil's assist for his fellow midfielder -- an outside of the foot prod -- shows that, even when he's not on it, he can still be decisive. That's very encouraging for Arsenal fans.

Disappointing Marseille

The narrative before this game was that Marseille had nothing to lose. They couldn't qualify for the knock-out rounds and could play with an abandon, go for it even.

Promising youngsters like Mario Lemina, a member of France's Under-20 World Cup winning squad, would be given a chance to shine, as would those who have something to prove like Morel and Giannelli Imbula. Any danger the visitors might pose would present itself through this exuberance.

Or so the optimists among the OM faithful would have you believe. It never materialised. Dressed in light blue track-suit bottoms with matching puffer hoodie and beanie hat, Elie Baup looked more like a ski instructor than a football coach, and his team soon wiped out.

Baup's priorities lie with Ligue 1. That much was made clear by Mathieu Valbuena and Florian Thauvin starting on the bench. After spending 44 million euros in the summer, qualifying for next season's Champions League is a must.

Five points adrift of Monaco, who currently occupy the third and final berth for a place in the preliminary qualifiers, Baup was keeping his powder dry ahead of the clash with Montpellier on Friday. Lille, Nantes and Lyon all follow before Christmas. The coach has his priorities right.