Guardiola, Bayern create history in Super Cup
PRAGUE -- It was a night of firsts in the UEFA Super Cup. The first time the competition has been settled by penalties, the first time a German side has won it, and Bayern Munich's first glimpse of Pep Guardiola's Midas touch.

• Delaney: Bayern wins Super Cup via penalties

Captain Philipp Lahm claimed before the match that Guardiola is a man unwilling to settle for anything less than perfection; Bayern may not have achieved that in 120 minutes but Lahm was one of five players to help deliver it in a flawless shootout display that toppled Chelsea.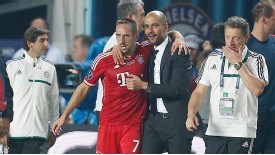 APPep Guardiola (R) celebrates with Franck Ribery after Bayern's win.
It could have all been so different. Just four seconds away from missing out on a second piece of silverware this month following German Super Cup defeat to Borussia Dortmund, Guardiola and Bayern were saved as Javi Martinez became the 13th substitute to score in the Super Cup with a dramatic late equaliser.

That Bayern persisted to the death is a credit to Guardiola. At half-time in extra-time, with Chelsea 2-1 up thanks to a fine solo effort from Eden Hazard, the Spaniard assembled his team in a circle and delivered his final instructions. As Bayern's players were fixated on their Pep talk, Chelsea's players milled around -- there was no Mourinho monologue to send them on their way.

"I wanted to correct two or three things," Guardiola said of his half-time words. "When we attacked on the left, Franck was cutting inside a lot and I wanted the wingers to stay as wide as possible. I also told them that they had the opportunity to win this trophy for the first time for this club. It is a club that has won many trophies around the world but now we have the chance to make it bigger."

The first step has now been taken on the long road to emulating Jupp Heynckes' achievement of last season. Guardiola, who appeared to still be visibly shaking with excitement as he sat down to address the gathered media, was keen to recognise the work of his predecessor. He opened his post-match press conference with words of thanks and even went as far as saying that "the title is dedicated to him". The Spaniard praised his players, too, highlighting their "incredible personality" before adding: "I really see now why they won everything last season given the strong character and personality that they have. I'm very happy for them."

Guardiola's charm is difficult for media and players alike to resist.

Franck Ribery, following up Thursday's UEFA Best Player in Europe award with a man of the match performance, sprinted straight to his coach after scoring Bayern's first equaliser -- embracing Guardiola and kissing his head in a manner reminiscent of the famous pre-match ritual of French pair Laurent Blanc and Fabien Barthez.

"I'm so happy for the entire team and for the coach," Ribery said after the game. "It was a very special occasion for him today. His rivalry with Mourinho is legendary but we had a lucky outcome on our side. It is important for him but of course we won the Treble last year and it's not easy for Pep to follow in these footsteps. The whole team feels pressure but even more so the coach. I think this helps us, this gives us the necessary impetus. He is an excellent coach."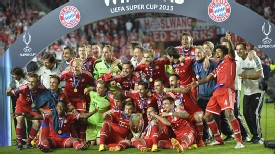 GettyImagesBayern Munich celebrate their UEFA Super Cup triumph
Guardiola's maiden triumph with Bayern made him the first manager to win three UEFA Super Cups and denied his great rival Mourinho a first taste of the trophy. It seemed until the death that the Portuguese had outwitted his opposite number. Guardiola described Mourinho as the "master of fast counter-attacks" ahead of the game but was powerless to prevent that classic blueprint from bearing fruit. The absence of midfield lieutenant Bastian Schweinsteiger - who was thought to be ready to return from injury - was a massive loss; first Toni Kroos and then Philipp Lahm tried in vain to plug the gaping hole.

Bayern created plenty in attack but were left exposed at the back. Both of Chelsea's goals came on the break, with Fernando Torres sweeping home Andre Schurrle's cross for the first, while Eden Hazard danced around Lahm before firing home their second in the first-half of extra-time.

Bayern never let up in attack, however, and Guardiola's introduction of Javi Martinez shored up the midfield, with fellow subs Mario Gotze and Xherdan Shaqiri maintaining the offensive momentum. Having suffered the most frustrating loss of his managerial career when Mourinho's Inter Milan shut up shop to eliminate his Barca in the 2010 Champions League semi-final, Guardiola was spared a repeat. Petr Cech, playing in front of plenty of Czech partisans in Prague, produced an inspirational display in the second-half of extra-time, denying Gotze, Mario Mandzukic, Martinez and Ribery in a frantic spell. But that fairytale story for the local media was snatched away by Martinez's late goal, and Manuel Neuer instead played the role of penalty shootout hero, saving an admittedly poor effort from Romelu Lukaku to make history for Bayern.

Expect Guardiola to add to that history, and his own impressive legacy, in the coming months and years. For Mourinho, the opportunity to become the first Portuguese manager to lift the Super Cup slipped away. He was nowhere to be seen as the medals were handed out and sour grapes followed as he insisted "the best team lost" and that "if you are in love with football, you don't kill a final with a second yellow card." His argument against Ramires' red, a horrendous lunge on Gotze, left jaws agape in the press conference.

From the ridiculous to the sublime -- this is a Bayern team that shows no sign of letting up and a manager who has rediscovered his hunger for the game. The Bavarians will return to the Czech Republic in the Champions League group stage and Viktoria Plzen, and the rest of Europe, should be very afraid.