Three Things: Cardiff vs. Man United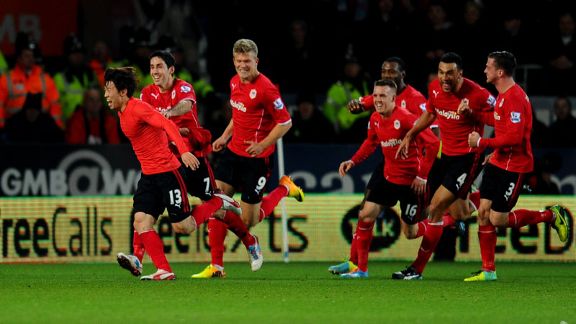 PA PhotosBo-Kyung Kim Cardiff celeb vs. Man utd
CARDIFF, Wales -- Three thoughts from Cardiff City's 2-2 draw at home to Manchester United.

1. Late woe in Wales for United

South Wales was the scene of David Moyes' inauguration as Manchester United manager, when a visit to Swansea on the opening day provided him with a maiden win. Having steered his way through distinctly choppy autumnal waters, Cardiff provided a chance to go into the top four -- the bare minimum required of a United manager.

Moyes ended Sunday short of that level when Kim Bo-Kyung headed home in the last minute of normal time. The champions looked far less capable than Manchester City, Arsenal or Chelsea of sustaining themselves in a title challenge.

Like reluctant travellers City, United could not come away from Cardiff with a victory. But had substitute Danny Welbeck hit the target with 10 minutes to play after Wayne Rooney's superlative pass had put him through, they would have been out of sight.

United fortune arrived in the shape of Rooney actually still being on the pitch. He was booked in the eighth minute for lashing out at Jordon Mutch as the pair chased down the ball toward the corner. Referee Neil Swarbrick could -- and probably should -- have been far less lenient. Rooney had kicked out with plenty of venom, although he looked as if he thought better of his impetuousness halfway through his movement. Perhaps Swarbrick was acting in the liberal spirit of Phil Dowd at Goodison Park on Saturday.

It did not help the local mood that Rooney was soon scoring the opening goal. Antonio Valencia broke from an interception of Ben Turner's pass. His cross found its way to Rooney via Javier Hernandez, and a sharp pirouette bought the space to shoot. Neither the unfortunate Turner nor Gary Medel could prevent the goal.

Rooney was also the supplier of Patrice Evra's goal on halftime. His every touch was booed by the locals, probably as a result of his starring for the England team. When locally born Ryan Giggs came on for the last 15 minutes, in the week approaching his 40th birthday, the reception was a mix of boos and applause. Some Welshmen have never forgiven Giggs for his absence from almost every possible Welsh national team friendly in the '90s.

The hate squad had their moment in the sun with Kim's late goal, supplied by Peter Whittingham's excellent delivery and celebrated from Cardiff to Seoul. United wobbled ahead of a vital week in which they travel to Leverkusen and Tottenham. The pressure is back on Moyes.

2. Cardiff's resolve holds

Malky Mackay is a manager who plans his strategy according to his opponent. He is not yet blessed with the resources to merely rely on his team. Medel patrolled the deep areas to cut out passes to Rooney and Hernandez, and the latter was anonymous.

Cardiff's best hopes of success had looked to lie in set pieces before a brilliantly executed link between Mutch and Fraizer Campbell brought them level and momentum. United had been coasting at that point -- hardly playing well, but looking comfortable. Suddenly, they were rocked by a reminder that the Bluebirds do possess some quality. Campbell might even have made it a brace when his chip rattled the angle of David de Gea's posts. He was always regarded as a player of talent at United, and has an England cap, but was moved on from Old Trafford at a time when the strikeforce featured Rooney, Carlos Tevez and Dimitar Berbatov.

Unfortunately for Mackay, United under Moyes have improved in one definite area: They have become excellent at attacking set pieces.

Evra headed across David Marshall from Rooney's excellent corner to remind of Robin van Persie's winner against Arsenal a fortnight ago. Medel had lost Evra while the ball was in midair and paid the price. United rained down further bombs at City's weak point and both Chris Smalling and Marouane Fellaini might also have scored. Marshall made a couple of excellent saves to set up the platform for Cardiff's own set-piece goal.

Cardiff were playing in front of the biggest TV audience ever to have seen them in action, an estimated potential of 5 billion. They supplied two moments of Premier magic, and again showed their resolve to compete with the big boys.

3. Fellaini feels his way in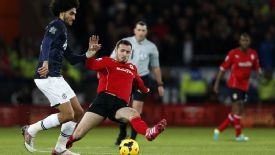 PA PhotosMarouane Fellaini continues to struggle to impose himself on Man Utd
Inevitably, Fellaini's first touch saw him penalised. He is a magnet for infringement decisions. Perhaps he should cut his hair; it only adds to a gargantuan frame that makes any duel look like an unfair fight.

With injuries taking their toll on Moyes' squad, Tom Cleverley, his standing much reduced these days, was trying to assume the mantle of Michael Carrick -- and largely failing. He does not have the passing ability, nor the spatial awareness, of his sometime partner. Nor does he have Carrick's steadiness. Cleverley was caught out rather too often and, at one point, Moyes could be seen complaining to assistant Steve Round about a misplaced pass.

Fellaini was playing what has become the Phil Jones role in the utility man's absence. A physical battle of the type that Cardiff provided suited the Belgian afro man. He seemed to be enjoying putting himself about in probably his most effective domestic game for his new club.

He might even have scored his first Premier League goal for United had Marshall not twice clawed headers away. In the midfield morass, a place Fellaini has always wanted to be, he was perpetually involved, ready to drop deep to collect the ball from his centre-backs and then join attacks, too. It perhaps helped that Cardiff's own engine room is not blessed with the pace that higher-grade teams will offer.

His partner was less impressive throughout. Cleverley was caught napping when Mutch stole in ahead of him to play in Campbell. United had been cut in two by the simplest of moves through the midfield area that is perennially their weakness and will be until proper reinforcements are made.