Man City's rout of Spurs shows their vast potential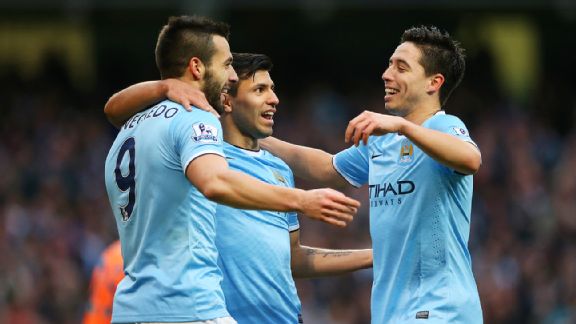 Alvaro Negredo, Sergio Aguero and Samir Nasri all shone in Man City's romp.
MANCHESTER, England -- Manchester City's thoughts have long been concentrated on the net, while Etihad Stadium tests a scheme in a bid to make itself more fan-friendly. It offers supporters free Wi-Fi, not that they should need a distraction from the game. A season ticket comes with a guarantee of goals. It is about scoring, not surfing.

City have struck 18 times in their past three home games. They have hit six opponents for four goals or more on their own turf this season. They are buccaneers and bullies, the Premier League's most devastating attacking force.

Manuel Pellegrini's adventurers possess both aesthetic appeal and statistical significance. They inflicted Tottenham's heaviest defeat in 17 years with clinical precision. Spurs, which had conceded six goals in their previous 11 league games, sieved as many in the course of 90 harrowing minutes. "We have to be ashamed of the result: It is extremely embarrassing," said Andre Villas-Boas, red-faced with mortification and searching not for Wi-Fi but reasons. "It is very, very hard to find explanations."

- Fitch: Lamentable Spurs concede six
- Curtis: In awe of City's home form
- Report: Man City humiliate Tottenham

If Tottenham -- like Norwich, CSKA Moscow, Manchester United and Newcastle before them -- contributed to their own downfall, it is no coincidence that opponents keep getting overwhelmed at the Etihad Stadium. Errors are induced, a blur of speed and skill leaving them dazed and confused. City can savour the action replays.

Indeed, there is a familiarity to the sight of Sergio Aguero celebrating. The Argentine's brace took his tally to 14 goals in 10 games and brought an unusually bold boast from the usually cautious Pellegrini. "Kun, after [Lionel] Messi and [Cristiano] Ronaldo, is [in] the top three players in the world," the manager said. Frank Ribery, Zlatan Ibrahimovic, Andres Iniesta and Xavi may disagree, but it is safer to assert that the City man is perhaps the brightest star in the Premier League's galaxy.

The smiling striker leads opponents in a merry dance. It is rare that a player of such speed exhibits such intelligent movement. Elusiveness is his prime asset, allowing him to appear untracked in the penalty area time and again. His first goal was a case in point: a delightful, deft finish from Jesus Navas' cross. His second was practically an open goal but notable for the fact that a selfless Yaya Toure, through on goal himself, chose to pass.

It is now advantage: Aguero in race for golden boot. While Luis Suarez and Daniel Sturridge had moved ahead of him at the top of the scoring charts 24 hours earlier, the Argentine wasted little time in overtaking them. Even before scoring, Aguero was playing with such confidence that his preferred method of finishing seemed to be trying to lob Hugo Lloris, a policy that (albeit indirectly) led to the second goal, which was debited to the luckless Sandro after Alvaro Negredo's volley was blocked on the line by Younes Kaboul. Nevertheless, it was the sign of a symbiotic relationship between the strikers.

"Negredo is the perfect player for the Premier League," Pellegrini said. "Alongside Aguero, it is easier for him." Negredo has the muscle and the menace but also boasts some lovely skill, as he showed with a swift turn and a superb finish for City's fifth goal, a goal reminiscent of his September strike against Bayern Munich.

The doppelganger took the double act's combined haul to 18 goals in eight starts together. Then Pellegrini, seemingly taking pity on the suffering Spurs, removed Aguero for Javi Garcia, but despite his compassionate gesture, City still scored a sixth. Navas had opened the scoring with a wonderfully precise chip after 14 seconds -- "our game plan was finished after 15 seconds," Villas-Boas said -- and sped clear to bookend the game with accurate finishes.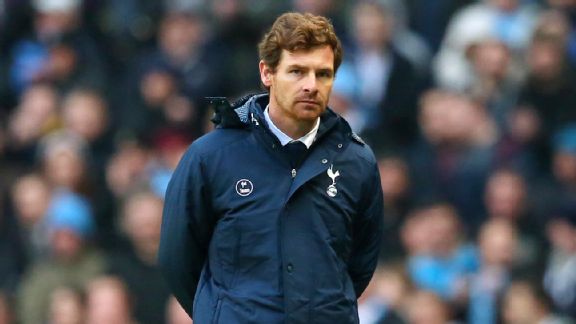 Alex Livesey/Getty ImagesAndre Villas-Boas has to work quickly to address Tottenham's flaws.

And so Tottenham, who had not conceded in 607 minutes on the road, shipped six. They arrived with a supposedly impenetrable defence and departed demolished. Villas-Boas, that devotee of numbers, can reflect on the figures showing that Aguero has more league goals on his own (10) than his expensively constructed Spurs side have been among them (nine). First, however, there is the raw emotion of the heaviest loss of his career. "It is the worst defeat for everybody involved in Tottenham," he said.

For City, meanwhile, it was a high-water mark. "It is not normal to win by six goals against a strong team like Tottenham," Pellegrini said. Yet with Aguero and Negredo pressing their claim to be the division's deadliest strike force, with Samir Nasri reinvigorated, with Navas returning to his best and with Toure a blockbusting force in the midfield, thrashings have become a regular occurrence.

Yet the table they top is the scoring charts, not the league standings. And on a day when Tottenham illustrated their inconsistency, City's brilliance also highlighted their problem. They are a team of two halves: outstanding at home and less certain away. And so, bizarrely, a manager whose side had thrashed a team bolstered by 110 million pounds of new talent found himself fielding questions about where his side need to improve.

MAN OF THE MATCH: Sergio Aguero -- Despite Pellegrini's praise, Aguero may not get a podium place in the Ballon d'Or, but he is playing brilliantly. This was another outstanding display.

MANCHESTER CITY VERDICT: It is not often that a team's major match winners all appear at the top of their game at the same time, yet when Aguero, Negredo, Navas and Toure line up at the Etihad Stadium, they do. Pellegrini praised his defence, but there remain concerns at the back: When Martin Demichelis cleared Erik Lamela's effort off the line, Costel Pantilimon could have done better. Pellegrini confirmed that Joe Hart will get a chance against Viktoria Plzen.

TOTTENHAM VERDICT: A chastening, mortifying afternoon. There were no excuses from Villas-Boas and no attempts to hide from the scale of the thrashing. He will consider going to a 4-4-2 formation, but while Spurs have struggled to score all season, their usually reliable defence was ripped to shreds here as well. The sense is of a manager who does not know his best team or his finest formation.