Boruc's bad month continues as Arsenal return to winning ways
LONDON -- Wake him up when November ends.

Artur Boruc, the Southampton goalkeeper, has had better months. It began with the 33-year-old allowing the fourth-fastest goal in Premier League history. No shame in that, you might think. Except the scorer was his opposite number at Stoke City, Asmir Begovic, and the ball traveled more or less the length of the pitch.

"What can I say?" Boruc said then, sighing, after the 1-1 draw at the Britannia. "I can promise I will get those two points back."

Rather than make amends, however, Boruc only got himself further in arrears in Southampton's 2-0 defeat Saturday against Arsenal at the Emirates.

- Mangan: Arsenal accept Southampton's gifts

Receiving a back-pass from right-back Nathaniel Clyne in the 22nd minute, Boruc took a touch inside to evade the onrushing Olivier Giroud. In trouble, he attempted one back-heel, then another that was more Scott Parker than Johan Cruyff, before he slipped and got caught. Giroud had time to say: "Merci beaucoup" before prodding his sixth league goal of the season into an empty net.

"I didn't give up on my duel with the keeper," Giroud said afterward. "Usually I used to go too quickly and he could dribble me, but this time I stand on my legs and was a bit lucky, took the ball and scored. It's nice for the team.

"Two days before the match I lost my grandfather, so I'm really motivated to dedicate these goals to him, and I hope he is proud of me in the sky."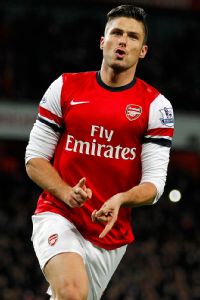 Ian Kingston/AFP/Getty ImagesGiroud has now scored seven Premier League goals this season.
Giroud would get another before the day was out, but it's hard to believe that he will score an easier one than the first. It was a welcome change of fortune, too.

A starter in all of Arsenal's Premier League and Champions League games this season, Giroud came under strain in the first half. He hobbled after a robust Southampton challenge early and lay prostrate, clutching his back, as the interval approached.

Before the game, Arsenal manager Arsene Wenger had revealed: "If we lose Giroud today, we have nobody with body weight up front."

It remains an obvious concern despite Wenger's belief that "we can win the title without signing another striker [once the transfer window opens again in January]."

Arsenal do have ways, other than Giroud, to beat teams. Opponents won't have Boruc in goal every week, of course, but the chances the Gunners created before the opener would have been difficult for any goalkeeper to stop.

They came against the run of play though. Third going into the game, Southampton were the form team in the Premier League, unbeaten in eight games and defeated just once this season.

Mauricio Pochettino's side started the better, enjoying more of the ball and passing it around like the home side, though without asking any questions of Arsenal. However, their resolve was shaken in the 11th minute when, unable to clear their lines, a ball found its way over the top of their defence,

Jack Wilshere burst past his man and, from an acute angle, chipped Boruc, only for the dinked shot to come back off the far post and be ushered, amid panic, away from danger.

That aside, Southampton had been doing a good job of locking down the middle of the pitch. Arsenal had to go wide and it was from there that one of the more memorable moments of this match originated in the 18th minute, when a pass was played into Mesut Ozil on the right.

The German flashed a cross, hard and fast, into the middle of the box where Aaron Ramsey fashioned a perfectly executed back-heel attempt on target. Had it gone in, it would have been another Arsenal contender for goal of the season to compete with Wilshere's against Norwich. Instead, it, too, struck the post.

In the buildup, much had been made of playing through or around the Southampton pressing game and this was how to do it. Once the breakthrough came, however, Arsenal looked for a time like they might let the visitors back in.

Mikel Arteta fluffed a clearance on the edge of his box, which Adam Lallana pounced on and forced Wojciech Szczesny to tip his shot impressively over the bar. Unlike his compatriot and fellow Poland international Boruc, the Arsenal No.1 was dependable when his team required.

He pulled off another fine save five minutes before the interval, as a Southampton break concluded with James Ward-Prowse crossing to the edge of the box for Jay Rodriguez to volley.

Szczesny pushed it away to preserve Arsenal's lead and was called into action again just after half-time, when Lallana got another shot away from outside the box. Rodriguez also had an effort blocked.

The duo's interplay, so fluent, so devastating against Hull City before the international break and so responsible for their call-ups to Roy Hodgson's England squad for the friendly defeats against Chile and Germany, looked to be re-emerging.

Lallana, though, was replaced by Pablo Daniel Osvaldo in the 54th minute -- Pochettino said afterward that he had a slight injury -- as Southampton went with two up front in the hope that it would get the side back into the game.

It didn't, even though the summer signing from Roma twice brought saves from Szczesny. Furthermore, Arteta's departure through injury -- he was replaced by Tomas Rosicky -- caused a midfield reshuffle that saw Wilshere drop in alongside Ramsey and looked like it might be the door through which Southampton stepped into parity.

However, Laurent Koscielny, sent off for France in Kiev eight days ago, kept it shut with a redemptive display, and his partnership with Per Mertesacker continues to be a bedrock on which Arsenal's title challenge is based.

Incidentally, it was the Germany international, scorer of his country's winner against England at Wembley in midweek, who brought about Arsenal's clincher. Five minutes from the end, Jose Fonte pulled his shirt in the Southampton penalty area and referee Mark Clattenburg pointed to the spot, from which Giroud made no mistake.

All in all, there was a lot for Wenger to be satisfied with. Theo Walcott made his return as a second-half substitute after two months out, and although still short of full fitness, stretched the play like only he knows on a couple of occasions.

The win not only sees Arsenal bounce back from defeat to Manchester United a fortnight ago, but also allows them to take advantage of Liverpool's draw in the Merseyside derby and go four points clear at the top of the table.

While the goals today came from two situations that Southampton got wrong, there was a lot that was right about this Arsenal performance.