Merseyside managers make for breathless derby
LIVERPOOL -- It was the fixture that David Moyes found increasingly difficult as his Everton tenure drew on. In the minds of many Evertonians, it reduced his standing. Too many times did they see caution employed. His replacement favours adventure, and even though Roberto Martinez was denied a famous victory, excitement was duly delivered.

- Walsh: A derby day to remember
- O'Farrell: Everton youngsters shine in derby
- Report: Everton 3-3 Liverpool

Martinez never deserts his attacking philosophy, even when his defence is malfunctioning. Pre-match hopes lay in a more open game than a usual derby. They were realised with a classic. All six goals resulted from set pieces; defensive errors often lend themselves to crazy scorelines, but this was a game that kept pulsating until Gerard Deulofeu's shot was blocked in the final seconds.

"Oh, my goodness," a hoarse Brendan Rodgers said in relief at his Liverpool side's 3-3 draw.

"How long have you got?" Martinez said, when asked to describe the match.

Victory in red might have been secured had Joe Allen, on the hour, onside and with goal gaping, not served up one of the misses of the season. That would have made it 3-1. Instead, with Allen withdrawn, given a tactile pep talk by Rodgers as he slumped off, the pair looked on as Romelu Lukaku almost destroyed Liverpool.

Luis Suarez's face was a picture of bemusement and rage. How had Allen missed? "We should go 3-1, that allows us to control the game much better," Rodgers said.

It gave Everton a lease on life their defending had nearly cost them. Martinez wins friends with his enlightened approach to attacking, but will always lose points if his team defends like they did for all of Liverpool's goals, and for Allen's that never was.

Still, the intensity of Everton's attacks could not be resisted. Simon Mignolet did not hold Lukaku's shot, Kevin Mirallas won the ball back, linked with Gareth Barry, and played in the big Belgian for a side-footed drive his compatriot could not hold. Then, from a corner, Lukaku rose first and highest to crash a header to give Everton a lead they did not hold. Daniel Sturridge's equaliser came from a corner, too, the England man breaking Evertonian hearts, but only adding to the thrills as he did.

It could have been worse, but Rodgers is still without a victory in this fixture. His own philosophy does not seem suited to games of such intensity. Despite a lunchtime kickoff, every attack was roared on, all decisions contested with audible rage. Still, the brilliance of Suarez's 18th minute free kick was applauded by a number of Everton fans as Liverpool seized a lead at a time they had been pinned back.

They had their lead through two moments in which Suarez played a key role. For the first, Steven Gerrard's corner found Suarez unforgivably unmarked. His flick found Coutinho in equal acres, the shot was drilled with enough power to leave James McCarthy unable to stop it.

Liverpool soon showed off equally liberal defensive tendencies. Leighton Baines' free kick was headed down by unlikely target man Ross Barkley, and Mirallas stole in to equalise. Martin Skrtel had been too slow to stop the knockdown.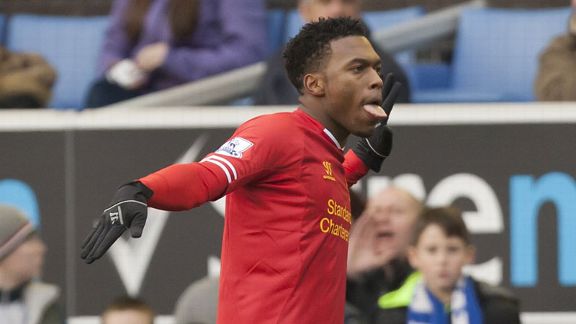 APDaniel Sturridge headed home in the 89th minute to salvage a point for Liverpool.
Everton fans had called for a decent referee, and they got one, or least one that was favourable. Suarez was already limping with what looked like a knee strain, but Mirallas decided to compound the pain with a mid-air studs-up challenge. Phil Dowd, despite the advice of his fellow officials and Liverpool's physio, showed only yellow. Mirallas, and Everton, got lucky.

It might be recalled that in last October's derby, a Suarez tackle injured the Belgian. Here was revenge served, if not coldly, then with calculated malice. And Suarez's zip also was lost, though most probably as a result of his initial injury rather than Mirallas' ministrations. His return after half-time was rather surprising, and he took to the field testily, dragging the injured limb for effect.

"I thought Mirallas should have been sent off, it would have been interesting if it had been Luis who had made the challenge," Rodgers said. "It could have ended his career, that."

A lack of Sturridge -- on the bench and to be used only in emergency -- meant that Suarez was playing alone up front. Jon Flanagan's appearance at left-back, in the absence of Jose Enrique, meant that Liverpool had as many Liverpudlians -- two -- as Everton. Barkley, like Flanagan, was making his Mersey derby debut, and flourished.

"In the middle we had a lot of attacking dynamic," Martinez said, referring to Barkley. "As a young man with Everton in his blood and his heart, he was very mature."

Gerrard, by contrast, was playing his 30th, and like Allen and Lucas, always found the Scouse upstart troublesome. Barkley charges forward in the manner of a young Gerrard, with added tricks. The young Toffee looked made for the occasion, and so did Flanagan, who dealt well with Mirallas from an unfamiliar role. Local lads often rise to the derby occasion. Some players flounder, and Allen is one of them. He was subbed a few minutes after his moment of misery.

Barry was initially the anchorman detailed with keeping Philippe Coutinho quiet, but then moved to left-back, a position he has not been seen in since his younger days with Aston Villa; Baines had limped off injured.

That second-half reshuffle increased Everton's grip on possession, though Martinez's risk-taking values also left the space at the back that Allen might have profited from. Everton took their lead, before Rodgers, to his own gambling credit, replaced a midfield anchor pairing with forwards Victor Moses and Sturridge, to save derby spoils that had looked beyond his grasp.

Both managers' decision-making, and some harem scarem defending, made it a derby to remember. It was breathless, thrilling stuff, and with Martinez and Rodgers around, Merseyside can expect more of the same excitement.