Bayern wins Super Cup after penalty drama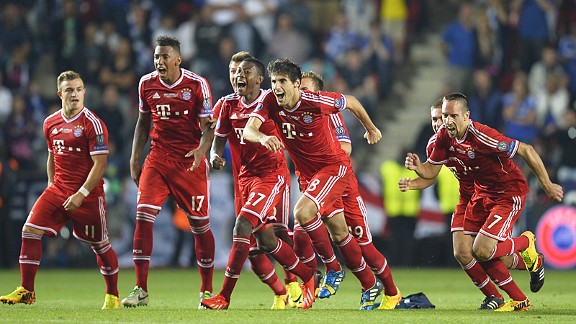 GettyImagesThe celebrations begin after Romelu Lukaku missed his penalty
Three quick thoughts surrounding Bayern's UEFA Super Cup win over Chelsea, prevailing 5-4 on penalties after a 120th minute goal by Javi Martinez leveled the score at 2-2:

Both managers have stamped, but don't yet own, their teams

Given that this was a contest between the two coaches who have defined either side of the dominant tactical debate for the past half-decade, it was absolutely no surprise the game followed a distinct pattern. Bayern Munich dominated possession and territory, while Chelsea looked to hit them on the counter. A Jose Mourinho player sent off against a Pep Guardiola team.

As familiar a duel as this was, though, it was also one with considerable differences. The frantic excitability of the contest was in stark contrast to the suffocating tension of the second leg of the Champions League semifinal in 2009-10 and the first leg of 2010-11. It was all so much more open.

Part of that perhaps comes down to the enduring appeal of imperfection. Ultimately, neither of these historically excellent coaches has been in the job long enough to fully apply their approaches. Bayern controlled the ball but without the same elusive qualities of Barcelona, circa 2008-11. Chelsea played on the counter but without the same kind of forceful intensity. Guardiola's side were more haphazard and hectic than you'd expect, Mourinho's slightly more callow. How often have you seen his sides concede late goals?

These were teams somewhat off either coach's peak expectations.

And for all that the two men create -- these degrees of impressive assurance and certainty about their sides -- those elements could mean more open and competitive Champions Leagues and domestic leagues than previously expected.

Ribery may yet be assuming proper star status for Bayern

For all of the quality of this Bayern Munich team, there has been a rare equality to their build. Unlike so many superclubs -- not least Real Madrid and Barcelona, and even Ajax and the Germans themselves in the 1970s -- they have no defined reference point in terms of status. If anyone of their otherwise excellent professionals are missing, it doesn't quite necessitate the same adaptation as the absences elsewhere of the likes of Leo Messi, Cristiano Ronaldo or Robin van Persie.

Bayern have much more balance across the board, perhaps best revealed in the manner they felt forceful in virtually ever area last season. It is for that reason that this year's Ballon d'Or feels less certain than at any point since 2006, and that Franck Ribery winning the 2013 European Player of the Year award caused an element of debate. He wasn't that much more outstanding than the rest of the team.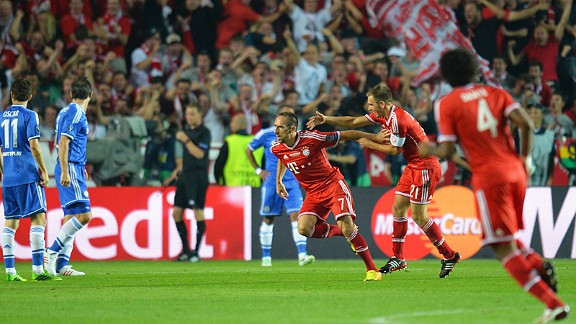 GettyImagesBayern Munich celebrate Franck Ribery's goal

The French forward, of course, offered a fine riposte of his own in the 47th minute of this match with a supreme strike, and at age 30, he may well be finally enjoying his prime. Until this year, he's always had something of an unfulfilled career and one somewhat akin to his teammate Arjen Robben.

Both have undeniable talent, but it is not quite at the true elite level of so many contemporaries, and certainly hasn't led to the top prizes -- until now. The feats of the 2012-13 season may well have properly matured them to make the most of their ability. As well as calming them from the anxious need to win those most exacting trophies, it could complement them with that knowledge of how to win.

There were a fair few examples of it in the Super Cup, not least with the way Ribery ran the game and made so many simple but sophisticated touches. One solo and volley in the 11th minute of extra time to clear danger and still find a teammate was sublime. Of course, the other element of all that is that the quality of such types of professionals is often not truly appreciated until after the team cycle ends.

With efforts like these, Ribery eventually may receive proper recognition in his own time. And given the gaps that have become slightly apparent in this Bayern team -- as a consequence of the natural transition from one hugely successful campaign to another, but also Guardiola's tinkering -- that may prove important.

The pieces are there for Mourinho up front

The Chelsea coach has never been too content with just "making do." Mourinho once specifically said he would not return to a job with fewer resources precisely because he believed he had already proved himself in such circumstances at Leiria and FC Porto. Similarly, one of the factors in his initial dismissal from Chelsea was an increasingly agitated argument over Roman Abramovich's refusal to bolster the backline in the 2006-07 season.

Now they have the same issue at the other end of the pitch, but a different Mourinho in charge -- one seemingly more willing to accommodate. It has been clear from many of Chelsea's early performances -- not to mention their public pursuit of Wayne Rooney -- that none of their forwards quite yet fit Mourinho's style of play and that they could do with a forceful forager to pin so many interchanging attackers together. Even Samuel Eto'o would only seem to temporarily solve the issue -- but so could Mourinho's own tinkering.

For all of the commotion caused by the rotation of Chelsea's current forwards, there is a logic to it. By introducing a different one to each game, he changes the context as well as his team's dynamic. If not quite so top quality, it may make Chelsea less predictable.

There was certainly an element of it against Bayern, with Fernando Torres initially well-suited to make use of the space around the German side's defence and finishing with such instinct. The Spaniard was less well-equipped for some of the more meticulous build-up play, but if a situation really requires it, Mourinho does still have different options in that regard.

Meanwhile, Romelu Lukaku offered a wildly different challenge late. It is by no means a perfect solution, but it may well be a workable one -- not least when you've got attack-minded players such as Eden Hazard to fill the gaps, too.