True test awaits joyous French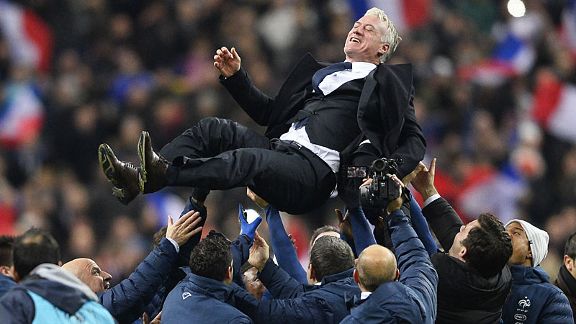 GettyImagesDidier Deschamps is thrown into the air after masterminding France's comeback against Ukraine.
PARIS -- "Do it" was the L'Equipe headline on Tuesday morning, and Didier Deschamps' side heeded the message. Finally.

The biggest question that came out of France becoming the first side to overturn a two-goal deficit in a playoff to clinch their place at the World Cup was not how on Earth did Mamadou Sakho score two goals -- his first in international football -- but rather why have Les Bleus never managed to put in that sort of performance before?

- France 3-0 Ukraine

Even the most cursory of glances down the French squad list was enough to make them favourites to overcome Ukraine, and yet they headed into Tuesday's second leg downcast and all but down and out following the most insipid of displays in Kiev on Friday.

By contrast, the performance at the Stade de France was in blinding technicolour, particularly in the first half, as France produced the sort of football that many always suspected they had in them, but had only rarely seen. A lot of that had to do with Deschamps, who -- having learned from the mistakes he made in the first leg -- made five changes and tweaked his tactics to produce an effective blend.

The switch from 4-2-3-1 to 4-3-3 was not so much a case of a tactical masterstroke, but it was rather the five changes he made to the starting lineup, basically picking players who fit the system snugly, that produced the biggest effect.

One of the most significant was the return of Yohan Cabaye to patrol in front of the back four. The Newcastle United midfielder brought his habitual blend of snarl and skill to the role, the latter quality giving him the edge in the position over his former Lille teammate Rio Mavuba. Cabaye's introduction allowed Paul Pogba and Blaise Matuidi, who had been forced to play with the hand brake on in Kiev, to slip into their more natural games, with the Juventus midfielder even getting an early opportunity to head the hosts in front.

The other key change was Mathieu Valbuena's inclusion at the expense of Samir Nasri. What possessed Deschamps to plump for the Manchester City man in Kiev? It seemed that two reasonably good displays -- against a comic Australia side in a friendly and Finland in an all-but-meaningless final group-stage qualifier -- had been enough for Nasri to ease ahead of Valbuena, who has been Deschamps' most consistent performer since he took over from Laurent Blanc in summer 2012.

Though he has, by his own admission, not been in great form at Marseille, Valbuena once again showed his importance to this France side, an importance which perhaps even outstrips that of Franck Ribery. Though nominally on the right-hand side of the front three, Valbuena was business-like right across the line, pulling defenders out of place to make room for Pogba, Matuidi and even Mathieu Debuchy to come forward while also giving Ribery someone to play with. Surely Deschamps will not make the same mistake come Brazil next summer, and Nasri will have to content himself with the bit-part role Valbuena played in South Africa.

While Debuchy produced another solid display to strengthen his grip on the right-back position and Patrice Evra was rarely tested by an off-colour Andriy Yarmolenko, the centre-back pairing of Raphael Varane and Mamadou Sakho requires further inspection. The duo had played together for only a game-and-a-half prior to stepping out against Ukraine, and though the complementary blend of Sakho's power and Varane's finesse bodes well, provoking -- as it does -- more than a whiff of the legendary Desailly-Blanc combo, they simply were not tested sufficiently to allow Deschamps to make a firm judgement.

His goal aside, Karim Benzema's contribution remains problematic. Though he has highlighted his industry for the cause, the Real Madrid striker needs to provide more of a goal threat. Onside for the "goal" that was disallowed, he owed his third strike in four internationals to the remarkable oversight of the assistant referee, who somehow failed to spot him wandering unaccompanied towards the Ukraine six-yard box. Given his other goals came against the hapless Australians -- ending a 1,222-minute international barren spell -- and the underwhelming Finns, the question marks over Benzema will remain.

As they will over the team. "We're going to forget everything that happened before. We've qualified in style," said Benzema in the jubilant throes of the postmatch festivities. But surely that should not be what happens. France need to remember how they struggled in Belarus in September, requiring a Patrice Evra half-time hairdryer to get them going. Qualifying rights a lot of wrongs, but looking at their campaign objectively, they produced only one presentable performance in qualifying -- in drawing in Spain -- and one excellent first half against Ukraine, the second being helped by Yevgen Kacheridi's early red card.

They need to remember how close they came to being knocked out by a Ukraine squad that has one-tenth of the individual ability, but showed Les Bleus the sort of commitment required if you want to play at the World Cup. Deschamps' statement that in the first leg "Ukraine played a game for a place in the World Cup, we just played a game, an ordinary game" spoke volumes about his team's inability to motivate themselves sufficiently to show their undoubted individual talent.

The French Football Federation president, Noel Le Graet, on Sunday accused the squad of only pretending to get along. When all the bonhomie of qualification has died down, and the joyful memories of throwing Deschamps in the air on the Stade de France pitch have faded, will the infighting and backstabbing that have suffocated France's talent at recent major tournaments resurface?

Essentially, it comes down to what many regard as what the French do best: cooking. "We have quality, but we didn't put the ingredients together in the first leg," said jubilant head chef Deschamps on Tuesday night. "When we have them, we're capable of doing some great things." Most of us, including Deschamps himself no doubt, already knew that. Whether he will be able to cook up the same recipe and serve it consistently in Brazil next summer still remains to be seen.