Three Things: England vs. Germany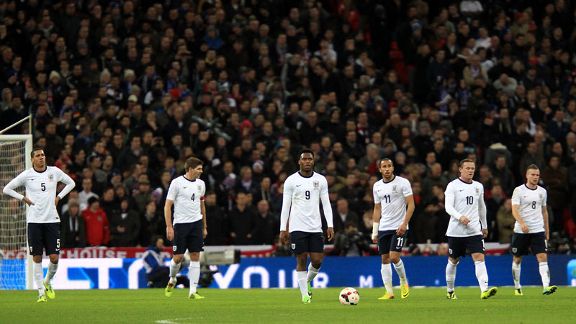 PA PhotosEngland's players react to falling behind against Germany.
LONDON -- Three thoughts from England's 1-0 loss against Germany at Wembley.

England not 'A' okay

In England, the notion of a 'B' team conjures memories of a Matt Le Tissier hat-trick that wasn't enough to take him to the 1998 World Cup and a Chris Sutton snub that effectively ended his international career.

Prior to the match at Wembley, it was suggested that Germany might field something akin to a 'B' team. Such was the English consternation at Joachim Loew's decision to rest the likes of Philipp Lahm, Mesut Ozil and Manuel Neuer, the Germany coach felt the need to speak out on the eve of the game to dismiss claims he was disrespecting the Three Lions with his selection. He needn't have bothered.

Germany's XI at Wembley couldn't really be tarred with that 'B' brush. Five of the starters -- Roman Weidenfellder, Sven Bender, Marcel Schmelzer, Jerome Boateng and Marco Reus -- played in the Champions League final. Two more, Toni Kroos and Mario Gotze, would have also been involved in May if fit. Those players looked comfortable back on the Wembley turf; Bender in particular was a biting presence at the base of midfield and appears a good alternative to the injured Sami Khedira.

None of them truly shone, however, and that is perhaps what will be more difficult for England to take on reflection than just another home defeat to their old rivals -- a fifth in a row stretching back to 1984 and their first taste of back-to-back losses at the new Wembley Stadium. England captain Steven Gerrard had spoken in the build-up of a desire to avenge the Three Lions' most recent loss, the 4-1 mauling in the last-16 at the 2010 World Cup. The Liverpool midfielder was an exuberant presence until his second-half substitution and his teammates, too, looked more motivated than in the normally turgid Wembley friendlies.

There was just not enough quality, however, and though the likes of Tom Cleverley, Kyle Walker and Daniel Sturridge grafted, Germany's collective were simply more gifted. Loew's side made it seem effortless at times and despite rarely seeming to exert themselves, the disciplined 'second-string' saw the game out. Loew's description of the game as a "classic" was perhaps a tad generous, but Germany can take plenty of confidence; their fans certainly did, with ironic cheers of England's Euro '96 anthem 'Football's Coming Home' greeting the end of an unhappy 150th birthday for the FA.

Joe shows his Hart

When Phil Jagileka started playing a private game of keep-ball with Joe Hart in the opening minute of the match, it appeared a sympathetic gesture, designed to ease the Manchester City goalkeeper gently into his first senior game since Oct. 27. Indeed, the first time England's No. 1 had the ball safely in his grasp, a ripple of applause went around Wembley, the sentiment bordering a little on the patronising.

By the time he exited the field at the final whistle and in spite of being on the losing side, however, Hart was being sincerely saluted by the Wembley crowd. Since being dropped at club level by Manuel Pellegrini, England boss Roy Hodgson has regularly reiterated that Hart remains his first-choice keeper. It is difficult then to know if it is Roy's faith or Pellegrini's enforced 'time out' that has refocused Hart.

His display against Germany was admirable, at times awesome. One regressive clash with Chris Smalling aside, Hart looked back to his commanding best. Barking orders, claiming the ball, distributing well. Most notable, though, were the saves.

A magnificent fingertip stretch denied the towering Per Mertesacker an opening goal in the first half, though it was to prove in vain as he was powerless to prevent the Arsenal defender's match-winning header moments later. And as the game opened up in the second half, Hart was called on more frequently. A low dive kept Mario Goetze at bay, while a widening of his base was enough to force Sidney Sam to lob over when clean through. Hart has left Pellegrini with much to ponder.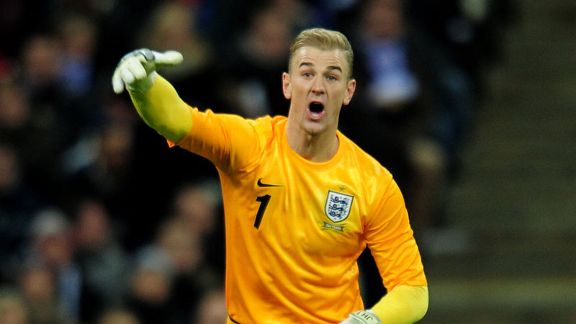 GettyImagesJoe Hart's performance against Germany was under the microscope.
Townsend narrowly pips Lallana

A match against top-class opposition, in the high-pressure environment of an unforgiving Wembley Stadium, provided the perfect opportunity to judge how ready some of Hodgson's Hopefuls are for tournament football in Brazil next summer.

Andros Townsend and Adam Lallana were among those men under the microscope and while both performed well, it was the Spurs winger who pipped his Southampton counterpart in the effectiveness stakes.

The pair are intriguing to watch as they play the same position so differently. Townsend is all about direct running and a devastating fleetness of foot; Marcel Schmelzer came up against Europe's best with Dortmund in the Champions League last year, but Townsend proved a real scourge, regularly beating the left-back with his explosive pace. The Spurs star almost emulated his thunderous strike against Montenegro, too, but saw an equally powerful left-foot effort rattle Roma Weidenfeller's post.

Townsend's emergence in last month's final qualifiers appears to have given him the advantage in the race for a spot in Hodgson's squad. At a World Cup, one would certainly expect Townsend be a more frightening prospect, particularly for defences tiring in the South American sun. However, Lallana is also worthy of consideration.

Lallana's is a speed of thought, and his guile could yet be as threatening a weapon as Townsend's twinkletoes. The Saint has ascended from League One star to international player in just 30 months; he displayed some commendable confidence against Germany. There was a wonderful, Bergkamp-esque turn that nearly came off, while another neat flick almost created a goalscoring opportunity soon after. "He's been a major find," Hodgson reflected after the game. "When we take positives from individuals, Adam Lallana will be high on that list." England have too often shied away from taking risks at major tournament, but having both Townsend and Lallana on the plane to Brazil may be a gamble worth taking.