Three Things: England vs. Chile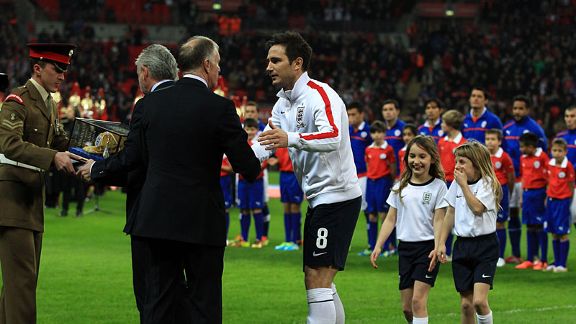 PA PhotosFrank Lampard was presented with a golden cap to commemorate his 100th England cap.
LONDON, England -- Three thoughts from England's 2-0 loss against Chile at Wembley.

Not-so-golden moment

It was supposed to be a night to celebrate a player who has had something of a roller-coaster England career. Instead it was a night when England's delusions of grandeur from a month ago were cruelly exposed.

After being the back-to-back winner of the England fans' Player of the Year award in 2004 and 2005, Frank Lampard has been considered part of the problem and not once since has made the top three. This is a player who was welcomed onto the pitch by the stadium announcer as an England legend, a moniker which would not be met with unanimous approval.

Winning his 103rd cap against Chile, Lampard had his family on the pitch as Sir Geoff Hurst bestowed a ceremonial golden cap to mark his century, only the eighth England player to reach the milestone.

The reason Lampard, at age 35, has remained such an integral part of the England squad when he is so maligned by many, is not a positive. That can be answered with the name of the player who replaced him when injured before Euro 2012: Jordan Henderson. That's not a direct slight on Henderson, more about the general talent pool that allowed waning stars like Lampard to remain safe, despite indisputable evidence of failure.

Five goals in seven World Cup qualifiers should indicate Lampard still has something to offer, but he will turn 36 a week into next summer's tournament. And England will face far sterner tests than they did in qualifying.

Roy Hodgson may have to decide between energy and experience. In Steven Gerrard he is already going to have one 30-something central midfielder. Does he need a second? Coincidentally, it was Henderson who again replaced Lampard at Wembley. But this England squad is changing, a band of international bright young things biting at Lampard's ankles.

Jack Wilshere is now "fit," Tom Cleverley is making steady if slow progress, Ross Barkley is in his breakthrough season and Adam Lallana, though 25, was given his chance against the South Americans. James Ward-Prowse and Ravel Morrison are impressing for the under-21s too.

Lallana almost created a goal just three minutes into his debut as his superb free kick was met by the head of Phil Jones -- but Claudio Bravo made an acrobatic save. He should have scored just before the interval, only for his shot to be deflected just wide. There were signs that he could have something to offer, as long as his way into the squad is not blocked off.

Lampard was left to patrol the defensive area of the midfield against Chile, allowing Wilshere to carry the ball forward. The Arsenal midfielder at times looked like the player who first broke onto the scene, bursting into the final third and threatening the opposition. But he is still giving the ball away too cheaply in top-level internationals.

Andros Townsend was introduced to rapturous applause but could not push England to an equaliser before they were hit by the sucker punch.

It's not that Lampard was poor in his 70 minutes, but neither did he particularly show anything to make you think he simply must be on the plane. Perhaps it's best he gave his two daughters the opportunity to see what Daddy does.

With almost four months until the next friendly, against Denmark, much could change for England's captain for a day -- it is far from certain he will bring the curtain down on his international career in Brazil.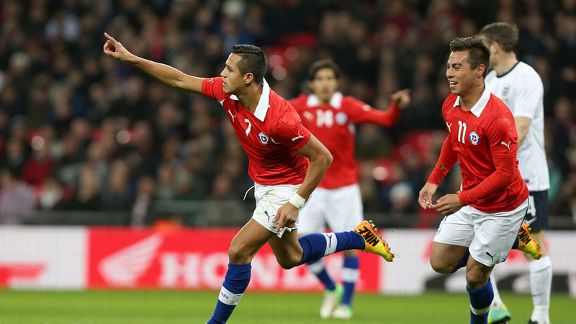 PA PhotosAlexis Sanchez wheels away after breaking the deadlock against England.
Chile the true showmen

Back home in the capital city of Santiago, Chile fans would have been basking in 30-degree Celsius heat. You could have forgiven their players for retreating into their shells with the cold of winter about to take hold in London -- the temperature started at 6 degrees C and dropped noticeably after the interval.

But if one team was providing the heat for this World Cup warm-up, it was the visitors. Jorge Sampaoli's side hit a rich vein of form in the second half of South American qualifying, picking up 16 of a possible 21 points to finish third. They have also drawn with Spain and Brazil in friendlies to show they should not be taken lightly.

Moving the ball around the pitch quickly, looking to open pockets of space to exploit, Chile caused England problems throughout the first half -- though their attacking intent was not as evident in the second period.

Constantly pressing the ball, Chile didn't give England a chance to build the kind of momentum they enjoyed against Montenegro and Poland. But Chile are a far superior team to any England faced in their group. And it showed time and again.

Hunting in packs and constantly hassling to win back possession, their work rate put England's to shame. Modern-day international football demands a fast-paced passing game. You don't need to be running to achieve this, the ball just needed to keep moving and do the work for you. Chile did this superbly, and England had no hope of replicating such a technically astute tactical display.

Alexis Sanchez is the household name in this team, and while this is not a one-man outfit, his class was apparent compared to his compatriots -- and his opponents.

Mauricio Isla was afforded far too much time and space by Leighton Baines in the move that led to the goal -- Baines also losing Alexis as the Barca forward headed home. Eduardo Vargas, who will be at home next summer as he plays in Brazil for Gremio, was another threat for the visitors.

Chile may not have offered much after the interval, but that didn't bother their fans, who celebrated through the biting wind, even cracking open a chorus of "olés" toward the end. The olés turned to raucous celebration in injury time, when Alexis brilliantly scored his second with a dinked shot over the onrushing Forster to capitalise after Gary Cahill gave away the ball.

Keeping up appearances

Hodgson may have always intended to give his fringe players a chance this week, but the timing couldn't have been much worse for Joe Hart. Manchester City boss Manuel Pellegrini finally turned to Costel Pantilimon after Hart's yearlong battle with blunders. And the Chile game effectively served as an audition for Celtic goalkeeper Fraser Forster.

It would make sense that Forster is the heir apparent, but donning the gloves in the Scottish Premiership doesn't earn you the necessary plaudits. The 25-year-old's performances in the Champions League may have been of the highest calibre, but there are definite concerns about his bread and butter. Would he be able to handle the intensity of being first-choice at the World Cup finals?

It was a testing introduction to international football for Forster, who never played at representative youth level. He looked nervous when dealing with an early back pass, and he was picking the ball out of the net only seven minutes into his debut.

A good save from Jean Beausejour seemed to settle him, though Chile allowed him no time with his clearances to make sure he was never allowed the opportunity to fully gain his composure. Forster didn't do anything wrong, but neither did he do anything to suggest Hodgson will be reconsidering his unwavering support for Hart as his first choice just yet.