Pirlo again plays decisive role for Juventus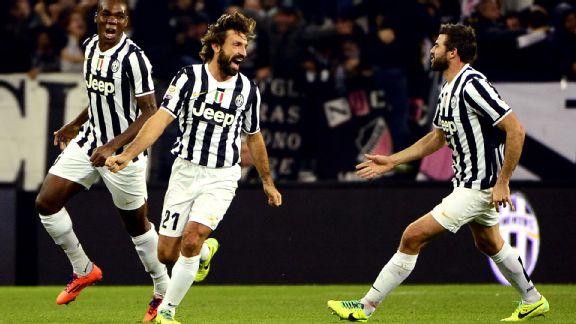 Olivier Morin/AFP/Getty ImagesAndrea Pirlo, middle, led Juventus to yet another win as the Old Lady drew closer to Serie A-leading Roma.
TURIN, Italy -- Had Italy triumphed over Spain in the Euro 2012 final, there would have been a strong case for Andrea Pirlo to be named Europe's -- if not the world's -- best player that year.

He guided Italy to the final before being crowded out by an extraterrestrial-like Iberian selection, paving the way for the usual suspect, Lionel Messi, to sweep the board once again. Pirlo also paid for the fact Juve had only just won their first title since 2003 that May and, as a result, he had not featured prominently enough in the Champions League, other than the 2012-13 group stage.

- Rzouki: Roma, you have been warned

After back-to-back Scudetto triumphs, Pirlo is again earning the recognition he warrants. The only Italian representative in the running for the 2013 Ballon d'Or, he provided evidence on Sunday night why he, if anybody, can force the Messi-Cristiano Ronaldo-Franck Ribery triumvirate to step aside and let an elder statesman earn what would amount to a lifetime achievement award.

Against Napoli, he was the inspiration behind Juve's sixth straight home win, the 3-0 victory moving them within a point of Roma after 12 games of the Serie A season.

With only 43 seconds elapsed, Paul Pogba drilled the ball into the ground with Napoli keeper Pepe Reina flinging himself across his goal to push the ball wide for a corner. Seventy-four seconds in, Juve gained the lead. Mauricio Isla's shot was helped along by a neat back-heel from Carlos Tevez for Fernando Llorente, from a suspiciously offside position, to poke in from close range.

Pirlo then telegraphed a ball over to the far post, where Pogba headed it back across goal for Leonardo Bonucci to be denied at point-blank range. Juve were starting to get their game going, Pirlo unsurprisingly the brains behind it all.

He was the deepest prong of Juve's magic triangle. With the Italian drifting religiously behind companions Pogba and Arturo Vidal, the 34-year-old always seemed to be two passes ahead. He found space in even the most crowded areas of the field, aware that in just a couple of passes, the ball would be there for him.

Consequently, the long-ball game is not permitted in this Juve side. Even the three central defenders have an accomplished enough touch, and an ingrained awareness, that Route 1 for the Bianconeri means Pirlo. Route 2, on the other hand, is either Vidal or Pogba, both lurking just in front of their master, like his two tentacles; an extension of his own prowess.

Twenty-two minutes in, Napoli forward Gonzalo Higuain got in his first shot, shooting wide of Gianluigi Buffon's goal. Three minutes later, Tevez released a sighter which hit the target, but also the palms of Reina. It was meant to be a night for the two Argentines to underline their side's title ambitions, but Pirlo was not following that script.

Napoli enjoyed a good spell early in the second half with Lorenzo Insigne, making his 50th Serie A appearance, testing Buffon, who made his 499th. Marek Hamsik subsequently found the side netting, fooling the pocket of Napoli fans into thinking he had leveled. They were ridiculed by the home fans, who took some ribbing of their own when Vidal's effort gave the illusion of entering the net, not just rippling the outside it.

It was going to take more accuracy than either were able to deliver -- the kind of accuracy Pirlo has provided time and time again from 25 yards. Once again, he obliged. Reina thought he had covered the left-hand side of his goal, but not well enough. With a trajectory that almost defied physics, following a straight line from the inside of Pirlo's right foot to the top right-hand corner of the goal, the ball was beyond the Spanish goalkeeper's reach, and Juve were out of Napoli's grasp.

To affirm their authority, Pogba supplied the next example of how to hit a football, teeing himself up for the sweetest of volleys which caressed the right-hand post on its way past Reina. 3-0. Game over.

Juve were streets ahead in the last two Serie A seasons, and Napoli's belief that they were making inroads were made to look illusionary. For the first time this season, Juve have not conceded for four games in a row, and they are now ominously just a point behind Roma, whose unexpected stumble in a 1-1 draw against Sassuolo on Sunday afternoon was lapped up by an Old Lady being led by a particularly inspiring old man.