Three Things: Manchester United-Arsenal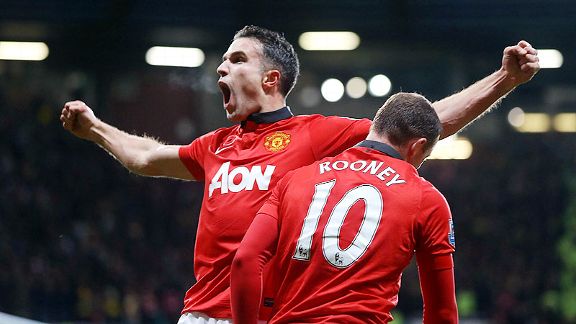 Tom Purslow/Man Utd via Getty ImagesRobin van Persie scored against his old side to help Manchester United beat Arsenal 1-0 at Old Trafford and close the gap on the league leaders to five points.
MANCHESTER, England -- Three thoughts from Manchester United's 1-0 win over Arsenal at Old Trafford.

1. Developing partnership spells danger
"Eight points clear, Robin," sang the Arsenal fans, their triumphalism premature. They have been in understandably good cheer of late, but the appearance of a former idol turned their disposition sour. And especially when Robin van Persie climbed above Olivier Giroud, his Arsenal replacement, to head home a Wayne Rooney corner in the 27th minute.

There was to be no obeying of the modern practice of not celebrating against your old club. Van Persie stretched his arms to their full span in a vindication further revealed by a primal roar. Respect cuts both ways. On Friday, Arsenal manager Arsene Wenger had mischievously described his former captain as an Arsenal man. Here was his riposte.

Like his teammates, determination was writ large on the Dutchman's features. The modern Manchester United have always been able to mix it as well as weave magic. Wayne Rooney played in the position that might have been Mesut Ozil's had United been so inclined to sign the German. Rooney thrived off the greater involvement, at times reminding you that he marries grace and skills with his undoubted power.

Had Rooney converted a second-half left-foot chance, then the game would have been put to bed earlier. United manager David Moyes squatted to the ground in frustration. But with Arsenal's away match machine malfunctioning, his first big Premier League victory was eventually secured. Van Persie, throwing himself into tackles until he was subbed to a standing ovation, reiterated his desire to prove that he had not made the wrong choice in deserting Arsenal just ahead of the time they got good again.

They are not a natural pairing, but the signs are that Rooney and RvP, Englishman and the Dutchman, are beginning to complement each other. Once van Persie knew he had scored, he made sure that the first person he celebrated with was Rooney. If United get the best from the two of them, they will remain a threat for all the Premier League's other aspirants.

2. Gunners misfire
Arsenal's rise and United's slip from primacy, temporary though it may yet be, made this a hard-fought fixture at last. There has been too long a hiatus in hostilities for Arsenal supporters' liking.

An Alex Ferguson team had the ability to pull out a result against a rival looking on a steamroller to success. His United stopped Newcastle United in their tracks on Christmas Day in 1995, and killed Arsenal's unbeaten run at 49 games in 2004. And in 2005, Jose Mourinho and Chelsea's inexorable title challenge was given a temporary halt from the unlikely source of a Darren Fletcher header.

Fletcher was the type of unlikely hero that Ferguson could call on, foot soldiers rather than stars who came through for him. A decade ago, Phil Neville was an Arsenal specialist who regularly put Patrick Vieira in his back pocket. Now he serves as Moyes' bag man on the bench, while Fletcher is on his latest comeback trail.

Now, as then, Arsenal arrived in strutting form, with wins over Liverpool and Borussia Dortmund in hand. But Wenger's side left looking brittle.

Their showing suggested that it was not just Per Mertesacker and Tomas Rosicky, both out with illness, who were bug-ridden. Ozil looked particularly colourless and barely able to impose himself. Even action man Aaron Ramsey was pallid. Phil Jones' industry and chaos disrupted them. Once he was reshuffled to defence after Nemanja Vidic went off with a head injury, life was made a little easier for Arsenal's creative quintet, but still they struggled.

Ozil rattled the side netting, Ramsey pinged in a shot from the distance he scored against Liverpool, but this time it barely rose from the ground instead of screaming into the net. A chip through for Ozil found the German oddly disinterested, though he smiled back at Jack Wilshere for the delivery. Sometimes, Ozil's demeanour might pass for being overly casual.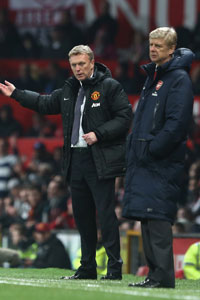 GettyImagesDavid Moyes got the better of Arsene Wenger at Old Trafford.
And when Nicklas Bendtner came on, he revealed further evidence of his loss of a striker's instinct when Bacary Sagna's cross was served up to him in the last minute. Bendtner hit fresh air only. In truth, Giroud had produced little, either.

Old Trafford had once again proved a pyre for Arsenal's ambitions.

3. Moyes makes his mark
Two in central midfield, a selection that proved fatal at Manchester City, was a tactic trusted by Moyes. He started with Michael Carrick and Jones. Rooney had to do his share of dropping back, while Shinji Kagawa had to muck in, too, from the left flank. United, the club of flying wingers, looked narrow. Adnan Januzaj was benched, while Kagawa has clearly impressed Moyes with his recent performances in their doubleheader with Real Sociedad midweek. Jones' all-action performance marked him as an appreciably better screen in midfield than Marouane Fellaini had been at Eastlands.

Jones tackled and headed everything that moved, including Wojciech Szszesny toward the end of the first half, for which he was booked for a loss of control that constituted dangerous play. The concussion debate has another case study, as the Gunners' keeper carried on, though Vidic was not so lucky. Totalled by his own keeper, David De Gea, close to halftime, he did not return after the break.

Jones was thus restored to the central defensive position he was bought for (Tom Cleverley was brought into the midfield), and his partnership with Jonny Evans could continue. Rio Ferdinand, 35, did not even make the matchday squad.

Chris Smalling is not a natural right-back. An injury to Rafael forced his selection. He might be a natural defender, but he struggles to fulfill the attacking function that the modern role requires. As Arsenal pushed on, he was asked to do more of what came naturally, and came through for his manager.

Moyes has spent the season being criticised for his selections. This was a Manchester United performance in the tradition of digging in for victory rather than the flashing blade cutting an opponent to ribbons. Ferguson's teams used to do that, too. It has been the difference between them and Arsenal for almost a decade now.