Three Things: Sunderland vs. Manchester City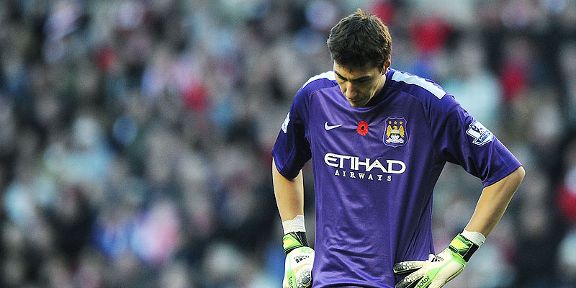 Chris Brunskill/Getty ImagesCostel Pantillmon's struggles, along with Joe Hart's poor form, suggests that Manchester City will be in the market for goalkeeper this January.
Despite having a new manager in Manuel Pellegrini, Manchester City's struggles at the Stadium of Light continued as they lost 1-0 again to Sunderland. Here are three observations from Sunderland's big upset:

City's Wearside woes continue as new-look Sunderland grow.

"Dickensian" is the best way to describe Manuel Pellegrini's first Premier League campaign. A tale of two Citys, it has been the best of times at home and the worst of times away from it.

In three hours of football at the Etihad, City have scored 12 goals. Contrast that with just two during the same amount of time on their travels. Frugality in front of goal has been a particular habit of trips to Wearside. Maybe it's the sea air that knocks City's stars funny, as the wind from the North Sea whipped up a perfect storm for upset and suggest it is City rather than Roberto Mancini that is cursed in Sunderland. City is the first team that Sunderland recorded a clean sheet against this season.

The Italian was not a fan of trips to the Stadium of Light; "I'm not going to come here next season," he said after the third successive 1-0 defeat. His attempt at humour proved far more prophetic than he may have initially intended it to be. Since then the man in the oversized puffer jacket at City has changed, but the result has not.

Today was a chance for City to show that demons had been exorcised. Instead, habits of yesteryear took centre stage as the men in blue regressed. Samir Nasri was petulant, Sergio Aguero struggled to be a threat away from home and City proved to be laborious and lacking in intricacy. To further smear salt into the ever-expanding wound that is a trip to Sunderland, the goal was instigated by two former United academy graduates -- the returning Wes Brown finding Phil Bardsley to finish.

It was richly deserved in the end for the Black Cats, however. Among City's self-loathing, Sunderland displayed the early signs that things are turning. The postmatch song selection of Jackie Wilson's "I Get the Sweetest Feeling" was a lyrical microcosm of the feelings of the terraces. The closer they get to seeing Gus Poyet's style, the more they want it.

His changes have been subtle but impactful. Doing enough to right the wrongs of Paolo Di Canio's brief (and explosive) tenure, at the heart of his Sunderland side is a player the Italian signed, Ki Sung-Yueng.

"He plays the type of football that I really admire," Poyet revealed afterwards. The South Korean international is a star in his homeland, but has struggled with self-confidence. Playing with a backing track of boos for much of this season, even the more self-assured have struggled at the Stadium of Light. But Poyet has been vindicated in utilising Sung-Yueng.

Presented with such an integral role, it makes his 91 percent pass completion rate all the more impressive.

With a fresh slate, Ki is now allowed to express his range of passing in the absence of Lee Cattermole. Operating in a 4-3-3, the formation actually resembles a back three when in possession, as Ki drops deeper and allows the full-backs to rush forward.

It is for that very reason Phil Bardsley found himself closer to City's penalty box than his own. Under Di Canio, a regimented defensive strategy was the foundation as they sought to pounce and counterattack. Against a side of City's calibre that was unlikely, and thus the mistake needed to happen further up the pitch.

There were other positive signs, Seb Larsson provided a decent opening for Steven Fletcher to head wide, and when introduced, Jozy Altidore stretched the back four and used physical attributes that are lacking in Fletcher. The victory also means that dreaded "Championship" word can temporarily be replaced by "consistency." If Sunderland are to escape this precipice, they must begin to string results (even draws) together.

A significant step forward in the climb to survival, it must not prove the same false dawn their last victory did.

Costel Pantilimon stumbles on his first big test.

The life of a goalkeeper at the very top can often be a quiet one. Minutes spent aimlessly watching on the edge of your penalty box, only to be called into action for one big save.

Today was Pantilimon's first taste of a Premier League game on Wearside, and it was likely a sour one. The discourse over City's custodian crisis has been extensive. When does Hart return? His fans will suggest now, with common sense dictating that a constant chop and change breeds instability, which in turn rarely wins Premier League titles.

A first test away from the comfort of the Etihad and City's goal-heavy return, the perfect storm for an upset was brewing long before kickoff. Poor away from home and even worse when visiting the Stadium of Light, Joe Hart last tasted victory away to the Black Cats in 2008 (Micah Richards the only surviving member of that side to play today).

By then, Pantilimon was perhaps a few inches shorter than the 6-foot-8 he currently stands. A patient man, the life of the backup goalkeeper revolves around a veneer of support for your colleague while secretly engaging in schadenfreude. The Romanian international has waited a long time for his chance in the sun (814 days to be precise).

Such a buildup of anticipation is likely to breed nerves, and there were signs of shakiness early on -- his kicks proving a potluck return of convincing and confidence-lacking -- before his inability to judge angles provided Sunderland their opener.

After the match, Pellegrini fielded questions over Pantilimon's future. Confirming that he will continue in his role, today's performance will not fan the press speculation of City signing a new goalkeeper. From the dugout, decisions can seem easier, but as Pantilimon is quickly learning, being a starting goalkeeper comes with infinitely more problems than the issue of patience that dogs a backup.

Brown brings stability at the back.

When asked midweek what it was like to have Wes Brown back in the time, Poyet did not choose a word. Instead he opted for a sound, one of relief and pleasure. In a sea of problems, Brown along with Poyet have represented the buoys of hope. His ability has never been in question at Sunderland, his pedigree clear, but the fact that this was his first full 90 minutes in 22 months provided an ample synopsis of his Sunderland career.

There have been previous false dawns with Brown, each more deflating than the last. Composed on the ball, his demeanor off it was that of a defender with confidence in his talent -- if not how his body would react to to physical exertion it was undergoing. Even with John O'Shea wearing the armband, Brown was happy to give orders and take the lead as he strode out of the back four with the ball.

In the defensive third he allowed himself no risks -- making all 14 of his passes -- before providing the game-winning assist. As with Sunderland's form however, Brown must now scale the hurdle of consistency. His manager has already admitted that Brown reads the game better than his defensive teammates. Thus why Sunderland need him on the pitch rather than analysing it from the bench or the stands.