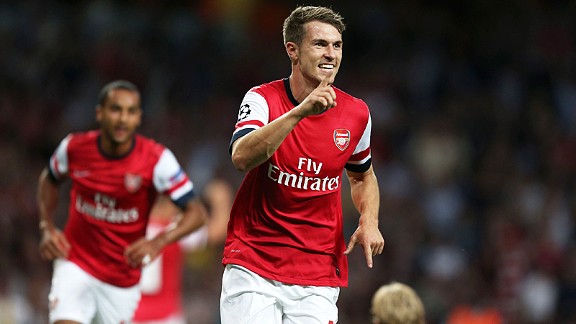 GettyImagesAaron Ramsey celebrates after putting Arsenal 4-0 up on aggregate.
LONDON -- Arsenal fans especially adore their cult heroes. Even in the days when they were the best team in the land, the fans warmed most to the hard-working artisans.

The George Graham years lionised Perry Groves, a speedy substitute who did his best running when on the wrong side of the sideline. He later wrote an autobiography that Gunners fans made sure outsold Ashley Cole's "My Defence" in spades.

The early Arsene Wenger years saw Highbury graced by a team of power and glory. They boasted a wealth of France's 1998 World Cup winners and Gilberto Silva too.

- Arsenal 2-0 Fenerbahce

Yet it was Ray Parlour, a mass of curls and British brio, who fans celebrated most. While Tony Adams was their finest-ever defender, Steve Bould, he of having no hair but just not caring, was regaled far more often in song.

The foreign contingent have been greeted equally warmly too. T-shirts commemorating John Jensen's first goal for the club in December 1994 after 98 barren matches can still be glimpsed. Pascal Cygan, Igor Stepanovs and Oleg Luzhny were often defective defenders but crowd favourites too.

Revival acts are especially appreciated. Redemptive glory is on offer for those who can give for the cause even after all has gone wrong. Emmanuel Eboue went from targeted zero to Emirates hero once fans realised that their booing during a match in Wigan in December 2008 had caused the substituted player to leave the field in tears.

Aaron Ramsey is the current redemption song. Rewind a year and the Welshman was often barracked by home fans, his touch too often deserting him at vital times. It did not help that his manager often played him in a position he was ill-suited to. Ramsey is few people's idea of a right winger. He looked especially spooked in front of home fans.

Now Mikel Arteta's injury has not quite been as catastrophic as first feared; Ramsey has become a proper Arsenal player in his Spanish colleague's absence.

Barely a week ago, Arsenal's season teetered on the brink of ruin. Aston Villa had ransacked their opening day, and a trip to Istanbul to face Fenerbahce looked fraught with danger. A summer wracked with transfer traumas might just be about to get worse.

Yet the Gunners fired into life in Turkey. Their engine was Ramsey, who scored a crucial away goal. He repeated that dominant performance at Fulham on Saturday. Sitting deep in midfield, snapping into tackles and bursting forward has become his new modus operandi.

"He gets to the end of things now," said his admiring manager.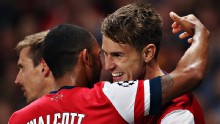 Adrian Dennis/Getty ImagesRamsey's fortunes have taken a turn that promises success.
Heroism in the away leg was followed at home by the goal that killed the tie off completely. Theo Walcott's stray touch was seized upon, and Ramsey strolled in to tap home with a calm that seemed beyond him just months ago. Then came the second, converted with aplomb. Kieran Gibbs' angled ball found Ramsey, who steered the ball goalward with a measured swing of his left foot.

"A year ago he would have controlled that ball and maybe not scored," said Wenger. "He is improving week to week."

Hesitant no longer, heckled no more, Ramsey might even be the answer to the question that Yohan Cabaye is the latest solution to. Where Arteta's midfield movements are often crablike across a narrow catchment area, Ramsey sprints box to box with greater drive and adventure. Energy and awareness are used to assist teammates in defence and attack. Wenger has often hesitated in the transfer market for fearing of harming the development of young stars. Ramsey's sudden growth and development may calm efforts to sign Newcastle's Gallic rebel.

"I'm enjoying myself. I'm confident at the moment. I'm showing people what I'm capable of," said Ramsey after the match, the potential blot on his evening being the groin injury that forced him to leave the field. It is to be hoped that bad luck has not intervened once more.

"I don't know how bad Ramsey is," said Wenger, confirming that the goal hero had not wanted to come off. "I am hopeful."

Jack Wilshere is ordained with greatness, the beacon of youth to carry Arsenal for the next decade, but it is often forgotten that Ramsey was once regarded as a talent of similar potential. Such have been the lengthy twists and turns of his career so far that it is difficult to forget he is just 22.

Such was the expectation in Ramsey as a Cardiff City player that Sir Alex Ferguson rewrote his methods of attracting young stars once he had failed to lure the Welshman in June 2008. Ferguson had used Gary Neville as his emissary but was outflanked by Wenger, who rolled out the red carpet by flying the entire Ramsey family to Switzerland. After that, it was always Ferguson who did the meet and greets for young stars.

The mental scars of the leg break suffered at Stoke under the force of a Ryan Shawcross challenge in February 2010 took far, far longer to heal than his broken bones. Loans at Cardiff and then to Nottingham Forest could not return Ramsey to the player he looked like he might become. Fans often let him know of dissatisfaction, while Wilshere became the apple of all their eyes.

Now, while Wilshere has so far looked short of his best, still stretching for fitness and the impact he is capable of, his colleague flourishes.

"He's getting better and better," said Wenger. "He is much more confident because he knows people trust him more now."

The final matches of last season saw Ramsey finally break through, operating from central midfield as his team went on the long unbeaten run that returned it to the Champions League.

This season's early days have seen Ramsey's key contributions taking Arsenal into the group stages. The once unlikely hero has become a leader of men. A cult of Ramsey is growing quickly at the Emirates.