Everton endure an afternoon of frustration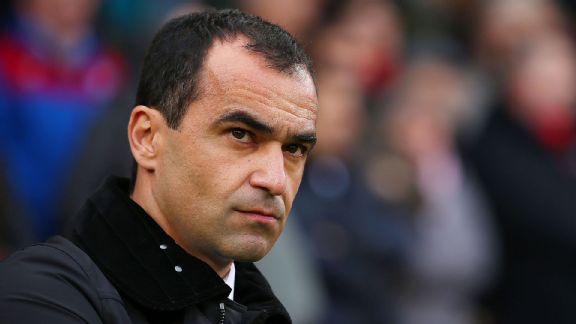 Bryn Lennon/Getty ImagesRoberto Martinez ponders what might have been on Saturday.
LONDON -- Roberto Martinez was smiling but also smarting as he lamented Everton's 0-0 draw at Crystal Palace.

"It was going to be one of those days where the ball hits the crossbar and goes back out. That was going to be the difference between getting three points and not," said Martinez afterward.

Martinez was talking about a late Phil Jagielka header that came so close to giving his side all three points, even if it was an outlook that somewhat exaggerated the positives of Everton's performance.

To a degree, that point of view sums up a difference between the Spanish-speaking coach and so many others. In terms of management styles, there has arguably never been such a distinct split in the Premier League.

The influence of Pep Guardiola's Barcelona and the appointment of coaches such as Michael Laudrup and Mauricio Pochettino has hardened a line between those who accept their team's limitations and look to work within them and those who refuse to and seek to push such boundaries. Martinez is undeniably one of the latter.

Another of the more intriguing elements of the Spaniard's job at Everton is that he replaced a coach in David Moyes who was that bit more reductive.

For evidence, you only need to listen to the comments from Everton's players about their passing game and look at the stats. Everton now hit almost an extra hundred passes a match and enjoyed 72 percent possession in this fixture. They now seek to consistently expand their own game rather than extinguish that of the opposition.

Martinez explained his philosophy after the draw at Selhurst Park -- Everton's fourth goalless game of the season -- as he was questioned about a failure to convert that possession into victory:

"I think it's an end we need to work on, and possession is a first way to get the ball up the pitch. To get the ball into the final third will allow you to use that final ball."

Ultimately, regardless of individual quality, Martinez's approach is all about trust in his own players rather than concern for the opposition. It is the sort of the thing that improves with time, as integration and understanding between players inevitably deepen.

For the moment, though, it seems that trust extends a little too far. There remain elements of Wigan about Martinez's new side. For example, the Spaniard still seems to have that blind spot about his back lines. It is his one major flaw, one that was consistently evident at the DW Stadium. His teams have an assurance on the ball that is accompanied by a complete insecurity in defence.

This time, the only reason they themselves kept a clean sheet was thanks to Palace's atrocious finishing. Kagisho Dikgacoi missed an easy header; Marouane Chamakh sent another badly wide; and Jerome Thomas opted to lavishly chip a one-on-one rather than just round Tim Howard or slot it more conventionally.

Martinez acknowledged that his side could have been "hurt on the counterattack" but seemed to downplay just how dangerous Palace's chances were. On another day, this could have been a bad or even heavy defeat, and one in which Everton were caught cold.

Of course, that is another aspect of Martinez's approach. That trust in his players necessitates a certain amount of positivity, even if it veers into exaggeration.

The idea, as Martinez has previously intimated, is that the approach gradually makes individuals more prepared to completely maximise their gifts. Similarly, he has argued that more cohesive possession would gradually eliminate issues at the back.

There were a few flashes in this game, it must be said, when Everton did show evidence of their manager's philosophy.

As early as the 12th minute, Martinez's side worked their way into the box via a series of beautiful one-touch passes. Romelu Lukaku was then just inches off getting the touch that would have really made it count.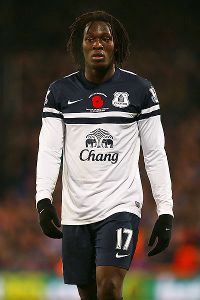 Bryn Lennon/Getty ImagesRomelu Lukaku endured a frustrating afternoon.
Otherwise, the Belgian was superbly marshalled by Damien Delaney and Danny Gabbidon, with the absence of space in Palace's box in stark contrast to the acres around Everton's.

That in itself illustrated how far Everton have to go, for they did not appear to have another true attacking outlet beyond Lukaku. It was only when Gerard Deulofeu came on and began running at the home defence that things began to open up again.

Everton need to gradually work more angles from their passing, especially when they come up against back lines such as that of Palace.

For his part, Martinez praised the home side's defensive commitment, too, even if there was an element of criticism for their pragmatism.

"I thought the Crystal Palace back four worked really well. … They showed a lot of character, a lot of spirit, a lot of focus, a real good team performance. They did their role really well.

"From that point on, it was too much stop-start; the referee allowed restarts to be over 30 seconds. Probably we got frustrated a little bit. In the final third, we couldn't find that bit of quality or good decision to open chances."

Martinez maintains that that will come and that his team is building cohesion and confidence:

"We want to make sure we get into the final third of the season with a great opportunity for something special.

"Today was more of a banana skin. I think if you played that game 10 times, you would have won it nine times and drawn it once."

That sounds a rather positive spin. That, however, is part of the Martinez approach.