Three things: Chelsea vs. Schalke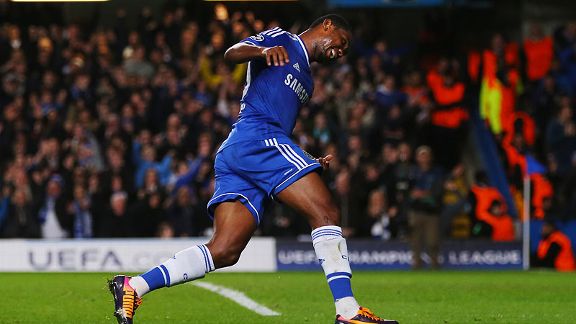 Clive Rose/Getty ImagesSamuel Eto'o scored twice in Chelsea's 3-0 win over Schalke.
LONDON -- Three observations from Chelsea's 3-0 win over Schalke in the Champions League on Wednesday.

Imports from the East

The presence of Samuel Eto'o and Willian at Chelsea is the result of Roman Abramovich's fellowship of the oligarchs club. When Suleyman Kerimov had his fortune slashed by a fall in potash prices, the Anzhi owner offloaded the pair to his pal.

It probably delights Abramovich to be in possession of Willian, once the jewel in Rinat Akhmetov's crown at Shakhtar Donetsk. Akhmetov is wealthier than Abramovich, so having a player whom the Ukrainian was reluctant to let go to Anzhi in January would seem a significant coup.

In the world of oligarchical owners, it falls to the coach to fit in his paymasters' favourites. Having turned a corner with Fernando Torres, Willian and Eto'o need to be accommodated by Jose Mourinho.

In Eto'o's case, there is a residual relationship from a Treble-winning Inter team, though two years of relative inactivity at Anzhi have hardly lent freshness. The electric pace of the Barcelona days is never to return, but the mind is still alert, though significant wiping of the cobwebs has been required.

Mourinho always liked a striker who defended from the front, so the manner of Eto'o's goal delighted him. While an unthinking Timo Hildebrand dallied, Eto'o was soon on his way, and Chelsea had a lead they had hardly suggested. The German keeper paid for a sincere lack of mirror, signal and manoeuvre.

A year ago, Willian starred in the Shakhtar team that beat Chelsea in Ukraine and gave them a terrible fright at the Bridge. As with Eto'o, playing football in Dagestan did not leave him at the peak of fitness. He has lost some of the bulk around his waistline since beginning the Mourinho fitness and diet plan, but had hardly seemed whippet-like. With a surfeit of attacking midfielders -- Mourinho had the luxury of leaving Hazard out of his matchday 18 -- the Brazilian's chance to pick up match sharpness has so far been denied.

Here, though, were encouraging signs. Occasionally swapping roles with Oscar from right to centre, Willian showed off a determination to be involved. At Shakhtar, crossfield charges were a specialty; he does his best work when on the run.

So it proved when a Willian scamper and pass provided Eto'o with the space to score his second. Eto'o's first touch and finish showed there is life in the old striker yet.

A goal imported from Anzhi, and one that probably brought delight to Abramovich.

Back on track at the Bridge

After wobbling on Tyneside, Chelsea recovered their step with a cakewalk. The best work was done on the counter, as is the case with most Mourinho teams. The last 16 is within touching distance now. Even if FC Basel present a difficult away trip, a point there is enough, which leaves a home banker against Steaua Bucharest to secure first place and escape the likes of Barcelona and Bayern Munich too early in the competition.

On the night they lost their opening match to Basel, some predicted an early demise for Mourinho's second regime. Mourinho or not, Abramovich is not going to change his approach. Endangering a place in the Champions League cartel is not permissible. Luiz Felipe Scolari and Roberto Di Matteo paid the price of such failure.

Mourinho was calm that night, stating that with five more matches to play, there would be no need for panicking. He has been as true as his word. Chelsea have made short work of the rest of the group. A Mourinho team is yet to fail in the group stages.

Last week, when his second team demolished Arsenal in the League Cup, three days after beating Manchester City, it looked as though Chelsea were about to hit their old, relentless stride. Newcastle stopped that in its tracks; it served as a reminder that Mourinho is working with an imbalanced squad that is not to his desired requirements. Still, Demba Ba's goal, to go along with Eto'o's, reminded he is not short strikers, even in the absence of Torres.

Chelsea are no less inconsistent than any of their domestic rivals, save for surging Arsenal, and whether they are ready for Mourinho's assault on his third Champions League is a different question.

Now Drax's magic?

Julian Draxler is the latest off Germany's ruthlessly efficient production line of creative attacking midfielders. Arsenal and Manchester United have been linked with his talents, as have Bayern Munich, where the 20-year-old admits he sees himself ending up one day. Such things are an inevitability in Bundesliga life.

Draxler revealed last month that he has stayed in Germany instead of taking up English offers because this is World Cup year, and he wants to remain fully visible to Jogi Loew. He must compete with Mesut Ozil, Toni Kroos, Marco Reus, Mario Goetze and Chelsea's Andre Schurrle for a place.

He is languid of movement, a glider across the turf. For someone of such a young age, he is mature in possession, if not in the tackle. An over-willingness to get involved got him a booking for a foul on Cesar Azpilicueta, who is growing into a fine squad member for Chelsea. Playing left-back, he did a fine job of keeping Draxler quiet.

Had Draxler converted a fifth-minute shot, which was dragged wide, then his growing reputation may have been even more enhanced. While Schalke were pinning Chelsea back in the opening moments, Draxler was causing problems off his right flank, before Mourinho made adjustments that locked matters down. Azpilicueta was handed the detail, and stuck to it rigidly.

In the second half, having been off the field for treatment, Draxler found the space to fizz in a left-foot shot that briefly caused problems for Petr Cech before it was scrambled behind for a corner. With the game lost, Schalke's prodigy was removed on the hour.

Schalke's noisy fans, who had been making a nuisance of themselves all day in London, sang lustily throughout. Their volume level is not far off the yellow peril of their rivals from the Ruhr, Borussia Dortmund, though Schalke's team -- even with Dortmund's Wednesday loss to Arsenal taken into account -- is not remotely as good.