Three Things: Borussia Dortmund vs. Arsenal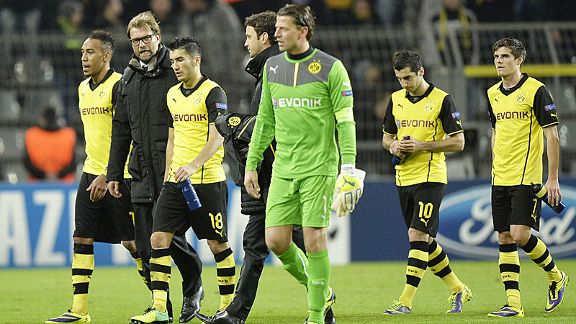 GettyImagesBorussia Dortmund's stars and coach Juergen Klopp are downtrodden at the final whistle after losing to Arsenal.
DORTMUND, Germany -- Three observations from Borussia Dortmund's 1-0 Champions League group-stage defeat against Arsenal at the Westfalenstadion.

Those small moments

At the start, nothing happened. Both teams took no risks whatsoever.

It was only when Henrikh Mkhitaryan broke free that the game threatened to come to life, only Arsenal goalkeeper Wojciech Szczesny standing in the way of the opening goal. The shot went wide and past the wrong side of the post. "It was a question of not to make the first mistake," Arsene Wenger said. And that was that -- the first half.

Those first 45 minutes were less than impressive, with both teams seemingly ready to settle for a point -- it's better than nothing, after all -- but when the game restarted, the Suedtribuene sang their songs and the players played their game.

They connected. As they stormed out of the locker rooms, it got loud -- heavy metal loud. Dortmund showed the appropriate intensity but lacked precision in those first 15 minutes after the break. Marco Reus missed with a header; Jakub Blaszczykowski arrived too late with his effort.

Dortmund, powered by the fans, forced errors from Arsenal as the autumn wind swept through the stadium. Arsenal kept the offside trap alive. Reus, always a threat, patiently waited for his chance as Mkhitaryan pulled the strings in midfield while the irresistible Sven Bender gave Tomas Rosicky a hard time. But then it happened.

After two goals had been ruled out for offside -- from Reus and Marcel Schmelzer -- then came the horror. Sokratis Papastathopoulos played the ball to Rosicky -- who left Dortmund long ago -- and the Czech found Mesut Ozil. From his ball, Olivier Giroud was able to nod down for Aaron Ramsey to stoop and guide it past Roman Weidenfeller. From living on the edge to falling off it.

The goal all but killed Dortmund, Jurgen Klopp was frozen in shock. His substitutions? Too little, too late.

Four minutes of added time were shown -- time that allowed a dramatic turnaround against Malaga in last year's competition, but that kind of feat cannot be repeated every given Wednesday. A final, desperate penalty appeal from Robert Lewandowski was waved away, and Dortmund were defeated.

"Football is not fair sometimes," Weidenfeller said after the game. It never is. It never has been. And, at the Westfalenstadion, those little moments made the difference.

Dortmund now need to get results against Napoli and Marseille in a very strong group, or else the BVB fairy tale, for this season, will end in December.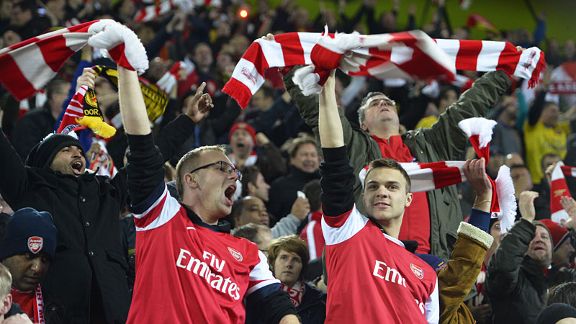 GettyImagesArsenal fans celebrate as their team move towards a famous victory in Dortmund.
Worth every penny

"A huge win here," Wenger said, before praising Ramsey for his 11th goal in all competitions this season. But it was the German superstar who made it all happen ... in a way. He was nowhere to be seen for most of the game, which he started on the left, and had little early impact for Arsenal.

Ozil, they say, is not the man for the big matches. Ozil never makes the difference, they say. And this could have been another example, amplifying those old tales of the midfield wizard who disappears in crunch encounters. Thirty passes completed, eight of them to Bacary Sagna, seven to Rosicky. Short passes, medium passes, but no deadly passes.

But one moment of magic was enough. Ozil broke out of Schmelzer's shadow, collected Rosicky's pass, and lifted the ball onto Giroud's head. Effortless. Just one moment. Seconds later, Ramsey broke the deadlock and was deservedly praised by Wenger.

But the man worth 50 million euros gave proof of what makes him worth every penny for Wenger's Gunners, who have been looking for that final piece of the jigsaw puzzle for such a long time.

Ozil can be that piece. He not only brings class, but also the ability to take his team one step further. He has won titles, he has played Champions League at the highest stage and he is the mastermind of maybe the hottest Germany team that has ever been seen.

Ozil matured during his Real Madrid days. He did not flee from the Bernabeu, he jumped at the chance to leave the Spanish giants in time to free himself from Cristiano Ronaldo's shadow. Ozil is ready to swim on his own.

And even when sometimes he appears to be drowning, he gets his head up, gasps for air and plays that one pass that matters. Football is a numbers game and Ozil is a master in helping his team to secure the right number.

"If you have a five-point lead after 10 games, you also have the makings to end the season on top," Ozil recently said. If you have a Mesut Ozil, you also have the makings to end the season on top.

Respect

These teams met in the 2011-12 season. Dortmund were then the Champions League's teenagers, who wanted everything and got nothing, who paid the price for being new to the scene. Arsenal -- then in their Robin van Persie days -- were experienced, mature and could punish their opponents' every mistake.

Things have changed, but they are still good -- for both teams. Sometimes they struggle, sometimes they don't. Does it matter? It might -- on a marketing level, and in the moment, if you are a fan.

Two years on, with all those changes, the respect has grown. Not only on the pitch, where Dortmund first took the Bundesliga and then stormed to the Champions League final, and where Wenger is showing again that he always knows best, getting the Gunners back on track as they lead the Premier League.

There is a mutual admiration.

For 20 years now, Arsenal fan Richard has not missed a game -- not since 1993. It's his 100th consecutive European away game with Arsenal. In 2011, he sat on the Alter Markt in Dortmund. Borussia fans joined him; he sang his songs, they sang theirs.

He went to a pub, met more Borussen, felt the respect, and so did the Borussia fans. In the reverse fixture that year, Dortmund fans went right into the heart of the Gunners, celebrated in their pub, and Richard was there to welcome them.

When Arsenal played Schalke in 2012, the Gunners stayed in Dortmund rather than in Gelsenkirchen. When Wembley was the place to be in May 2013, Arsenal and Dortmund fans celebrated into the early hours of the final day, talking football -- the way it is supposed to be, where there is 90 minutes' rivalry but respect in the minutes that matter.

Just as Klopp has praised Wenger in recent weeks, and Arsenal have praised Dortmund, the respect between the two fan groups has grown over the four meetings between the clubs. They are the same. They are the feeder clubs -- Arsenal have lost the likes of van Persie, Dortmund the likes of Mario Goetze -- but they have the coach. They believe. "In Klopp we trust" versus "Arsene knows" -- teams built around the coach rather than the players.

Both have battled back, and the Gunners have shown that coming back does not mean you have to win titles, but rather to bring through your football philosophy. Dortmund have shown that they can grow into what Arsenal are -- a club that will qualify for Champions League every year and, sometimes, give the big boys a good run for their money.

Marketing efforts aside, there is a red-and-white beacon and a black-and-yellow beacon, and fans who have the greatest respect for those two lighthouses, which stand tall in European football. Sometimes the teams clash, but then the fans meet, have a beer and talk football.

One side might be louder, but the other side is just as fanatic. They are different cultures, but with a lot of respect. For the clubs, the history and the game.