Steep learning curve evident for Real Sociedad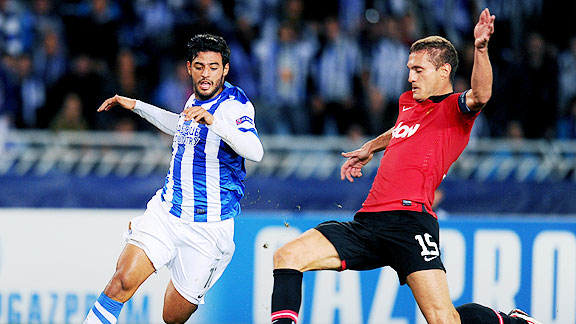 Mike Hewitt/Getty ImagesReal Sociedad's Carlos Vela was unable to break through Nemanja Vidic and the Manchester United defence in Tuesday's goalless draw.
SAN SEBASTIAN, Spain -- The headline writers will see this game as a frustrating one for Manchester United, since a win would have pretty much sealed their passage to the next round, but in truth the game was more frustrating for Real Sociedad. The draw represented their first point so far of the competition, but it might not even be enough to get them into the Europa League, with two games left of the group stages.

Mathematically they can still qualify for the next stage by winning their final two games, if United win both of theirs. But United will most probably sail through now, with the young Basque side feeling that they have not really left a sufficient mark on the competition -- that they have not really performed as well as they can. Their lack of experience at this level -- none of the players save captain Xabi Prieto had played in Europe before this campaign -- has been the most obvious factor in their failure thus far.

- Okwonga: Karma in play in United draw
- Report: Real Sociedad 0-0 Man United

They have also been unlucky, losing cruelly away to Leverkusen in the final minute, but in Anoeta on Tuesday night they looked nervous, and rather overcautious in their approach, as though the hype that accompanied the visit of United had finally got to them. They played too deep in the first half, and allowed United to stroll around with the ball, largely unchallenged. Another problem was that their marquee performers in La Liga, Mexican Carlos Vela and youth product Antoine Griezmann, were well shackled by United's experienced centre-backs, and when they attempted to get wide, Patrice Evra and Chris Smalling dealt well with any incursions.

Young Ruben Pardo in the centre-midfield spot tried manfully to get things going, but he was up against some wily performers in Ryan Giggs and Marouane Fellaini. Pardo is a promising player, but Real Sociedad's reliance on him in this game exposed the lack of midfield depth to the squad now that Asier Illarramendi has departed for the Bernabeu and Esteban Granero has been sidelined with a serious long-term injury. With Xabi Prieto on the bench and David Zurutuza off the pace, United had a fairly placid time of it in the first half.

The first half was a fairly tame affair, with neither side really creating a clear chance, but after the break the home side stepped up the pace slightly and pushed up a higher line, trying to get in more support to the forwards. But it was United who should have opened the scoring when Javier Hernandez inexplicably blazed over from about 5 yards out, with the goal gaping. It may well go down as one of the misses of the season, but it showed that United could carve out chances more easily than Sociedad.

Sensing blood, David Moyes put on Robin van Persie and Ashley Young for Wayne Rooney and the misfiring Hernandez, and with van Persie's first touch he hit the post with a first-time right-foot shot. His next significant touch was to hit the same post with a penalty, after Markel Bergara brought down Young. From the stands it looked as if Real's keeper, Claudio Bravo, had actually saved it, and the ground gratefully chorused his name, but the replay showed clearly that the shot had beaten him and cannoned off the woodwork.

It was a shame because the home supporters didn't really get much more to cheer about. There was a lack of belief in the final third, and something of resignation in the home side's step, with United always looking the more likely to score. United's greater quality and experience were manifest, but in the end, Sociedad will probably congratulate themselves on earning a draw against the mighty Manchester United.

Therein lies the problem for this young but sometimes rather timid Sociedad side, capable of playing some electric football, but often held back by a lack of self-belief. The local media hyped up this game to such an extent that Manchester United took on an almost divine status. If you watch Real Sociedad every week, you know they can compete better than this, but the players seemed to believe the hype, and settled for enjoying the historic occasion rather than actually going out to win the game.

In the group's other game, Shakhtar and Leverkusen drew 0-0. In the next round of games, Real Sociedad visit Shakhtar and will have to win if they are to continue to invest in their frail hope of reaching the next stages. In the end, Manchester United looked like a side who understood how to play in European competition. Real Sociedad are making some progress, but it's proving to be a steep learning curve.