Satisfaction salvaged in stalemate
Manchester, ENGLAND -- It was always likely that the first blockbuster of the season would be a flop. There were too many subplots, subtexts and loose ends for the narrative to properly flow.

The phoney war will hopefully be over soon. Another week of silliness awaits as the transfer window creaks shut. Perhaps we can then get on with the football. Maybe January's Moyes versus Mourinho, the sequel, will be a bit more entertaining.

-Tyler: What could have been
-Okwonga: Valencia, Rooney, Cleverley stand out
-Lythell: Terry stars in stalemate

Sunday's events in Cardiff had looked to lift the 2013-14 campaign. Manchester City's defeat suggested that unfamiliarity can breed mistakes. On the evidence of this Bank Holiday non-classic, it can also produce tame and tactically confusing football. Jose Mourinho did not leave much to chance.

"It is always a good point," he said, somewhat defensively. "We both want to win but we both don't want to lose. We lacked goals, but after this difficult experience, we are fine." A mission accomplished for Mourinho, then.

He seems keen to paint himself as an elder statesman of the Premier League, rather than the previously ambitious upstart. David Moyes, three months younger than Mourinho, had been cast by his rival as a young man with plenty to learn in his new world of managing a big club.

Moyes has so far been the polite statesman, full of compliments for a rival he termed the best coach of his generation in his first-ever "United Review" programme notes. Mourinho has gushed too, though with the odd little dagger thrown in for good measure.

In fielding a 4-6-0 formation, Mourinho sent out another of his little messages: He would like a striker. It was surely no coincidence that the striker he wants was lining up for the opposition. Wayne Rooney was being made aware that there is a place for him at Chelsea if he wants it. And he does, if the briefings are to be believed. Errant rumours of a pre-match transfer offer from the visitors abounded, and it was noticeable that Rooney trained alone during the warm-ups. "Rooney, we'll see you next week," baited the traveling Chelsea contingent.

They cheered his every touch, especially those passes that found a blue shirt, and loudest of all when a first-half shot dribbled into Petr Cech's hands. In a surreal reversal of accepted terrace practice, a frustrated foul on Oscar was even clapped by Chelsea fans.

Still, United fans were not complaining. Rooney was working hard, and the most effective performer in a second half in which United pushed but never located the key to the door. One tackle on Ramires on the touchline had the home support hailing him too. A missile shot that Cech had to dive full-length to reach might have added £10 million to the price tag.

"This must be a very special club, because in every other club in the world, when a player wants to leave they don't support him," Mourinho said.

"Probably now, he decided that he wants to stay, we will respect him and say it is over," he added, not quite closing the door. "We need the man who started the story to finish the story. It's time for one side or the other to finish the story.

"He was a real professional. He tried to win, tried to score; he was fantastic. If he wants to stay, he has to say."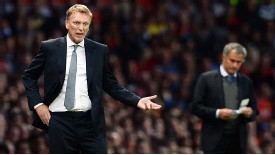 GettyImagesDavid Moyes barks out the instructions as Jose Mourinho looks on
"I was very pleased with his performance and the reaction from the crowd," Moyes said of Rooney. "It wasn't unexpected. As I have said many times, he's worked great in training."

"That would be illegal," Moyes remarked when it was suggested that Chelsea and Mourinho are waiting to hear directly from Rooney.

Fernando Torres was dealt a far less seductive message than Rooney. Mourinho's pre-match explanation that his chosen strategy required "mobility" was a damning indictment. Eden Hazard and Andre Schurrle were the foremost fast raiders, with Oscar and Kevin De Bruyne not far behind. Had Rafa Benitez tried such a thing and his team been so lacking in creativity, Chelsea fans would have had the pitchforks out.

"We didn't create more because of the system," Mourinho suggested. "Because when we received the ball we lost so many passes. I am going to have to go to the video, I think."

Torres' appearance from the bench began with a surging run to remind of his own mobility. It was, however, followed by a heavy touch to recall the reasons for faded cachet.

Juan Mata, too, languished throughout on an airline seat in the stands, his inability to force his way into a six-man midfield perhaps evidence of a dropping down the pecking order. One of Mourinho's doubts in the man who has been the Blue of the year in both his seasons at the club is known to be a supposed propensity to slow down play when counter-attacks are on. In United's midfield, where Tom Cleverley helters and skelters gamely enough but none too effectively, a player of poise is required. Mata would do just nicely. Was this another message? Does Mourinho see him as dispensable? "He goes nowhere, he is very important," it was suggested otherwise.

Exhortations to sit down Mourinho had the visiting coach waving a playful hand. When United fans were rather less friendly later on, Mourinho still played to the gallery with a sarcastic but conciliatory gesture. "You wanted his job," teased his tormentors in response. They gave up after that.

"I felt extremely proud to be manager of Manchester United," Moyes reflected on the home fans' welcome for his first game in charge. "But I want to earn the reception from now. I want the claps to be because I have won things."

The sense of well-being from a rain-sodden opening-day victory at Swansea did not wither in the humid heat of this late-summer evening. It was Mourinho who was begging the fourth official for an end to added time, and making an otherwise needless substitution to kill off United's momentum when they had a corner in the dying moments.

Two games in, and Moyes has so far faced down the type of pressure he never encountered at Everton. A first defeat is yet to happen. Mourinho did not get the better of him this time and seemed rather happy to come away with a draw.